In this post, we will show you how to save or bookmark messages in Microsoft Teams in just 10 seconds. Hard to believe…..read on !
It is crucial to bookmark the important messages from Microsoft Teams if you receive hundreds of messages every single day. So in case you need to go back to old messages for information or instructions, you can easily navigate to your bookmark section.
But sometimes, you are confused how to bookmark it, but no worries let's explore how you could save messages or bookmarks in MS Teams now.
What Are Saved Messages or Bookmarks in Microsoft Teams
A bookmark message in Microsoft Teams is a message that has been marked as important and that you want to save for later use. With a separate bookmark section, it will be extremely easy to find important information in the future, so you can be able to find it faster whenever necessary.
Why Do We Bookmark Messages in MS Teams
The below are benefits of bookmarking messages in Microsoft Teams:
Organized Approach
If you save your messages, you will have easy access to important information so you don't have to scroll through hundreds of messages just to locate what you are looking for.
Productivity Improvements
It will save you time and boost your productivity if you can find what you need when you need it.
Collaborating More Effectively
Collaboration and staying on the same page are made easier when saved messages can be shared with other team members. Using descriptive labels makes it easier to identify messages later and avoid overcrowding by only saving the most important ones. If you want your team to work better and stay on the same page, share your saved messages with the team.
Also read – How to Register Email Id In Airtel Online ( Online & Offline Methods)
How To Save Messages or Bookmarks in MS Teams
Step 1 – Choose the chat or messages option: First, locate the specific chat or message that you wish to bookmark within Microsoft Teams.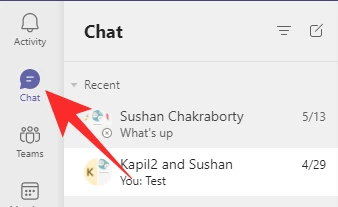 Step 2 – View more options: A third dot appears in the upper-right corner of the chat bubble as soon as you hover your cursor over the identified message.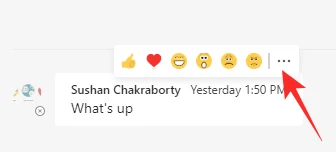 Step 3 – Bookmark the chat or message: The final step is choosing the "save this message" option from the "more options". You will see a flashing red bookmark icon appear near your profile in the Teams interface, and a notification will confirm that your selected message has been saved. Moreover, you will save or bookmark messages discreetly, and the original author will not be aware of your actions.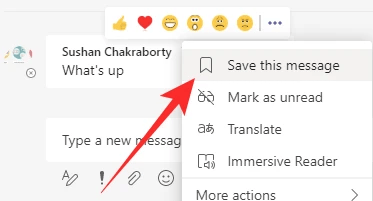 How To View The Save Messages or Bookmarks in MS Teams
Go to your profile and click the "saved" tab in the upper-right corner. By clicking this button, you will be directed to your saved messages page.
It is also possible to see saved messages by going to the command box at the top of the screen, pressing [Ctrl] + E, and typing /saved. As a result, you will see a list of saved messages.
Currently, Microsoft does not have a feature to easily organize the various saved messages. So, you have to make sure the messages are regularly reviewed to effectively use this feature
With Microsoft Teams, you can save messages in a simple, yet powerful way that can be extremely helpful. Now you also know the benefits. Overall, you can stay well-organized by following these steps to save messages in Microsoft Teams to get more done faster.