You've come to the right place if you're looking for the best laptop around Rs. 35,000 for
working from home
browsing the internet
studying online
doing any other essential job.
Please take a look at our comprehensive list of the finest laptops under Rs. 35,000 for the year 2022 in India. Also, we've addressed some frequently asked questions on choosing the best laptop for your requirements.
Students use their laptops for gaming and reading, while modern professionals use them for their daily tasks, and other freelancers use laptops for online projects, video or photo editing.
Check out the useful Price Alert feature to keep track of your short listed Laptops Under 35000 to buy them at the LOWEST PRICE
These days, laptop is the best option as compared to a desktop computer. The most important advantage of a laptop over a PC being the portability factor.
Best Laptop Under 35000 in India 2023
Acer Aspire 3 Laptop
Ideal for Programming and easy carrying around due to Portability and Slim form factor !
The Acer Aspire 3 is one of the most affordable laptops to buy on this list. It is priced at Rs 35,990 and offers a stylish, slim, and light design with excellent aesthetics.
In addition, this entry-level laptop gives you all the performance you need, whether at home, school, or work. And with 11th generation Intel Core processors, all your apps will run smoothly.
The Aspire 3 series from Acer comes in different configuration and features on various price range. It offers true value for your money with all features and specs.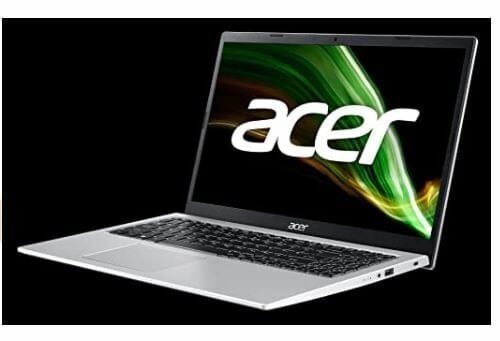 Experience the highest order performance as the laptop comes with a powerful 11th generation Intel Core i3 – Intel® Core i3-1115G4 processor. The 4GB DDR4 RAM on this laptop lets you increase productivity. The storage capacity of 1TB manages to keep all your files and folders in place. Furthermore, the integrated NVIDIA GeForce MX330 graphics provides high performance to meet your gaming needs.
Specifications of Acer Aspire 3 Laptop
Processor: Intel Core i3 11th generation processor with excellent performance complements long battery life
Display: 15.6″ Full HD (1920 x 1080) LED-backlit Display | Intel UHD Graphics
Operating System: Windows 10
Ports: Including two USB 3.2 Gen 1 and one USB 2.0
Ram: 4GB DDR4 Memory (Expandable to 12GB)
Battery: Up to 9 hours battery life
Warranty: One Year International Travel Warranty
Pros
The practical design has been slimmed down to provide users with an easily portable device. It even includes an ergonomic hinge (on specific models) that draws extra airflow from the laptop's bottom.
The Full HD display keeps images and videos stunning, while the narrow edge provides more viewing space. It also includes Acer BlueLightShield to protect your eyes from harmful blue light.
With a wide range of connectivity options, users can easily stay updated on the latest information. Wi-Fi 5 (802.11ac) enables quick Internet access. For advanced video calls, this laptop also includes a customized camera and microphone.
Cons
Acer Aspire 3 does not support LCD/LED display.
ASUS VivoBook 15 Laptop
Ideal for Gaming purpose due to its immersive and brilliant display !
The ASUS VivoBook 15 is an entry-level laptop that offers powerful performance and immersive visuals for both work or play. In addition, it has a NanoEdge monitor and matte anti-glare coating for a truly immersive experience.
ASUS VivoBook 15 Powerful enough to meet all your multitasking needs. Its massive 1TB HDD storage capacity and efficient 4GB RAM lets you store large amounts of essential data with ease.
The 15.6-inch FHD display will give you a crystal clear viewing experience. It is powered by the 10th generation Intel Core i3 processor and takes your productivity and creativity to a whole new level.
Integrated graphics gives you a delightful gaming experience. It runs on an Windows operating system. This notebook's graphics card includes a plethora of functions for managing graphical jobs. To keep it alive, it is powered by a 2-cell Li-ion battery and weighs 1.8 kg.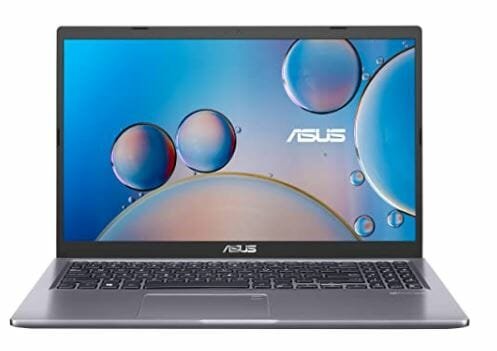 Specifications of Asus Vivobook 15
Processor: Intel Core i3-1005G1 10th Generation
Display: Built-in speaker 15.6 inch 1920 x 1080 pixels FHD Display
Operating System: Windows 10
Ports: Including two USB 3.0 and one USB 2.0
Ram: 4 GB DDR4 RAM
Battery: Up to 5 hours battery life
Warranty: One Year International Travel Warranty
Pros
Built-in fingerprint sensor 5 on the touchpad and Windows Hello, no need to type your password every time you want to log in – just one touch is needed.
Powered 10th generation HQ processor, metal display cover, RGB keyboard, and beautiful IPS display.
VivoBook 15 features a dual-storage design that gives you both superfast data performance and large storage capacity.
Cons
ASUS VivoBook 15 display is very dim or dull, and its overall feature is not as good as its body design.
Battery Life is Average
HP 15S Ryzen Laptop
Ideal for Productivity, watching movies, streaming online content due to high battery life !
The HP 15S laptop is the perfect entry-level laptop for all the necessities of project life – and at a price, you can feel good about. Write, research, take notes, stream, and communicate effortlessly with all the benefits of one of the best laptops for students.
Stay hooked to the long-lasting battery life and thin, micro-edge bezel design. It is built to keep you productive and entertaining; the HP 15″ Diagonal laptop features reliable performance and a wide display – letting you stream, surf and speed through tasks. View your screen on the 6.5mm micro-edge bezel display. A slim and light design makes this PC easy to carry anywhere.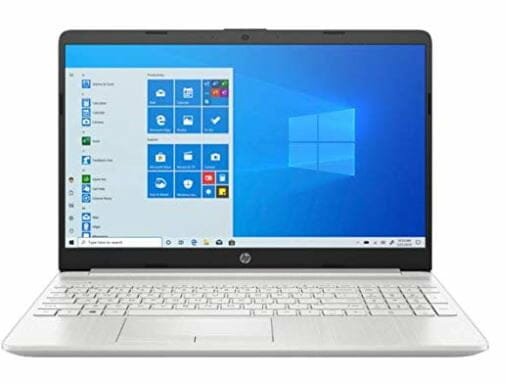 Specifications of HP 15S Ryzen Laptop
Processor: AMD Ryzen 3 5300U (2.6 GHz base clock, up to 3.5 GHz max boost clock, 4 MB L3 cache, 2 cores)
Operating System: Windows 10
Display: 15.6-inch FHD (1920 x 1080), IPS, micro-edge, anti-glare, 250 nits, 45% NTSC
Battery: Up to 12 hours of Battery life
Ram: 8 GB DDR4 Ram
Ports: 1 SuperSpeed USB Type-C (5Gbps), 2 SuperSpeed USB Type-A (5Gbps), 1 HDMI 1.4b | Without CD-Drive
Warranty: This genuine HP laptop comes with a 1-year home warranty from HP, which covers manufacturing defects and does not cover physical damage.
Pros :
Ideal for for programming, watching movies, studying, editing average quality videos, playing less specialized games (Candy Crush, Chess, etc.), and browsing.
The HP 15 has the potential for more processing cores, up to 6 cores.
The HP 15 offers up to 2000 GB of storage, compared to only 1128 GB in the HP 14.
Very Good Service Support for HP Laptops.
Cons
Low build quality (plastic) has been used in this laptop.
No dedicated graphics processing unit (inbuilt graphics) used. You can't even play high-end games with low specs.
The HP 15 fan produces low noise, which may bother you.
Buying Guide For Best Laptop Under 35000 – 6 Things To Check
Your Requirement
Before buying a laptop, you should ask yourself what purpose you have to buy a laptop. If you only want to use the computer to watch movies and regular computer tasks, you should choose a laptop accordingly. If you are shopping for designing and gaming, keep in mind to buy a laptop with dedicated graphics.
According to the need, different laptops are available at different prices and features. Therefore, whenever you buy a laptop, keep these particular things in mind.
Screen Size
If you are taking a laptop for regular use and watching movies, then a laptop with a large screen will be better for you. If your work is designing or graphics work, you can buy 15 to 17-inch display laptops. On the other hand, if you are purchasing a laptop for office work or traveling a lot, then a laptop with a small screen will be better for you.
Now there are laptops with HD screens too. Therefore, while buying, you should also know whether the screen is HD or not.
Laptop battery
Different batteries are also available in laptops with different power. Therefore, while buying a laptop, definitely get information about the capacity of the battery. The battery is perfect, giving a backup of about 7 to 8 hours.
If you work on a laptop for a long time, you should buy a laptop to keep in mind the battery with more power.
RAM
The more RAM the laptop has, the better it is. By the way, 4GB RAM is fine for office work and for watching movies. But if you want your laptop to perform fast, then 8GB RAM will be good.
Processor
If you want high performance in a laptop, you need the latest Intel i3, i5, i7 processors. On the other hand, if the budget is low, then the try device is powered by Ryzen processors. To easily understand , check below mentioned rank order best describes their instruction handling prowess –
Intel i5(11th gen.) > AMD Ryzen 5 = Intel i5(10th gen.) >> Intel i3(11th gen.) > Intel i5(9th gen.) > Intel i3(10th gen.)
Hard Disk
A new updated version of the hard disk has also arrived, which is called SSD storage. Although it gets less storage than a hard disk, it has fast and responsive storage. Its shortcomings can be filled by portable hard disk storage. 500 GB to 1TB remains perfect in the same hard disk storage.
Tips For Laptop Maintenance
It would help if you always held or lifted the laptop from the base or the lower part. Some people even lift the laptop by holding the screen, which can cause the laptop's screen to fall apart due to excessive pressure on the monitor screen of your laptop.
Never keep anything heavy on top of the laptop. The effect of weight directly on the screen of your laptop and it can be badly damaged.
A laptop should never be left in the car. The temperature inside a closed car changes rapidly, which affects the circuits of the laptop. The same effect also happens with laptop bags.
The power cord (charger) of the laptop should never be pulled with a jerk. This can damage the charging port socket of your laptop. And pay special attention after that whenever you should always remove the power cord only after turning off the power supply.
If you are not using the laptop for more than two hours, it should be shut down.
Always remove the power cord from the laptop after the laptop battery is fully charged. This increases the life of the battery, and the charger of the laptop will not deteriorate soon.
Frequently Asked Questions ( FAQ )
Here are the answers to some of the most frequently asked questions if you want to buy the best laptop under Rs. 35,000 in India.
Price Comparison For Best Laptop Under 35000
Product prices and availability are accurate as of the date/time indicated and are subject to change. Any price and availability information displayed on [relevant Amazon Site(s), as applicable] at the time of purchase will apply to the purchase of this product.
Prices pulled from the Amazon Product Advertising API on:
We hope that we were able to help you in finding the best laptop under Rs. 35,000 as per your needs and preferences. Which of these models impressed you the most?
Please note that we have carefully prepared this unbiased list after extensive product analysis, thorough research, and thorough comparisons. However, if you decide to buy one of the laptops listed above, please double-check the parameters and be an informed buyer.