Are you planning to buy Laptop under Rs 50,000 budget ?
Read on to check out the list of best devices..
Best Laptop under 50000 price range provides the best marriage between power and efficiency at a reasonable price. The devices available at this range gives you the best of both worlds. Also, you can get all the important features like Full HD Screen, HDMI port, USB -C ports etc. Some of the default specifications one can expect at this price are:
Intel i5 or Ryzen 5 Processor
8GB DRR4 RAM
Full HD screen with the anti-reflective coating
At least 2GB mid range Graphics card
Avoid These Mistakes When Buying Laptop under 50000
💻 Buying Laptop with Old Gen Processors. Don't go less than 8th Gen Intel processors
💻 Choosing Laptop with less than 8GB
💻 Expensive Laptops are NOT always the best choice
💻 Going for Laptops without HDMI, USB 3.0 , USB-C ports and with Extra RAM slot etc..
Laptops in Rs 50,000 price range has powerful specifications which allows you to run any type of productive tasks, creative work and casual gaming.
Light-weight tasks can be easily achieved even with executing many activities in parallel. However, if you using it for heavy tasks like video editing, hardcore game play , then make sure no other task is running.
Best laptop under 50000 in India – Nov 2020
Mi Notebook 14 Laptop
Best Value For Money Laptop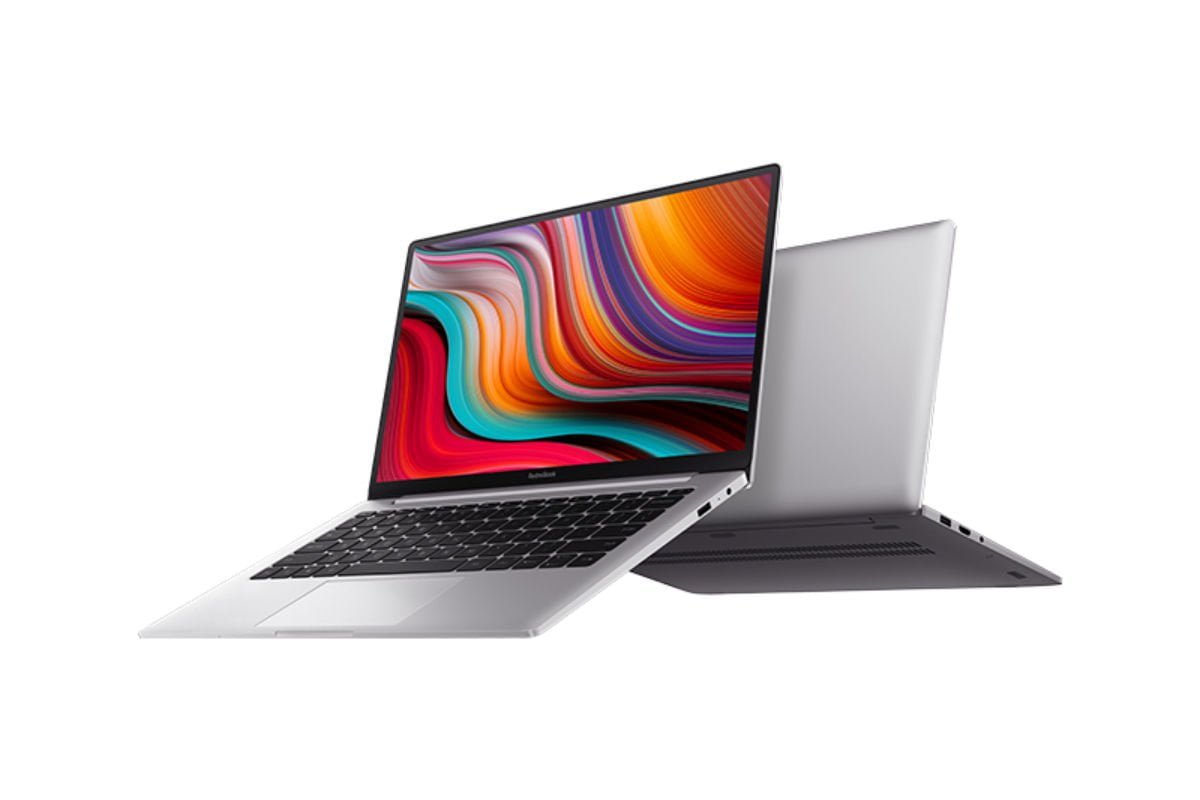 Mi Notebooks 14 series laptops launched in India recently with superior built quality and premium design. The device comes with top of line specifications like 10th generation i5 processor, 8GB RAM , 14-inch FHD+ display, fast SSD storage and more. This model is the high-end variant with 512GB SSD and Nvidia MX250 2GB Graphics.
The performance of the laptop is top notch able to carry out any type of productive, editing or project tasks. The slim form and light weight make it a easy portable gadget. Go for this laptop for its superior quality, unmatched built quality and professional performance.
Mi Notebook 14 is one of cheapest and best value for money laptop with 10th Generation i5 Processor and dedicated graphics.
Specifications
14-inch Full HD (1920×1080) Laptop
Intel Core i5-10210U processor
8GB DDR4 RAM with Nvidia MX250 2GB Graphics |Storage: 512GB SSD
Windows 10 Home
Ports – 1 x hdmi / 1 x usb 2.0 port / 2 x usb 3.0 port / 4-in-1 Card Reader/ No CD Drive
10 Hour Battery backup
Pros
✔ Premium Built & Slim for portability
✔ Top Specs & Superior performance
✔ Anti-glare display
✔ Value for money
Cons
X Storage limited
Lenovo Ideapad Slim 3i Laptop
Best Feature Rich Laptop
Lenovo Ideapad Slim 3i is the company's 2020 series laptops with solid built and better design. The highlight of the laptop are the slim and sleek form factor. It has latest connectivity features such as Bluetooth 5.1 and Wi-Fi 6 present. Other features include Dual Speakers, Camera shutter for privacy and many more.
The performance on the new Slim 3i series are always very good and can be used for both professional and personal needs. There is almost no negative in this laptop and if one the screen quality could be a little better. You also a get 10th Gen Intel i5 Processor and dedicated MX130 2GB Graphics Unit at this price.
Lenovo Ideapad Slim 3i Laptop is the best device under 50000 if you want all latest features.
Specifications
1.6GHz 10th Gen Intel Core i5 10210U processor
14-inch FHD (1920×1080) display
8 GB RAM with MX130 2GB Graphics | Storage: 1TB HDD
Windows 10 Home
Ports – 2 x USB 3.1 (Gen 1), USB 2.0, HDMI 1.4b, SD card reader
4 cell battery
Pros
✔ Premium built quality
✔ Amazing performance and Very fast
✔ Light Weight
Cons
X Battery Backup is not great
Also Read: Ultimate Guide To Buy The Best Laptop Under Rs 20,000
Asus VivoBook 14 Laptop
Best Slim and Fast Laptop
Vivobooks from Asus always delivers on quality and style factor. This Asus Vivobook 14 is no slouch either with 10th Gen Intel i5, 8GB RAM and FHD display the laptop is packed with power and is built like a tank. You also get abundant storage with 256GB SSD and 1TB HDD.
With many port selection and even finger print sensor for security, the only downside of this laptop could be low battery backup and lack of backlit keyboard which is mandate at this price range.
Vivobook 14 is the best portable and faster laptop under Rs 50,000 budget.
Specifications
1.6Ghz Intel Core i5-10210U 10th Gen Processor
14 inch Full HD LED Backlit Anti-glare Display
8GB RAM with MX230 DDR5 2Gb Graphics | 512GB SDD
Windows 10
Ports – 2 x USB 2.0 / 1 x USB 3.0 /1 x USB-C / 1 x HDMI / 4-1 card reader / Fingerprint sensor
2 cell battery
Pros
✔ Good build & attractive looks
✔ Light Weight & Portable
✔ Power packed Performance
✔ Decent FHD display
Cons
X Low Battery Backup
HP Pavilion 15 Gaming Laptop
Best Gaming Laptop in this budget
HP Pavilion 15 Gaming Laptops are powered by Ryzen processors along with powerful NVDIA graphics. This device has very good specifications at a reasonable price and also comes with numerous features.
It runs on Ryzen 5 Quad Core processor, 8GB RAM, 4GB GTX 1650 dedicated graphics and 1TB HDD with Windows 10 loaded. If you have used HP laptops before or a HP fan this should make you right at home.
Its one of the best choice if you are looking for Gaming Laptop under Rs 50,000.
Specifications
Ryzen 5 Quad Core Processor
15.6inch FHD display with very slim bezel
8GB RAM with 4GB NVIDIA Geforce GTX 1650 Graphics | 1TB HDD
Ports – 1 x USB 2.0 / 2 x USB 3.0 /1 x USB-C / 1 x HDMI / SD card reader
WIndows 10
3 cell battery
Pros
✔ Great Performance
✔ Sturdy built with backlit keyboard
✔ SDD storage + Nvidia Graphics gives you speed
Cons
X SSD present in high priced model
Also Read: The Ultimate Guide To Buy The Best Smartphone Under Rs 20,000
HP 14s Laptop
Best Laptop For Productivity
HP 14s Laptop comes with high end specifications for this price and offers a compact feel with 14-inch display. The Laptop is quite good for your daily work and handle any tasks productively. Premium built and light weight make it travel friendly device.
Presence of both SSD & HDD make it faster as well as high on storage. Battery back up seems to be the only cons here as its only average.
Go for HP14s Laptop, if you are looking for office work and productivity needs in this Rs 50,000 price range.
Specifications
Intel Core i5-1035G1 10th Gen processor
14 inch HD WLED Backlit SVA Anti-glare Display
8GB DDR4 RAM, 512GB SSD & 1TB HDD (based on model)
Windows 10
Ports & CD drive: 1 USB 2.0, 2 USB 3.0, 1 USB-C , HDMI
3 cell battery
Pros
✔ Premium Look & Built
✔ Decent performance
✔ Light Weight & Compact
Cons
X Low Battery Backup
HP Pavilion x360 Laptop ( 2 in 1 Laptop )
Best 2 in 1 Laptop
HP Pavilion x360 convertible laptop is an ultralight and slim device with Touch screen display. Apart from doing your work, you can enjoy gaming, streaming movies, music, and more on a large screen. With powerful specifications including 10th Gen i3 processor, 8GB RAM and fast SSD makes it a great device for handling any type of task.
Another highlight of the device is the presence of built-in Alexa assistant. So if you are into Amazon environment or have echo devices it should give more usefulness. Go for this if you are looking for the best laptop under 50,000 but want a smaller display.
It is the best 2 in 1 Laptop you can buy under 50000 in India.
Specifications
10th Gen Intel Core i3-10110U Processor
14-inch HD (1366×768) SVA anti-glare touchscreen-enabled WLED display
4GB RAM with Intel Integrated UHD 620 graphics | 256 SDD
Windows 10
Ports – 2 x USB 3.0 /1 x USB-C / 1 x HDMI / 4-1 card reader / Fingerprint sensor
3 cell battery
Pros
✔ Smart Laptop with built-in Alexa assistant
✔ Latest 10th gen processor
✔ Touch screen & decent performance
Cons
X No backlit keyboard
Microsoft Surface Go Pentium Gold ( 2 in 1 Laptop )
Microsoft Surface Go is one of the best 2 in 1 Laptop. The design and built of the laptop is top notch along with a crisp display. The Pentium Gold Processor running the device is quite capable of handling all the day-to-day activities easily. The battery backup is quite good which is important for a portable laptop as well.
The only issue we see is the limited internal storage which is 128GB SSD but it can be extended by using external HDD or SD card. Coming from Microsoft directly, the integration of windows and its performance is quite out standing.
Go for this device if you prefer design and brand over specs and features.
Specifications
Intel Pentium Gold Processor 4415Y
10 inch HD LED Backlit PixelSense Display
8GB RAM, 128GB SSD storage
Windows 10
1 x USB Type C, Micro SDXC Card Reader
2 cell battery
Pros
✔ Perfect 2 in 1 laptop
✔ Design, display and looks are awesome
✔ Battery backup
Cons
X Processor could be underwhelming
X Storage is limited
Editor's Choice for the Best Laptops under 50000
These are the Top laptop to buy under 50000 in India which scores well in all departments.
Buying Guide For Laptop Under 50000 in India
Screen Size & Resolution
Laptops under Rs 50,000 price segment have many options with 15-inch and 14-inch display. For portable and productivity work, go for laptop with 14-inch or less screen since it will help you in carrying around and easy to use. For casual user or if you use the laptop mostly at a single location check out the 15-inch or even 17-inch screen option.
Next, one of the critical point to consider is the resolution of display. At this price range, laptops comes with Full HD display and also with high brightness and be Anti-glare. The viewing angle is also very important at this price, so make sure the laptop display comes with 172 degree viewing angle. It will provide a pleasing view while working on the laptop.
One other choice is 4K resolution, but rarely you will a Laptop under 50000 with it since its mostly for gaming or high-end productive Laptop.
Processor ( CPU )
Intel i5 or i7 Processor , 9th generation is a solid choice in Laptop at this segment. Avoid device running on older generation chipset. Check out the new Ryzen 5 & Ryzen 7 series processors which offer similar performance to Intel but comes at low cost.
However, finalize your decision based on your budget. If you are limited budget, check out the Ryzen powered laptop or go for Intel chipsets if prefer more power and high storage.
Random Access Memory ( RAM )
RAM is an critical component in your Laptop which is responsible for the speed and smoothness of operation. For laptop under 50000 budget, 8GB RAM or more is a must. Also, make sure there is extra RAM slot present in laptop for increasing RAM size in future if you plan to upgrade.
Operating System ( OS )
Laptop sold in India mostly run on Windows or Linux. Two important points to check on the OS of Laptop:
1. If you are a programmer or Techie, choose laptops with Linux and even try for Dual boot of both Windows & Linux. However, for a normal user we advise to select laptop running Windows out of box to make your setup and working easier.
2. Laptop without Windows built-in is not advised in this price. It is good to have all the required operating system, drivers and graphics card upgrades as you want the machine to be stable state to start using.
External Graphics Card
AMD RX560 series and NVIDIA MX series or GeForce GTX 1050 series are the entry level graphics card you will find in Laptops at Rs 50,000 in India. To put it bluntly, GTX 1050 / GTX 1050Ti series are most powerful and best graphics card available at this price and this comparison between graphics card prove it. If you requirement is high on gaming or task like video editing, buy a laptop which is having Nvidia GTX series card.
AMD RX560 card is better compared to NVIDIA MX 130 series as shown here . So if it is a choice between these two cards and other specifications of the laptop are similar , it is best to choose laptop running AMD RX560 graphics. To conclude, whatever Laptop you buy under 50000 make sure it has a dedicated graphics card and choose one as per your need and budget.
Checklist for Buying Laptop under 50000
To sum up all the important points and factors to consider before buying the laptop, we have made a quick checklist to help you choosing the best laptop under 50K.
✔️ Laptop To Have FHD+ resolution screen with Anti-Glare and very good viewing angle
✔️ Processor is Intel i5 / i7 ( 8th or 9th Gen ) or AMD Ryzen 5 Quad Core ( latest Gen )
✔️ Laptop To Have at USB 3.0, USB-C port and HDMI port
✔️ Back-lit keyboard should be present in Laptop
✔️ Extra RAM Slot & SSD slot for Future memory expansion
✔️ 4-Cell Battery for longer backup
In case your requirement is for different budgets, please check pages:
Thanks for checking out the best laptop under 50000 in India list. Hope it helped you make the correct decision. Don't forgot to subscribe our newsletter by filling out the simple details at the right side of the page and get up to date the best gadgets list directly to you.
Finally, shoot us with your comments if you feel we missed out on any good laptops or any generic feedback on our list.