​In this post, we'll suggest the best laptop for students in India by providing the detailed specifications and Pros & Cons of each device based on the price. We think this will help you in choosing the best laptops for students in India.
Since for students the activities involve working in Microsoft office, tools, browsing net for research we suggest to give priority to the Processor, amount of RAM and finally the storage present in a model before deciding the laptop.
Being a student in today's world is both boon and bane. You have all the information and data overflowing online, so there is no single source or restriction if you want to learn or do your assignments.
But to achieve this, every student need at least a decent laptop to work on, and the options available are plenty. However, the cost factor is the bane and then the decision to choose the best laptop for college students based on their budget & the requirements.
Avoid These Mistakes When Buying Laptop
💻 Buying a heavy laptop with big display ( like 17-inch ). Being a student you need the laptop to be portable and light weight to easily move around.
💻 Getting laptop with lower battery life.
💻 Expensive Laptops are NOT always the best choice. Choose the device based on your requirement.
💻 Selecting Laptop with less number of ports. Make sure sufficient port connectivity for using your device for presentations and demo.
In this guide, we will help you find better product keeping in mind the certain specifications needed in a laptop.
Best Laptops for Students in India – Jan 2021
Best Budget Laptop For Students
HP 14q APU Dual Core A9 is a great device for budget buyers. You get the latest and powerful A9 processor options along with specifications such as 4GB RAM, 256GB SDD storage and 15.6-inch HD display.
This Laptop should handle all your daily routine tasks , work and even multimedia requirement. The highlight of this device is you get SSD storage which makes your Laptop very fast for routine activities. Check this device if you are looking for a all round device at this budget.
Specifications
3.1Ghz AMD A9 Chipset
14-inch HD (1366×768) display
4GB DDR4 RAM with Integrated Graphics & 256GB SSD
Windows 10 Home
Ports & CD drive: 1 x USB 2.0, 1 x USB 3.0, 1 x HDMI, 1 audio-out, 3-in-1 card reader (SD,SDHC,SDXC)
Pros
✔ Good Bezel-Less Display
✔ High battery backup > 3 hours
✔ Decent built quality
✔ Fast SSD Storage
Cons
X Display Quality is average
Best Value for Money Laptop for Students
Asus Vivobook 14 laptops are known to stuff up to date specifications at a reasonable price and could compromise on the built quality. This model comes with great specifications such as latest 10th Gen Intel-i3 Processor, Full HD Bezel-less display , 4GB RAM and 256GB SSD running Windows 10.
This is premium looking device which is light and portable. If you have used Asus laptops before this should make you right at home. This is one of the best laptop under 35000 you can get currently.
Specifications
10th Gen Intel-i3 Processor
14 inch Full HD LED Backlit Anti-glare Display
4GB RAM & 256GB SDD
Windows 10 Home
Ports – 1 x hdmi / 2 x usb 3.0 port / 1 x usb 2.0 port / 4-in-1 Card Reader/ No CD drive
3 cell battery
Pros
✔ Great specifications at this price
✔ Value for money
✔ Battery backup
✔ Compact and light weight
✔ Excellent built quality & Nano-Edge Bezel-less display
Cons
X None
For bigger 15-inch display and higher 512GB SSD Storage check out the Vivobook 15 Model below
Also Read: Best Laptops under 30000 in India
Best All-round Laptop for Students
Acer Aspire 5 series laptops is a very good Laptop series which provides you high-end specifications like 10th-Gen Intel i5 Processor and premium design. Priced around 50,000 segment, it comes with superior built and compact form factor. The performance on the Aspire series are always very good and can be used for both professional and personal needs.
There is almost no negative in this laptop and with the presence of dedicated 2GB MX250 graphics, Acer has scored a winner here. You can also get one without graphics at lesser price.
Specifications
1.6GHz Intel Core i5 1035G1 10th Gen processor
15.6-inch FHD (1920×1080) display
8GB DDR4 RAM with Intel HD 620 Graphics | Storage: 512GB SDD
2GB MX250 GRAPHICS
Windows 10 Home
Ports – 1 x hdmi / 2 x usb 2.0 port / 2 x usb 3.0 port / 4-in-1 Card Reader
4 cell battery
Pros
✔ Premium built quality
✔ Amazing battery backup
✔ Nice display
✔ Powerful Specifications for all type of student activity
Cons
X None
Best Budget Gaming Laptop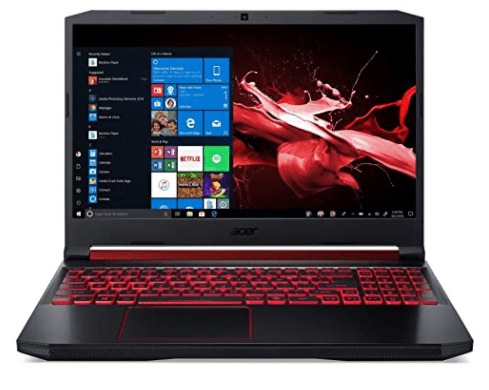 Acer Nitro 5 is one of the better laptop you can get around 50000 especially if gaming is one of your requirements. Being a gaming laptop, you get brilliant screen, powerful processor, dedicated graphics along with numerous features it is a great device if you are into gaming.
Even for non-gamers, this device should serve the purpose for editing, creative tasks and project activities. The only gripe is the low battery backup which is expected from a gaming laptop anyway.
Specifications
2.3Ghz Intel Core i5-10300H processor
15.6-inch FHD IPS with Comfy ViewTM LCD display
8GB RAM with NVIDIA GeForce GTX 1650Ti with 4 GB | Storage : 1TB HDD + 256GB SSD
Windows 10
Ports – 2 x USB 2.0 / 1 x USB 3.0 /1 x USB-C / 1 x HDMI / 4-1 card reader / No CD Drive
3 cell battery
Pros
✔ Powerful 9300H/10300H Processor + GTX 1650 Graphics
✔ All round performer
✔ Very good display
✔ Backlit keyboard & SSD expansion slot
Cons
X Built quality & Battery Backup is average
Best Laptop for Computer Science Students – Video Editing & Programming
Mi Notebooks Horizon 14 series laptops launched in India recently with superior built quality and premium design. The device comes with top of line specifications like 10th generation i7 processor, 8GB RAM , 14-inch FHD+ display, fast SSD storage and more, at an aggressive price. It is the only laptop you can get 10th Gen Intel i7 processor under Rs 60,000.
The performance of the laptop is top notch able to carry out any type of productive, editing or project tasks. The slim form and light weight make it a easy portable gadget. Go for this laptop for its superior quality, unmatched built quality and professional performance.
Specifications
1.8Ghz 10th Gen Intel Core i7-10510U processor
14-Inch (1920X 1080 )Full HD Anti-Glare Screen
8GB DDR4-2666MHz RAM | Storage: 512 GB PCIE Gen 3×4 NVMe SSD
Windows 10
Ports – USB 3.1 – 2 ports, USB 2.0 – 1 port, USB type C – 1, HDMI Out -1 and 3.5mm jack
46Wh battery and a 65W charger
Pros
✔ Good build & attractive looks
✔ Light Weight & Portable + Power packed performance
✔ Decent FHD display
✔ Value for Money Laptop
Cons
X No backlit Keyboard
Also Read : Best Laptops under 60000 in India
Best Gaming Laptop for Students
Lenovo Legion Y540 series gaming laptops comes with new gaming design with very slim bezels and compact built. It has up to date specifications at a reasonable price and also comes with numerous features. Brilliant , Anti-glare display and fast 1TB SSD are some of the highlights of the laptop.
This model comes with 9th Generation Intel i5 Processor, 8GB RAM and GTX 1650 dedicated graphics Windows 10 loaded. If you have used Lenovo laptops before should make you right at home.
Specifications
2.4Ghz 9th Generation Core Intel I5-9300 Processor
15.6-inch screen with (1920X1080) full HD display | Anti Glare technology | IPS display
8GB RAM with 4GB GTX 1650 Graphics | 1TB SDD
Ports – 1 x USB 2.0 / 2 x USB 3.0 /1 x USB-C / 1 x HDMI / SD card reader
WIndows 10
4 cell battery
Pros
✔ Great Performance & Attractive Looks
✔ Sturdy built with backlit keyboard
✔ SDD storage + Nvidia Graphics gives you speed
Cons
X None
Editor's Choice for the Best Laptops for Student
In case, if you are still confused on deciding after checking all these recommendations. Click below for TechArea's Choice for Laptop for students in India :​
This choice was made keeping in mind both the budget and the usability of the device. This Laptop gives you a balance in power and price ratio, so go for it if you want a decent performer which doesn't blow your wallet.
Price Comparison of Laptops For Students
Frequently Asked Questions (FAQ)
These are the 5 top laptops to buy for students in India which score well in all departments. In case your requirement is for different budgets, please check pages:
Best Laptops under Rs 30,000 to buy in India
Best Laptops under Rs 20,000 to buy in India
Best Gaming Laptop to buy in India
Thanks for checking out the list of best laptops for students in India. Hope it helped you make the correct decision. Don't forgot to subscribe our newsletter by filling out the simple details at the right side of the page and get up to date the best laptops list directly to you.
Finally, shoot us with your comments if you feel we missed out on any good laptops or any generic feedback on our list.