Do you wanna know "How to change handset in UTS app"?
Find out below …..
You must have seen and waited in long lines if you traveled by train. There might be times when it makes you late, and you miss the train. Getting a train ticket on time during rush hours is also tricky.
This is where UTS ticket booking comes in. You can book your local train or platform ticket online in minutes using the UTS app. A daily commuter who needs to visit somewhere without planning can use this service.
What is the UTS app?
UTS stands for (Unreserved ticketing system). This is a newly launched mobile app by the Indian Railways as an initiative towards a paperless economy.
Train tickets can be generated or canceled, seasonal tickets can be booked, passes can be renewed, and platform tickets can be purchased via the UTS app. With this initiative, passengers don't have to stand in long lines to take Printed Card Tickets (PCTs) on local trains or at platforms.
Tickets can be booked either as paperless or in paper mode through the UTS app. Paperless travel involves booking tickets outside the station premises without a printout of the access needed. One must book the ticket through the app and obtain a printout from the station counter for paper travel.
ISSUES WITHIN THE UTS APP AND HOW TO FIX THEM
UTS (unreserved ticketing system) Mobile App has been updated with some enhancements to enhance security. If you recently purchased a new phone or lost, stolen, or damaged your phone, you cannot access the UTS App. The solution to this problem can be achieved in two different ways.
The first is if you have any active Tickets/Tickets.
Second, if you do not have any active tickets.
The process to change handsets for both conditions can be found below.
Also read – How To Block Ads in Android Using Private DNS
How to Change Handset in UTS app? – Explained in Easy Steps
It is possible to change the handset once every three months. To change the mobile handset, follow these steps:
On the new mobile device, the passenger should download the app.
Using their credentials, log into the application.
To re-sync the ticket to the new mobile device, the user can use the sync ticket option.
The new mobile device will be linked to all tickets.
If the passenger does not have a valid ticket, a change handset request can be initiated through the website utsonmobile.indianrail.gov.in.
You may also apply for a new handheld on the UTS mobile ticketing website by filling out the CHANGE HANDSET Application form.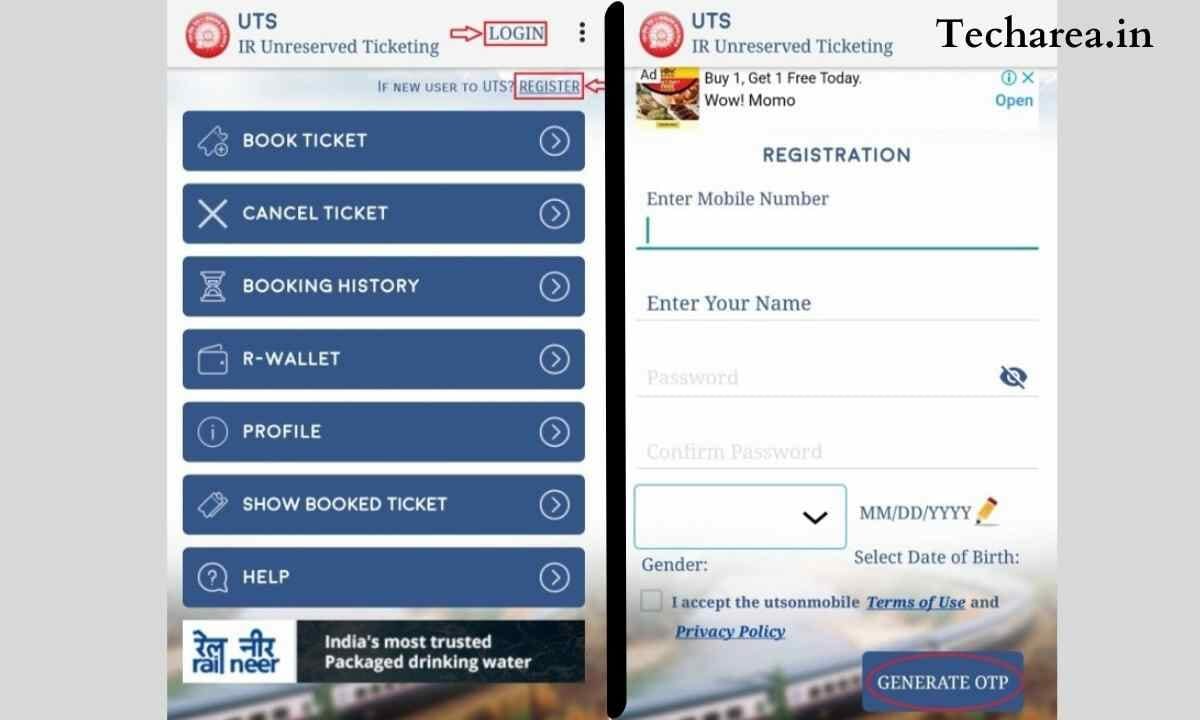 How to Send Mobile Handset Change Requests in UTS APP
Procedure 1 : If you have an active ticket, you can follow the steps given down below:
You can raise a handset change request if you are having trouble accessing the UTS app on your new phone. Following these steps, you can submit a mobile change request online at utsonmobile.indianrail.gov.in.
To begin, you must download the UTC app on your new smartphone if you have not done so already.
Once the application is downloaded, ensure that you are connected to the internet and have enough balance to send SMS.
In addition, you should have the same Sim card in your phone as when you created your account.
If you lose your SIM card, you should skip this section and follow the steps in the following section.
Using your account to log in.
It won't be necessary for you to send the message.
You will receive the OTP code automatically after you download the app.
You will now be able to access your Account/App after you enter the OTP Code.
Procedure 2 : If you do not have an active ticket, you can follow the steps given down below :
By logging in with your new phone, you can change the handset through the UTC App.
The steps outlined above for active ticket holders also apply in this case.
However, you must ensure that the new phone you are trying to log in to is your phone.
It is not a good idea to use another person's phone to log in because the IMEI of the phone will be associated with your account.
Also read – How To Reset Syrotech Router
UTS CHANGE HANDSET (IMEI NUMBER)
If you get an error in your UTS app stating that your IMEI is already associated with another number, you can also fix that. Getting this error is a common occurrence, and it's part of the security measures taken by the developers.
As long as you use the same SIM card you used when creating an account, you should be fine.
Your account can be accessed by simply logging in.
Then, you must request a change of handset (IMEI) by using your existing mobile number.
FAQs
Q1 – Is it possible to cancel my UTS ticket?
Ans – Yes. But, Cancellation of a UTS ticket is only possible if the ticket booking amount is more significant than the cancellation charges. Paperless tickets, however, cannot be canceled.
Q2 – Is it possible to travel with a UTS App Ticket?
The UTS app makes it easy to book train tickets. Passengers will find the app easy to use and convenient. The access allows you to travel on any Indian train, including general coaches.
Q3 – What is the process for changing handsets in UTS?
Passengers without valid tickets can initiate a change handset request at https://www.utsonmobile.indianrail.gov.in.
Conclusion
If you use the mobile app to book tickets, please follow the necessary guidelines to prevent problems. It is also important to note that all these changes can take a few days to three months after applying. I hope my article was informative and helpful.