In this post, We have shown the simplest method to file TDR in Irctc portal. Sometimes, we come across a situation where you need to cancel a train ticket even after the train chart is published or even after the train has departed due to an emergency.
In this scenario, you can still get a refund if you cancel your ticket using the TDR feature in IRCTC website.
But how?
Check out the below step by step guide to process and file TDR online.
What is TDR In IRCTC
TDR stands for Ticket Deposit Receipt. If you do not travel by train and wish to get a refund, this is the form for you. The Indian Railways Central Ticketing Corporation (IRCTC) provides the facility for filing TDR online. It takes at least 60 days for the refund process to be completed after a TDR has been filed.
Moreover, you can also check the refund status online. The entire process is explained below in detail, keep reading!
Also read – How To Send Snap With Cartoon Face Len ( In 2 minutes)
How To File TDR In IRCTC Website
For many passengers, filing a TDR could be a challenging process. The cancellation of an E-ticket for a normal passenger is not possible once the chart has been prepared. In such cases, users should file TDRs online and monitor the refund case status through the IRCTC's tracking service.
The following section will provide instructions on how to file a TDR through the IRCTC official website.
Step 1 – The first step is to login to your IRCTC account and click on Ticket Booking History. You can find a list of expired tickets there.
Step 2 – Next, click on the 'file TDR' button to file a TDR for the selected PNR. Click "submit" once you have filled in details such as the passenger's name and the reason for filing a TDR.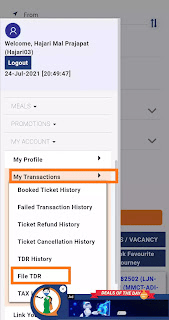 Step 3 – One can also select "others" if the reason does not appear in the list box. Click on submit after filling out the details of the reason.
Step 4 – The confirmation window will appear later on. If the details are correct, click 'OK'.
Step 5 – Lastly, using these simple steps, one can file a TDR successfully with the confirmation page of the TDR entry displaying details such as transaction ID, reference number, PNR number, and TDR Status.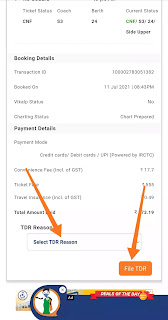 Step 6 – Ticket holders with confirmed reservations are not eligible for refunds if they do not cancel their tickets or do not file TDRs online up to four hours before train departure.
Step 7 – If RAC tickets are not cancelled or TDR filings are not made online half an hour before departure, no refund of fare will be possible.
Step 8 – In accordance with the refund policy of the concerned railway, IRCTC will forward the claim to them, and money from the refund will be credited back to same payment account through which payment was made once it has been received by the concerned railway.
Disclaimer – The refund process may vary and it's always advisable to check the official IRCTC website for the most up-to-date information.
How To Check TDR Refund Status
The IRCTC has shared the link to a website that allows one to check the refund status of tickets for which a TDR was filed for refund. Using this new service, you can check the status of refunds for tickets purchased through the website or at the ticket counter.
Furthermore, you must key in your Passenger Name Records (PNR) to determine the refund status.
Just follow the above-mentioned steps and you will be able to file a TDR without any hassle.
We hope you found this information helpful!