Music is a basic need in our life. While traveling, working out, relaxing, or doing any other activities, many people love to enjoy the moment listening to music. Therefore, music players are still in demand in the market, although mobile phones are fast becoming preferred way of listening to music.
Benefits of Using MP3 Player in 2023
=> More portable than your huge 6+ inch smartphones
=> Great alternative for listening to music during your workout sessions
=> Eliminates the worry about dropping and breaking your phone
=> If you are an audiophile, MP3 player helps to avoid the prolonged exposure to signals/radiations from smartphone.
Adding to above points, music players currently available in the market have advanced technologies and features to offer a better experience. In this guide, we have listed the best portable music players India with a buyer's guide for your reference.
We Highly recommend you to read the Useful MP3 Player Buying Guide at the end of the article to get an in-depth knowledge about all the factors to check before buying the music player.
| MP3 Player | MP3 Player Brand | Image | Price Details |
| --- | --- | --- | --- |
| Best MP3 player for Old music | Carvaan 2.0 Go Music Player | | Check Price Here |
| Best Portable & light weight music player | Sony NWZ Music Player | | Check Price Here |
| MP3 player with Best Sound Quality | RUIZU D50 8GB MP3 Player | | Check Price Here |
| Best Music Player with Display | Sony NW Music Player | | Check Price Here |
Best MP3 Player To Buy in India
Carvaan Go 2.0 Saregama Music Player
With 3000 retro Hindi songs, the Caravan Go music player is great to enjoy seamless music. It has customized stations for different moods like romance, sadness, happiness, etc. There are 50 curated playlists for your daily activities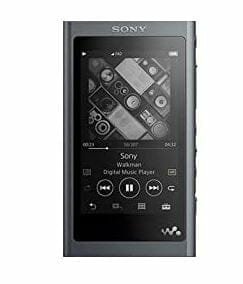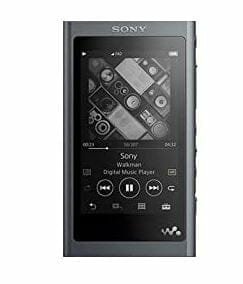 Saregama Carvaan Go 2.0
3000 Pre-loaded Retro Hindi songs

Metal Body | Dual speakers (1 watt each)

FM/AM radio | MicroSD card support up to 32 GB

3.5 mm audio jack for connecting external speakers/ headphones | Rechargeable battery lasting up to 4-5 hours

Android Compatible Charger | App support – download the 'Saregama Carvaan' app from Android Play store / App st
Key Features of Carvaan Go Player
There is a 3.5mm audio jack to connect earphones and external speakers.
The Battery life is good. Even on heavy usage, it will last three days without charging
This portable device supports the Saregama Carvaan app for ease of use
Pros
✔ Metal body design
✔ Micro SD card support
✔ Lightweight design
✔ Pre-loaded songs
Cons
X Build quality could be improved
Why Buy Carvaan Go 2.0 Saregama Music Player ?
The Carvaan Go Saregama Player comes with pre-loaded music ( various language choice) unlike any other standard portable music player. You also get 6-month warranty.
If you love old songs, legend Indian artists, ragas, classics, radio, all in one, then go for it. You will not regret the decision
Sony NWWS413BM Digital Music Player
The Sony music player is a brilliant device to let you listen to your preferred tracks conveniently. It comes with a powerful battery that provides up to 90 minutes of playtime in just three minutes of charge. The inbuilt USB drive allows you to connect it to your PC conveniently.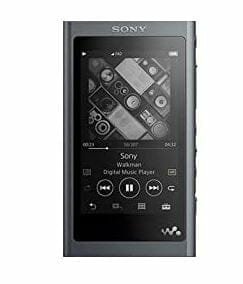 Being a sports music player, you don't have to worry about sweat or water splashes.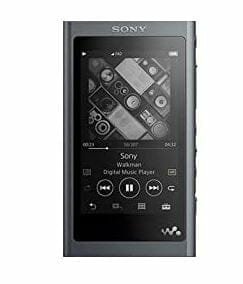 Sony NWWS413BM Sports Wearable MP3 Player
4GB Sports Wearable MP3 Player, Waterproof: For use in salt & fresh water up to 2-meters deep, Sweat resistant, dust proof design endures through the toughest training conditions

Ergonomically designed for a secure fit and long-lasting comfort, Ambient noise function so you aren't isolated from the world around you, Up to 12-hours playback

Drag & drop from iTunes for Mac or Windows, Playback MP3, WMA, AAC, and Linear PCM Audio Files, Supplied: USB dock, regular & swim earbuds (1set each), adjustment loop, Hi-Speed USB 2.0

Water Resistance:6.6 f
Key Features of Sony NWZ Player
Best portable Sony music player comes with a 4GB memory that can store up to 900 songs.
There is a bass boost function in this music player for powerful bass.
The 20-hour battery life makes it one of the best mp3 player India 2022.
Pros
✔ Awesome Bass
✔ Quick charge technology
✔ Supports FM radio
✔ Long battery life
Cons
X None
Why Buy Sony NWWS413BM Music Player ?
Sony NWZ-B183f MP3 Sports music player comes with light weight and portable design. The device gives you awesome bass and best for bass lovers. Finally, it offers up to 20 hours of playback time for a single charge.
Also Read: Best Fitness Tracker You can Buy in India
RUIZU D50 8GB MP3 Music Player
The RIZU music player has an incredible design and offers a clear sound for a better audio experience. With the presence of powerful and intelligent noise cancellation processor, this music player provides excellent audio experience and consumes low power.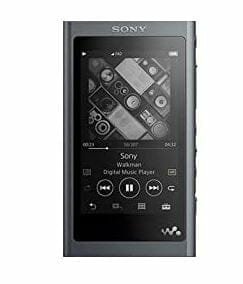 Pair it with a decent earphones and you will have one of the best portable music players India.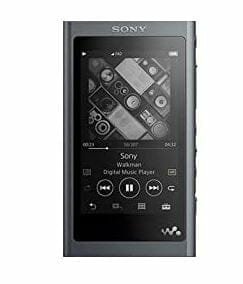 RUIZU D50 8GB MP3 Player
MP3 player designed with music playing, Bluetooth 5.0 connection, built-in speaker, FM radio, voice recording, E-book reading(TXT file), video playing(128*160 AMV AVI converted video), photo Browsing, Screensaver, Alarm, Pedometer(No supported in Bluetooth mode)

Bluetooth 5.0 provides faster transmission speed, more stable performance and high anti-jamming capability

HiFi Lossless Sound Quality player adopts a professional intelligent digital noise reduction chip, ensuring high-qualified clear sound experience. This mp3 player supports playback of popular music formats, including MP3/ WMA/ APE / FLAC / WAV/ /DRM / ACELP.【Note】 Its incompatible with Itunes and audiobooks.

RUIZU D50 player built-in 8GB internal memory, you can store about 2000 songs. Also it provides Micro SD slot for expandable memory and supports up to 128G external TF card, allow you carry more music, videos, images and e-book anywhe
Key Features of RUIZO Music Player
Playtime of up to 24 hours with best audio experience.
Supports MP3/ WMA/ APE / FLAC / WAV/ /DRM / ACELP formats
Compatible with USB OTG for file transfer.
FM radio, voice recording, E-book reading(TXT file), video playing(128*160 AMV AVI converted video), photo Browsing, Screensaver, Alarm, Pedometer
Pros
✔ High-quality sound
✔ Micro SD card support
✔ 2-inch Touch screen
✔ Multiple functions like browser, read txt files, Pedometer
Cons
X No custom equalizer settings
Why Buy RUIZO Music Player ?
If you want the pure and original music experience without any artificial enhancements, go for RUIZO Player. Very small form factor, much smaller than even iPOD. Build with metallic body and quality is tough.
Sandisk 8GB Clip Jam MP3 Player
This digital music player has a stylish design that can offer a better experience. It is compatible with WMA, WAV, and MP3 files for playing the music. The player comes in a compact size with bright display and large buttons for easy navigation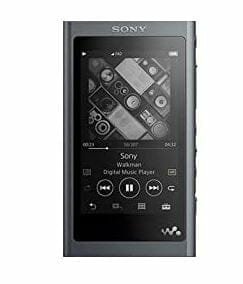 The player gives you 18 hours of battery life and inbuild EQ function for customizable audio experience.
Key Features of Sandisk Music Player
Supports FM radio
Very lightweight, best jogging companion
Expandable storage up to 32GB
Pros
✔ Dual color design
✔ Excellent performance
✔ Battery backup
✔ Sturdy Built
Cons
X Out-dated design
Why Buy Sandisk Music Player ?
Sandisk player gives you the best vanilla MP3 player experience with great sound quality and amazing battery backup.
Sony NW-E394 Portable Digital Music Player
Sony portable device is ideal for offering high-resolution audio. By using AI technology, the digital music player scans the songs and provides the best performance. The touch screen display allows the user to operate the device with ease.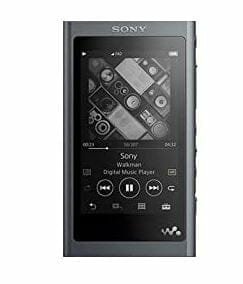 The premium gadget offers Support S-Master HX, DSEE HX & DSD playback to amplify music content. Being a walkman player, you will get Crystal clear , crisp & natural audio output matching any other device with double the price tag.
Key Features of Sony NW-E394 Player
Compact design and Hi-Res audio compatibility
TFT colour display with white LED-backlight
Offers up to 35 hours of playtime
Pros
✔ Long playtime
✔ Hi-res audio support
✔ Bluetooth connectivity
✔ 4-inch display
Cons
X High Price
Why Buy Sony NW-E394 Player ?
It was an amazing experience when using combination of built-in bass booster from walkman and extra bass earphones from sony. Bass lovers definitely love this product.
Price Comparison For Best MP3 Player in India
| Image | Title | Price | Buy |
| --- | --- | --- | --- |
| | Sony Sports Wearable MP3 Player | | Buy Now |
| | RUIZU D50 8GB MP3 Player | | Buy Now |
| | Sandisk 8GB Clip Jam MP3 Player | | Buy Now |
| | Sony NW-E394 Walkman 8GB Digital Music Player | | Buy Now |
Product prices and availability are accurate as of the date/time indicated and are subject to change. Any price and availability information displayed on [relevant Amazon Site(s), as applicable] at the time of purchase will apply to the purchase of this product.
Prices pulled from the Amazon Product Advertising API on:
Buying Guide For MP3 Player
Many people love to use portable music players because of their efficiency and easy usability. However, one needs to check several factors and pick an MP3 player for your use. The following are some common factors that you can look for to buy the best portable music player for your use.
If you are a techie and interested to dig more, check out more here on how MP3 player actually work.
Memory Capacity
The memory capacity of the music player determines how many songs the MP3 player can hold. If you want to keep more songs in your music player, you can consider buying a music player with large memory. The memory capacity of mp3 players is represented in gigabytes or GB.
Some music players come with built-in memory, while others come with a micro SD card for storing the songs. Also, some music players offer both options to give you more storage space.
Display Features
The screen size of the mp3 player is vital to ensure ease of use. If the music player has a wider screen, you can efficiently operate the device and enjoy your favorite tracks. But small size screens may not provide the convenience that you need.
Also, portable music players come with touch screens for better usability. Therefore, you need to check the music player's screen size before buying it to get the level of convenience you need.
File Format Compatibility
The next thing that you need to look for while buying a portable music player is file compatibility. You can check the music player's features and make sure that the device is compatible with all the file formats you have. Some mp3 players support multiple file-formats, while others don't offer many options. So, checking this factor in your mp3 player is essential.
Price
As per price of the device, the features and the quality of the product differs. The best way to get the right mp3 player for your use is to stick to your budget. Once you have decided on a fixed budget, you can search in the market and find the perfect music player for you.
Additional Features
If you want to use the music player for some other tasks, you can consider the special features of the device. For example, some music players have a USB drive for charging. Some other features of the portable music players include Bluetooth connectivity, audio recording, etc. So, you can check your features and buy a music player that meets your expectations.
Portability
If you travel a lot and want some music to keep you enjoying on the go, then you can look for travel-friendly music players for ease of use. For this purpose, you also need to carry a noise-canceling headphone for better results.
Durable Design
Generally, you may carry your portable music player to different places with you to enjoy the music. Therefore, the device should be durable to withstand different situations. If the device is less durable, then it may break if you accidentally drop it somewhere. So, you need to check the build quality of the music player before buying it.
Accessories
Portable music players include some accessories for comfortable usability. For example, some music players come with basic earphones to let you listen to music conveniently. Other accessories that come with the music players include a micro SD card, protected case, etc. Ensure that the portable music player you are going to buy comes with these accessories for easy usability.
Brand Value
While buying any electronic device, checking the brand value of the product is important. You can consider the Brand that you trust to get a reliable device for you. You can take your time to view all the top brands' available options to get the right portable mp3 player for your use.
These are some of the best music players available in the Indian market. Those who want to buy high-quality music players can consider these products for their use. You can also follow the buying guide to get the best portable music player India for you.
Frequently Asked Questions (FAQ)