Are you looking for an affordable gaming keyboard with all the necessary features needed for amazing gaming experience ?
Gaming keyboards and mouse are the essential peripherals for a better and quicker FPS gaming experience. We are frequently perplexed while choosing the best gaming keyboard or mouse and wish to cut costs without compromising quality.
So, if you are on a budget and wanted to take control your game play, a keyboard in the range of Rs 1500 is the perfect bet !
High-quality keyboards should function better and have a distinctive design with lighting effects. You can play games more effectively and with a higher FPS (Frame Per Second) experience on PCs with decent keyboards and mouse.
Basically, gaming keyboards are designed to survive even the most frequent liquid spills.
Already purchased a Keyboard and want to check whether all keys are working fine ?
You need to have the best gaming setup possible to enjoy the best games in the world, such as GTA Vice City, Valorant, DOTA 2, PUBG PC, Call of Duty, Counter-Strike, etc. Therefore, we advise you to choose the best gaming keyboard under 1500 that suits your needs and budget.
| Keyboard | Image | Why Buy This Keyboard | Price | Buy |
| --- | --- | --- | --- | --- |
| Cosmic Byte CB-GK-02 Gaming Keyboard | | Best Membrane Gaming Keyboard | | Buy Now |
| Zebronics Zeb-Transformer Gaming Keyboard | | Best For Gaming Keyboard & Mouse Combo | | Buy Now |
| Redgear Shadow Amulet Mechanical Keyboard | | Best Mechanical Keyboard at Budget | | Buy Now |
| HP GK100 Wired Full Size RGM Backlit Mechanical Gaming Keyboard | | Best Metallic Build with Ergonomic key layout | | Buy Now |
| Cosmic Byte CB-GK-28 Vanth Mechanical Keyboard | | Best All Round Gaming Keyboard | | Buy Now |
Product prices and availability are accurate as of the date/time indicated and are subject to change. Any price and availability information displayed on [relevant Amazon Site(s), as applicable] at the time of purchase will apply to the purchase of this product.
Prices pulled from the Amazon Product Advertising API on:
Things To Consider Before Buying Gaming Keyboard Under 1500
To determine if the keyboard quality is appropriate for your gaming sessions or not, there are several things to look at. You may think of them as a checklist I use to go through and pick just the best gaming keyboard.
Build Excellence
Less is said about the construction quality as I speak more. The build quality is essential for a decent gaming keyboard is necessary. More than any other endeavor, gaming puts construction quality to the final test.
A good build entails examining the frame or chassis for quality of construction. The keycaps and keys utilized in the system are important in gaming keyboards.
RGB Back lighting
True gaming experience is done in dark and you need backlight keyboards with RGB lights. When I see a keyboard with RGB lighting, it always appears so much better than a standard keyboard without RGB lighting or backlighting.
The RGB lighting behind the keys makes them more apparent to you, even in dimly lit areas of the room.
Mechanical Vs Membrane Keyboards
Computer keyboards with mechanical keycaps have the sensation of typewriters in their actual operation. It also offers an additional advantage. Mechanical feel keys are simple to use and provide top-notch feedback. For gamers, it offers the 'Click' sound which gives you the positive feedback when using keys during gaming
As a result, mechanical keyboards have faster-typed speeds and more excellent durability than membrane keyboards.
Most non-mechanical keyboard types are featured among the sub-1500 gaming keyboard alternatives. Most of them successfully imitate the mechanical feel you would experience with a proper mechanical keyboard, which is a remarkable and necessary quality.
Ghost-Prevention Feature
The Anti-Ghosting tool is a beneficial feature where multiple keys press is not registered while playing a fast-paced game. Due to hardware limitations, any regular keyboard would not respond to or acknowledge all key presses if multiple keys were pressed simultaneously.
However, this issue is resolved with Anti-Ghosting keyboards. Now, you may rapidly press many keys, and your computer will precisely register each key press. Your desired level of game performance would be enhanced.
Many video games require multiple key presses. They have a conspecific control to carry out a specific action or complete a given objective in fun.
Here are some top gaming keyboards under 1500 that will make your games simple and enjoyable.
Best Gaming Keyboard Under 1500
1. Zebronics Zeb-War Gaming Keyboard
Considering that you are receiving a high-quality keyboard with a variety of unique features at such a low price, this gaming keyboard is not bad for 1500. The gaming keyboard from Zebronics has innovative features that will improve your gaming abilities and pleasure.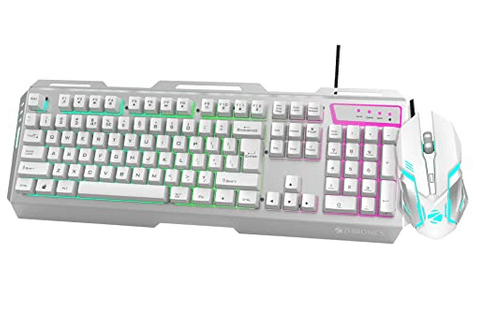 You may use specific features like the windows key option to disable and enable it on the ZEB-TRANSFORMER keyboard. With the backlit LED lights that come with this keyboard, gaming and keyboarding are elevated to new heights.
Zebronics Zeb-Transformer Gaming Keyboard
Multicolor LED ( 4 modes - 3 light modes and 1 off mode ),Integrated media control Windows key Disable / Enable function

All Keys Disable / Enable function , All Keys Disable / Enable function

2-steps stand design, Laser keycaps

Aluminum body, Backlight LED On / Off function

Braided cable USB connector

Button stokes life : 80 million ti
This item features a body made of aluminum and an excellent waist rest. This gaming keyboard has a small, traditional design and a sturdy metal plate.
Additionally, this keyboard boasts lengthy braided cables and high-quality USB connections, which make it simple to hold and operate.
Key Features
The term has many colored LEDs (3– 4 modes and one-off mode).
Windows key disable/enable functionality built within the media control.
Keyword features sturdy housing and an on/off switch for the backlight LED.
It contains a lengthy braided cable and a high-quality USB connection.
Pros
Gold USB plating.
Ergonomic and compact design.
LED lights in many colors.
Superior Buttons.
Cons
2. Cosmic Byte CB-GK-02 Corona Gaming Keyboard
This gaming keyboard alternative may be the most acceptable match within the price range of 1500. This will be ideal if you seek a sleek, straightforward, and beautiful product. It has floating keys, which gives you the impression of using a mechanical keyboard.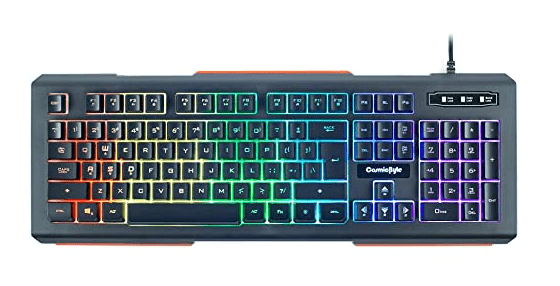 The multimedia buttons on the Cosmic Byte gaming keyboard make it simple and quick to access the internet, sound, media controls, and many more features that will improve your gameplay.
To be prepared for accidental spills while in use, this keyboard features a membrane keyboard with water-spill protection. Additionally, this device contains scratch-resistant keycaps that extend the keyboard's lifespan. This keyboard is among the more resilient and long-lasting ones.
Cosmic Byte CB-GK-02 Wired Gaming Keyboard
Backlight: 7 Color RGB Backlit, 4 Levels of Brightness Adjustment, 9 Backlight Effects

Anti-Ghosting: 19 Anti-ghosting Keys

Scratch Resistant Keys: Easy to clean keys with scratch - resistant inscriptions

Supported Operating Systems: Windows 98/2000/XP/VISTA/7/8/10 and above

Key life: Up to 10 million keystro
Key Features
It is compatible with Windows 98/2000/ 7/8/ XP/VISTA /10.
Important surviving life Up to ten million keystrokes are possible.
It contains a seven-color RGB backlight, nine effects, and a four-level brightness adjustment.
19 anti-ghosting and scratch-resistant keys make cleaning a breeze.
Pros
Smooth RGB backlights;
sturdy construction weighing 800g.
Excellent typing performance (among membrane keyboards).
Cable with braid.
Custom (user-defined) RGB effects.
Cons
Inability to preserve RGB effects.
Because of the significant "return" key, the "reverse slash" key is situated in the middle of the row.
3. HP GK100 Gaming Keyboard
The HP GK100 is a mechanical keyboard great for gaming under 1500 in the low-cost market. HP did a fantastic job incorporating a mechanical keyboard into the HP GK100 while maintaining the cost at or around 1500. There are no dedicated media keys on this HP keyboard's 104 keys.
The keyboard boasts four LED indicators for RGB lighting, which is more than enough to improve your mood during extended gaming marathons. Rubber cushions on the device's back improves grip and lift the keyboard to a more comfortable level.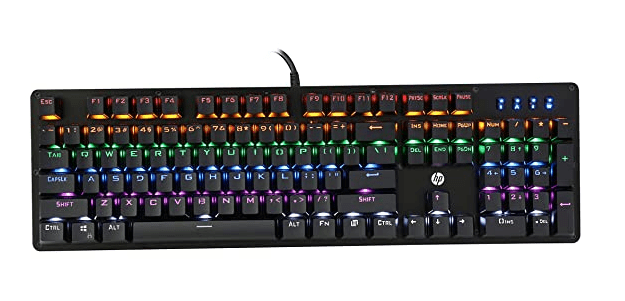 Performance-wise, the HP GK100 unquestionably outperforms budget membrane keyboards. For high-intensity gaming, there is 104 keys total, including anti-ghosting keys.
Given the cost, it is a bit remarkable that the keys on this keyboard can withstand 50 million keystrokes. Additionally, it will lengthen this HP keyboard's useful life and durability.
Last but not least, you have the choice to disable the Windows key on the keyboard, saving you the hassle of accidentally quitting the game when you mistakenly hit the Windows key.
Key Features
Mechanical keyboard with blue keys.
No media censorship
One1-year warranty
Wired/Wireless: RGB Wired
RGB Wired
Pros
Price of a mechanical keyboard is less.
100% ghost-proof blue keys, or 104 anti-ghosting keys
Slim and comfortable
4 LED indicators
Cons
No Media keys
No modification of LEDs
4. Redgear Shadow Amulet Gaming Keyboard
The Redgear Shadow Amulet gaming keyboard is a good buy, in my opinion. Please let me inform you that this mechanical gaming keyboard has blue click switches for haptic feedback. Because of this, I am pushing the keys more effortless for you, which speeds up your gameplay.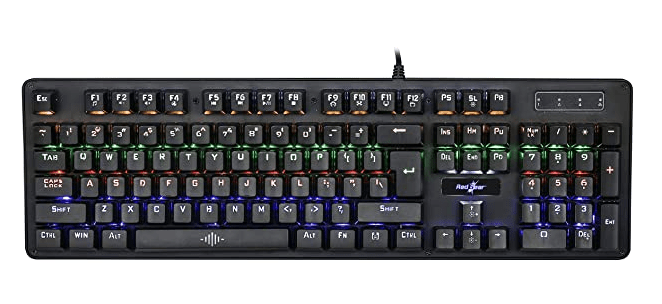 This keyboard offers a wide range of colors that may be employed depending on the situation, thanks to its Rainbow LED mode.
We have been handed a total of 26 anti-ghosting keys so that we may enjoy free gameplay. This keyboard, in my opinion, offers excellent value for the money when you consider all of its capabilities.
Redgear Shadow Amulet Mechanical Keyboard
Shadow Amulet comes equipped with mechanical Blue Click Switches which gives you a tactile feedback of it. It also helps to increase the gaming speed by reducing the effort required to push the keys all the way through

Rainbow LED: It comes with a Rainbow LED Mode which provides a huge spectrum of colors that can be used as per your needs

Windows Key-Lock: With its Windows Key Lock you can play for long hours without being any hassle or interruption

Floating Key-Caps: The keycaps are perfectly placed which gives a click sound and accurate results every time you click. Its ergonomic design helps distance each pressure laid on it while using it

26 Anti Ghosting Keys: With its Anti Ghosting function you can use upto 26 keys at the same time giving you all the freedom in your g
Key Features
LEDs are well lit up with 8 RGB lighting effects
Rubber pads at bottom acting as stopper
Pros
Windows key-locking mechanism
26 floating keycaps Keys that prevent ghosting
Mechanical blue click switches provide tactile feedback.
LED rainbow mode
Cons
The braided cable should have been given.
5. Cosmic Byte CB-GK-28 Vanth Mechanical Gaming Keyboard
This keyboard is excellent to buy under the price of 1500. Thanks to its Rainbow LED mode, this keyboard offers a variety of colors that may be used depending on the need.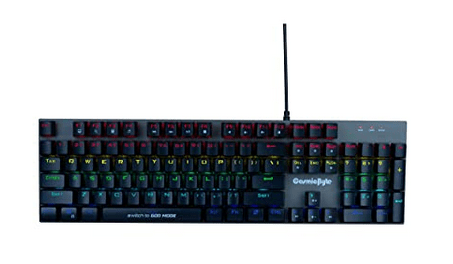 Switches are solid and responsive making membrane or other type of keyboards obsolete. It also has full anti ghosting keys, use FN+ SCRLK to activate /deactivate it.
Cosmic Byte CB-GK-28 Vanth Mechanical Keyboard
Full Size Mechanical Keyboard with 104 keys. FN+SCRLK can switch : 6 keys anti-ghosting and full keys anti-ghosting

Red Outemu Mechanical Silent Key Switches.

50 million + Operations for Each Key.

Injection Molded Double-shot Color Keycaps.

Simultaneous Operation for All Keys Without Any Key Ghosting Effects.

Adjustable Backlight Brightness and Speed

20 Backlight Effects and 8 Game Mo
Key Features
50 million operations or more for every key.
Double-shot color keycaps that were injection molded.
Without any critical ghosting effects, simultaneous operation for all keys.
104-key full-size mechanical keyboard. Six keys are switchable using FN+SCRLK.
complete keys and anti-ghosting anti-ghosting
Silent mechanical key switches by Red Outemu.
Pros
Decent build quality
20 programmable RGB modes
clicky sound of blue switches
Cons
No dedicated software for RGB and average plastic used
Less number of rubber pads used for grip
Do's And Don't in Gaming Keyboard Under 1500
You need to take care of a few things after purchasing the gaming keyboard for under 1500. Most importantly, while gaming keyboards are built to last, you should still take the proper precautions if damage occurs.
After purchasing a gaming keyboard, you should be aware of the following:
After buying a gaming keyboard, what to do
1. Verify for any physical damage or missing parts
2. After heavy gaming session, make sure to clean up the keyboard for a long lifetime.
3. Verify the warranty of the product in the manufacturer website
4. Please check whether all the keys are working in the device using this keyboard keys tester.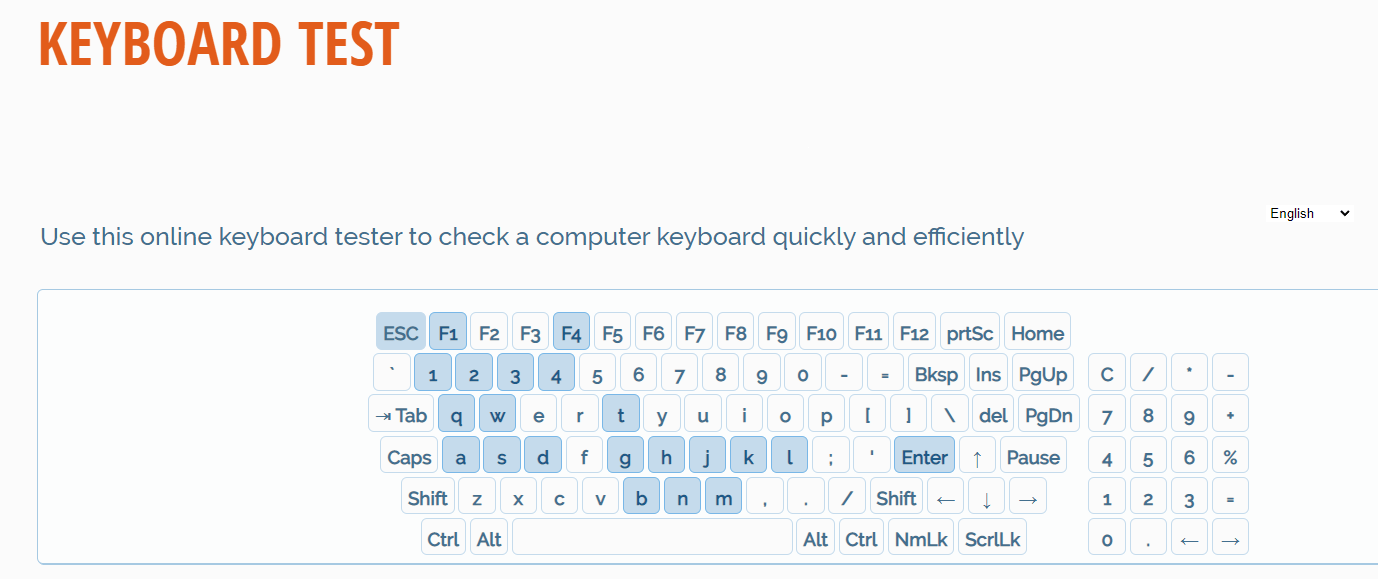 5. If you see, the keys are typing the wrong character. Do check the below video to correct them and if still it doesn't work, then go for replacement.
Don't
Stay away from water spills and dust.
Never use the keyboard without first consulting the instructions.
Avoid pressing down hard on the keyboard.
For gamers, keyboards are crucial since it is very different for normal users.
Both classes have distinct requirements for features. Modern gaming keyboards under 1500 rupees include sophisticated functionality.
However, several gaming keyboard brands make it difficult to choose a model just on pricing.
In this price range, gaming keyboards are now quite popular. They come with cutting-edge features like a waist rest, backlighting, LED lighting, a metal body, long-lasting key caps, customizable software, etc.
FAQ on Gaming Keyboards Under 1500