Looking to buy a premium or highly configured laptop under 1 lakh ?
Whether you are interested to buy a laptop for gaming, video editing or entertainment , we will solve your confusion and recommend the best laptop as per your requirement.
You can quickly check our finalized recommendations of laptops under 1 lakh below based on needs, but we suggest you to go through the guide to choose the best laptop.
We Highly recommend you to read the Useful Laptop Buying Guide at the end of the article to get an in-depth knowledge about all the tech used in the latest Laptops.
Best Laptop Under 1 Lakh in India 2022
Best Portable & Sleek Laptop Under 1 Lakh in India
LG Gram is a modern marvel with one of thinnest built and premium quality. The laptop has 17 inch screen, 16:10 aspect ratio and 2k display. Being super light weight and even lighter than Macbook gives you a great advantage. The LG Gram laptop comes with latest 11th Gen Intel Core i5 processor for enhanced speed and performance.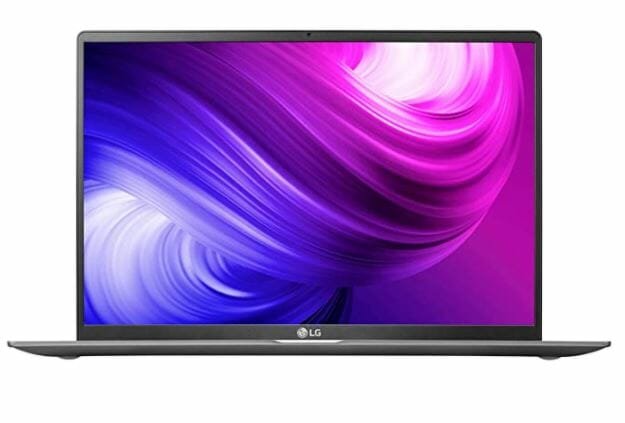 The laptop includes a huge 17-inch full HD screen to provide you with great enjoyment. It is backed with the Intel Turbo Boost technology to offer you the utmost gaming experience by boosting the frequency level. This laptop weighs only 1.3 kg, which is lighter and easy to carry.
With a slim design and backlight keyboard, this is one of the powerful laptops under 1 lakh. It has 80W battery which gives you more than 10 hours backup. Finally, you get 3 Years onsite warranty.
Key Features
The LG Gram comes with 11th Gen Intel Core i5 6-core processor for better performance.
It has a 2.6 GHz base frequency, which is improved up to 4.5 GHz with the Intel Turbo Boost technology.
With 8 GB SDRAM and 1TB storage, the laptop provides an enhanced experience to the user.
This laptop has a slim & sleek built for easy portability.
Specifications
Processor:11th Gen Intel Core i5-1165G7 Processor
Clock Speed:2.6 GHz up to 4.5 GHz
Memory and Storage:8 GB DDR4 RAM and 512GB SSD
Display:17 inches full HD display
Weight:1.3 kg
Graphics Card:Intel Integrated
Operating System:Windows 10 Home OS
Battery life:10 to 12 hours
Pros
✔ Modern design.
✔ Bigger screen.
✔ Windows 10 OS.
✔ Intel Core i7 processor.
✔ 10-12 hours Battery Backup.
Cons
X No Dedicated Graphics Card
LG Gram 17 Intel Evo 11th Gen i5 Thin & Light Laptop
Processor & OS: Intel 11th Gen Corei5-1135G7 (2.4 GHz, Turbo up to 4.2 GHz, L3 Cache 8MB, 28 W)- Window 10

Display: 17 (43.2 cm) WQXGA (2560 x 1600) 16:10 Aspect Ratio IPS Display with DCI-P3 99%

Memory: 8 GB LPDDR4X (Dual Channel-4266 MHz)

Storage: 512 GB SSD (Type:M.2 2280) NVMe with additional expansion slot

Product & Battery: Weight 1.35 Kg Magnesium Alloy - 80 Wh Battery with 15 hr back-up (* MobileMark 20
Best Gaming Laptop under 1 Lakh in India
Lenovo is a popular brand in the Indian market for its high-quality products. This gaming laptop from Lenovo is excellent for those who are looking for laptops under 1 lakh India. It has a sleek design and comes with incredible features to improve the experience of the users. With a black body design, vertical vents, and top-placed webcam with privacy shutter, this laptop is the right choice for gamers.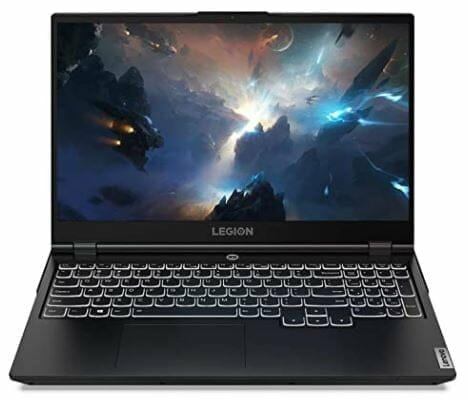 The laptop offers refresh rate of 120Hz to upgrade your gaming experience. Because it is compatible with Bluetooth 5.0, you can have countless connectivity options and enjoy your gaming sessions without any interruption.
Moreover, the fast charging feature with Rapid Charge Pro technology is capable of providing you with a 50% battery life in just 30 minutes. The laptop has 4 exhausts and a six-point thermal sensor array to efficiently dissipate the heat and ensure optimal performance.
Key Features
It has the input and output ports on the rear to keep the cables organized.
The built-in 2x2W Harman Kardon speaker with Dolby Atmos provides excellent sound for an enhanced gaming experience.
The laptop has superb design and build-quality that makes it ideal for those who need the best laptop under 1 lakh.
This laptop features polymer-coated fans and copper heat pipes for proper heat dissipation.
Specifications
Processor:AMD Ryzen 7 5800HProcessor
Clock Speed:2.6 GHz to 5 GHz
Memory and Storage:16 GB DDR4 RAM and 1TB HDD and 256 GB SSD
Display:15.6 inches full HD display
Weight:2.5 kg
Graphics Card:NVIDIAGTX1650 Ti
Operating System:Windows 10 home
Battery life:8 hours
Pros
✔ Bluetooth 5.0 compatibility.
✔ Fast charging technology
✔ Efficient cooling system.
✔ High refresh rate.
Cons
X None
Lenovo Legion 5 AMD Ryzen 7 15.6 inches FHD IPS Gaming Laptop
Processor : 5th Gen AMD Ryzen 7 5800H | Speed: 3.2 GHz (Base) - 4.4 GHz (Max) | 8 Cores | 16MB L3 Cache

OS: Pre-Loaded Windows 10 Home with Lifetime Validity

Pre-Installed: MS Office Home and Student 2019

Memory and Storage:1x 8GB SO-DIMM DDR4-3200, Upgradable up to 16GB | 512 GB SSD

Display: 15.6 Full HD (1920x1080) | Brightness: 300 nits |Anti-gl
Best All Round Laptop under 1 Lakh in India
This gaming laptop is famous for its modern design and powerful performance. With a stunning audio mode, the laptop produces excellent sound to make you stand out in a crowd. The system mode allows you to check the time, battery, notifications, etc. at a time.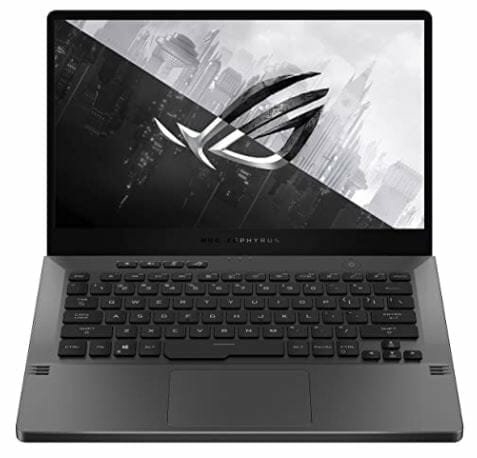 The text-mode lets you write efficiently. It raises 15mm from its position for enhanced typing, audio, and cooling performance with an ergonomic hinge design. The keyboard is backed with 4 hotkeys, N-key rollover, and curved keycaps to upgrade your typing experience.
This laptop uses an AMD Ryzen 7 4800HS processor that provides improved performance for the utmost gaming experience. Asus ROG Zephyrus is a great laptop under 1 lakh India to buy because of its durable construction and incredible features.
Key Features
This laptop supports type C charging with a fast charge feature to charge it quickly.
The fingerprint reader lets you do painting and unlock the laptop conveniently.
Asus provides a 1-year warranty on this gaming laptop.
The rising hinge design makes this laptop suitable for listening to music and typing.
With ROG intelligent cooling, the ASUS laptop stays cool for optimal performance.
Specifications
Processor: AMD Ryzen 7 4800HS processor
Clock Speed: 3 GHz to 4 GHz
Memory and Storage: 8 GB DDR4 RAM and 1TB M.2 NVME SSD
Display: 14 inches full HD display
Weight: 1.6 kg
Graphics Card: NVIDIA GeForce GTX 1650 Ti
Operating System: Windows 10 Home
Battery life: 10 hours
Pros
✔ Metallic body design.
✔ 120Hz refresh rate.
✔ Fingerprint sensor.
✔ Dolby Atmos audio system.
Cons
X None
ASUS ROG Zephyrus G14 AMD Ryzen 7 Gaming Laptop
Processor: AMD Ryzen 7 4800HS Processor, 2.9 GHz (8MB Cache, up to 4.2 GHz, 8 Cores, 16 Threads)

Memory: 8GB DDR4 3200MHz Dual-Channel RAM, Upgradeable up to 24GB using 1x SO-DIMM Slot with | Storage: 512GB M.2 NVMe PCIe 3.0 SSD

Graphics: Dedicated NVIDIA GeForce GTX 1650Ti GDDR6 4GB VRAM

Display: 14-inch (16:9) Full HD (1920 x 1080), 300 nits Brightness, Anti-Glare IPS-level panel, 120Hz Refresh Rate, 100% sRGB, Pantone Validated, Adaptive sync, 85% screen-to-body ratio

Software Included: Pre-installed MS Office Home and Student 2019 | Operating System: Pre-loaded Windows 10 Home (64bit) with lifetime validity

Design & battery: NanoEdge bezels | Metallic Body | 6,536 CNC Milled Dot Matrix Design| Honeycomb Reinforcement Chassis | Thin and Light Laptop| 19.9mm Thin | Laptop Weight: 1.60 Kg | 76WHrs, 4-cell Lithium-Polymer Battery

Cooling System: ROG Intelligent Cooling | Self-Cleaning Fan Design | Dual N-Blade Fans | 81 Blades in each Fan | 0.15mm Slim Copper Fins

I/O Ports: 1x 3.5mm combo audio jack, 1x USB 3.2 Gen 2 Type-C, 2x USB 3.2 Gen 1 Type-A, 1x Type C USB 3.2 Gen 2 with Power Delivery, Display Port 1.4 and G-Sync Support, 1x HDMI 2.0b

Other: One Touch Login Power and Fingerprint Reader| White Backlit Keyboard | Intel Wi-Fi 6 (Gig+) (802.11ax) 2*2 | Bluetooth 5.0 | Quad Speakers | Built-in array microphone | without Web Camera | ROG sleeve for 14-inch Lap
Also Read: Best Laptop For Students in India
Best Laptop For Office Under 1 Lakh in India
The Microsoft Surface Laptop 3 is a stylish cum functional device to improve the experience of the user. It comes with Windows 10 Home operating system for an enhanced experience. Moreover, the laptop has an elegant design to offer superior performance.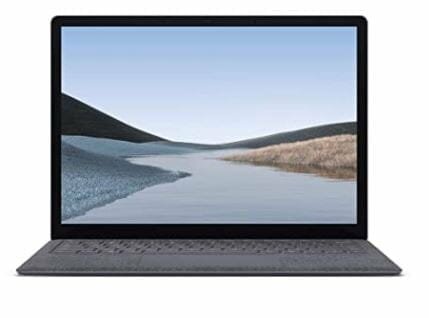 With a thin and lightweight design, this laptop is great for those who need a slim laptop for their work. It comes with USB-C and USB-A ports to allow you to connect displays, docking stations, and other accessories with ease. This laptop will get charged up to 80% in just 1 hour with the fast charging feature.
Because the Microsoft surface laptop has a touchscreen feature, you can efficiently do your work. It also provides a battery life up to 11.5 hours, making it one of the best laptops under 1 lakh in India to choose from.
Key Features
The laptop contains the latest processor to upgrade your experience.
Microsoft Surface Laptop 3 is two times faster than its previous model.
It has a lightweight design to let you carry it with you anywhere you want.
The fast charging feature improves the user experience by providing an 80% battery in just 1 hour.
Specifications
Processor:Ryzen 5 Processor
Clock Speed:1.2 GHz
Memory and Storage:8 GB LPDDR4 RAM and 128 GB SSD
Display:13.5 inches of touchscreen display
Weight:1.5 kg
Graphics Card:Radeon Vega 9
Operating System:Windows 10 Home
Battery life:11.5 hours
Pros
✔ Fast charging technology.
✔ High battery backup.
✔ Touchscreen display.
✔ Superior performance.
Cons
X Some users have got disappointed after using this laptop.
X Price is a little higher than 1 lakh.
Microsoft Surface Laptop 3 Touchscreen Laptop
Processor: AMD Ryzen 5 3580U Processor, 2.1 Ghz

Display: 15 inch 2496 x 1664 Pixelsense display | Touchscreen enabled

Memory & Storage : 8GB DDR4 RAM with AMD Radeon Vega 9 Graphics Microsoft Surface Edition| Storage: 128 GB SSD

Keyboard finish : Metal palm r
Best Laptop for Creators & Designer Under 1 Lakh in India
It is another excellent laptop for gamers. The laptop has a four-sided frameless design to provide you with a bigger screen to enhance your experience. It comes with the ASUS ScreenPad Plus to offer you a unique experience.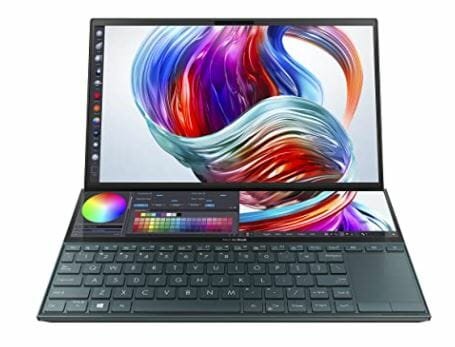 The full-width built-in touchscreen provides excellent performance to let you do your work conveniently. The ScreenPad Plus lets you do writing, drawing, and graphical editing as per your needs.
Because this laptop is for multitasking, it will provide you with numerous options to do your work. Asus ZenBook Duo is one of India's best gaming laptops under 1 lakh to opt for with a powerful processor. The ZenBook Duo also comes with a face unlock feature to let you operate it effortlessly.
Key Features
The laptop comes with the intelligent Alexa feature to answer your questions and entertain you.
With smart amplifier technology and superior hardware, this laptop produces superior sound than other market laptops.
The ASUS ZenBook Duo is made of military-standard material to provide upgraded durability and reliability.
It is ideal for use in extreme environmental conditions.
The ScreenPad Plus provides a unique experience by allowing the users to do their work effortlessly.
Specifications
Processor: 11th Gen Intel Core i5-11210U processor
Clock Speed: 1.6 GHz to 4.2 GHz
Memory and Storage: 8 GB LPDDR3 RAM and 512 GB M.2 NVMe SSD
Display: 14 inches LED-backlit full HD display
Weight: 1.5 kg
Graphics Card: NVIDIA GeForce MX250
Operating System: Windows 10 Home
Battery life: 8 hours
Pros
✔ Slim and lightweight design.
✔ Full-size backlit keyboard.
✔ ASUS ScreenPad Plus.
✔ Stylish design.
Cons
X This laptop has less storage space.
X Some users report touchscreen doesn't work efficiently.
ASUS ZenBook Duo 14 Dual-Screen Touch Business Laptop
Processor: 11th Gen Intel Core i5-1135G7, 8MB Cache, 2.4 GHz Base Speed, Up to 4.2 GHz Turbo Boost Speed, 4 cores, 8 Threads

Memory & Storage: 8GB LPDDR4X onboard 4266MHz RAM with | Storage: 512GB SSD M.2 NVMe PCIe 3.0

Graphics: Intel Iris Xᵉ Graphics

Display: Touch screen, 14.0-inch, FHD (1920 x 1080) 16:9, IPS-level Panel, Anti-glare display, LED Backlit, 400nits, sRGB: 100%, Pantone Validated, Screen-to-body ratio: 93 %, With stylus support

Additional Display: ScreenPad Plus (12.65 FHD 1920 x 515, Touch screen IPS-level Panel Support Stylus)

Keyboard & Touchpad: Backlit Chiclet Keyboard | 1.4mm Key-travel | Precision Touchpad

I/O Port: 1x USB 3.2 Gen 1 Type-A, 2x Thunderbolt 4 supports display / power delivery, 1x HDMI 1.4, 1x 3.5mm Combo Audio Jack, 1x Micro SD card reader
Price Comparison – Best Laptop Under 1 Lakh
Product prices and availability are accurate as of the date/time indicated and are subject to change. Any price and availability information displayed on [relevant Amazon Site(s), as applicable] at the time of purchase will apply to the purchase of this product.
Prices pulled from the Amazon Product Advertising API on:
Buying Guide For Laptop Under 1 Lakh
Although you have fixed your budget to 1 lakh, you can't find the best laptop for you without proper research. So, it would be best if you considered following this detailed buying guide to get the best laptop under 1 lakh for you.
Consider Your Usage
The first thing you need to consider while buying a laptop is for what purpose you need the computer. If you need it for common usage like listening to music, watching movies, making documents, etc., then go for a laptop model with better CPU and RAM.
But if you need a laptop for gaming purposes, then you will need to consider the graphics card in your laptop. Also, laptops are available for several other purposes, such as traveling, business use, graphic designing, etc. So, make sure to decide the application first before choosing any laptop.
RAM And Storage Requirement
The RAM and ROM are the next significant criteria to check in a laptop before purchasing it. The RAM improves the capacity of the laptop to handle multiple tasks at a time. Moreover, the RAM in your computer is what makes it multitasking.
So, if your laptop has more RAM, it can provide you with a smoother experience. Usually, 8 GB RAM is a better choice to opt for, but you can also look for laptops with more RAM for an excellent performance.
ROM or storage memory is also crucial for better performance. For general storage needs, 512 GB to 1TB hard drive is better to choose.
SSD or HDD
In general, you can find storage memories in two types, SSD and HDD. Although both of them do the same function that is storing and retrieving your data, they have some pros and cons to consider.
HDDs or hard disk drives are commonly used as storage devices for decades. They usually use mechanical parts that are spinning disks for reading and writing data. Also, they are cheaper than SSDs and come with more storage space. The main down point of HDD is that it has mechanical parts that make the functioning slower and require extra care while handling.
Solid State Drives or SSDs are advanced devices to HDDs and use flash memories for performing. They don't have any mechanical parts like HDDs, making them faster and suitable for applications like gaming, watching movies, etc. There are lightweight and require less energy than HDDs for performance. However, these devices are costly and have a small storage space.
Undoubtedly, SSDs are better options than HDDs. They improve laptops' efficiency and performance.
Operating System
This is the software platform where you can access your laptop's essential functions and run your applications. Usually, laptops come with pre-loaded Operating Systems that you can see in the specifications before buying it. Some standard Operating systems available in the market are Windows, Linux, macOS, and DOS.
While choosing the best laptop under 1 lakh for your use, you should check the OS it has to ensure appropriate performance. Some operating systems are user-friendly, while others require a little learning to use the laptop. Therefore, make sure to choose the right OS according to your needs.
Processor
The processor of the computer says how fast your machine can perform. You can check the processor and its speed in the laptop's specification to ensure it can perform well. Usually, the laptop processors come with multiple cores that can handle separate instructions efficiently. Therefore, if the number of cores in your laptop is more, it can simultaneously handle more tasks.
But for an average person with no technical knowledge, it won't be easy to decide which processor is good. Here are some typical processors available in the market to choose from.
1. Intel Core i3 -This processor is capable of executing your daily tasks to provide you with a unique experience. Also, it supports 4K and HD videos.
2. Intel Core i5 – It is excellent for both personal and professional applications and provides more power than i3.
3. Intel Core i7 – The Core i7 processor is ideal for heavy usage like gaming, business applications, multitasking, etc.
Apart from these, there are also many other processors available in the market. So, you should consider your application and select the processor accordingly.
Display
The display of your laptop is another vital factor in ensuring better usability. Make sure the laptop you are going to buy has a full HD display to enjoy your gaming sessions.
Also, you should choose the display size considering your requirement. Usually, a 15-inch display is good. But you can select a smaller or bigger display according to your preferences.
There are some common factors that one should consider while buying a laptop.
Laptop under 1 Lakh Buying Checklist
To sum up all the important points and factors to consider before buying the laptop, we have made a quick checklist to help you choosing the best laptop under 1 Lakh in India
✔️ Laptop To Have Full HD and possibly higher refresh rate screen
✔️ Processor is Intel i7 ( 10th or 11th Gen )
✔️ Laptop To Have all connectivity options like USB-C, microSD, thunderbolt and HDMI ports
✔️ Extra RAM Slot for Future memory expansion
✔️ Powerful Graphics Card like GTX 1650 & presence of SSD drive a must
Frequently Asked Questions ( FAQ )
Selecting a good laptop is crucial to ensure ease of use. Because there are various laptops available in the market, it will be difficult for you to pick the right laptop for your application. Therefore, this guide will help you select the best laptop under 1 lakh in India with ease.