After months of speculation and leaked images, specifications, today Xiaomi confirmed that the Mi Max 3 smartphone will be launched on July 19. This is confirmed by launch poster shared by the company clearly indicating a new product with the name and date details. Previously we have already shared the Mi Mix 3 images and specifications. Even the latest leaks have revealed that the phone will come in black and gold color options.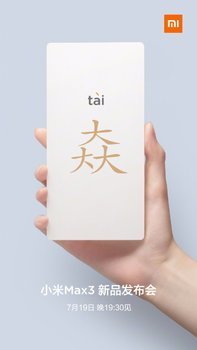 Also Read:Android P Name revealed and it's great!
To recall, Max series from Xiaomi are mid-range phones which gives you big display and bigger battery along with some nifty features specifically for the device. The Mi Max 2 was huge hit and the that phone still gets sold in India with positive reviews. So naturally the expectation for the new Mi Miax 3 is very high and we hope Xiaomi delivers this time too.
In the meantime, if you like checking out Mi Max 2 or any other Mi products please note Mi Anniversary Sale is currently ongoing with some great offers and today is the last day. So check out mi.com/in or the Mi App to make use of it.