Amazon India has recently upped its Prime subscription promotion through aggressive advertising and especially post the COVID 19 situation
If you are not a prime subscriber but curious and want to know what actually is offered in this service and whether it will be useful for you?
With the Amazon Great Indian Festival around the corner, this post will help you to decide whether getting a Amazon Prime Subscription is beneficial for you ?

Is Amazon Prime worth it?
To clarify all these queries, in this article we'll check what is Amazon Prime Subscription, the features and benefits it comes with, whether you need to sign up for Amazon Prime and finally check if there are other similar subscription services like this one.
What is Amazon Prime subscription?
If you have done online shopping in Amazon India, you would know that its free for you to browse the various items and also do shopping. You just pay for the product and shipping cost if applicable. Basically, for creating an account in Amazon or using its market place for your shopping there is no price.
Though this looks fine.
But what if you could get more benefits like Free shipping, fast delivery , big discounts etc., by paying a small premium ?!!
Amazon Prime is a paid subscription service offered by Amazon that give users access to Free delivery including One-day/two-day and exclusive deals/discounts on various products.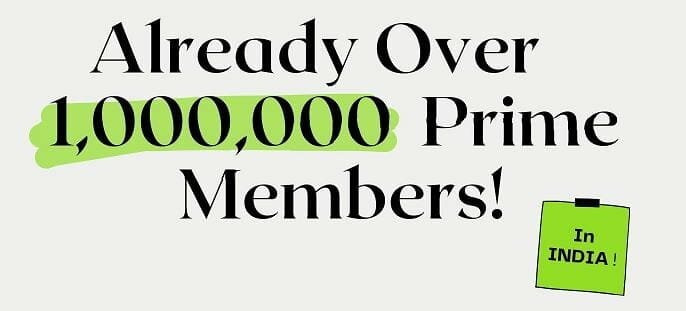 The Prime service doesn't stop with just shopping benefits (at least in India), the subscription also includes the acclaimed Unlimited Amazon Prime Video access and Amazon Music.
COMPLETE AMAZON PRIME BENEFITS HERE
Note –In U.S and EU countries, where Amazon presence is there usually Amazon Prime video is charged separately.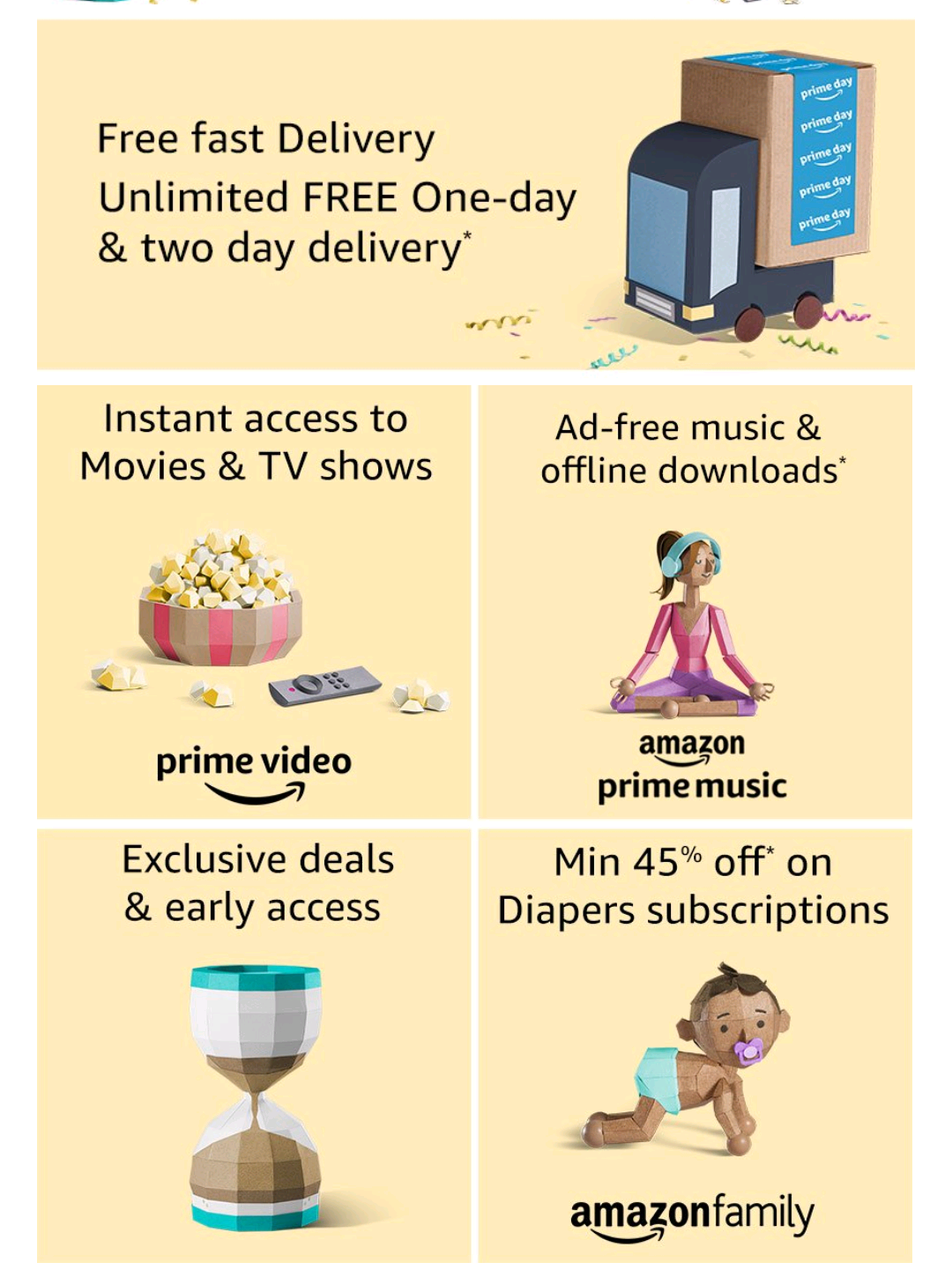 Benefits and Features of Amazon Prime Subscription
Free & Fast Delivery
In Amazon, by default products with price less than Rs 499 comes with shipping charge of Rs 40 or more. Apart from this, most of the sellers still charge shipping cost up to Rs 100 for various other products even if the product price is more than Rs 499.
Majority of products are prime supported in Amazon, so if you are a prime member then
Even if the price of a product is less than Rs 499, the shipping is Free
For many products, there is Free One-Day & Two-Day delivery available (for non-prime members the shipping cost will be even more)
For same day delivery option, non-prime member is charged Rs 150 but for prime member only Rs 50 charged.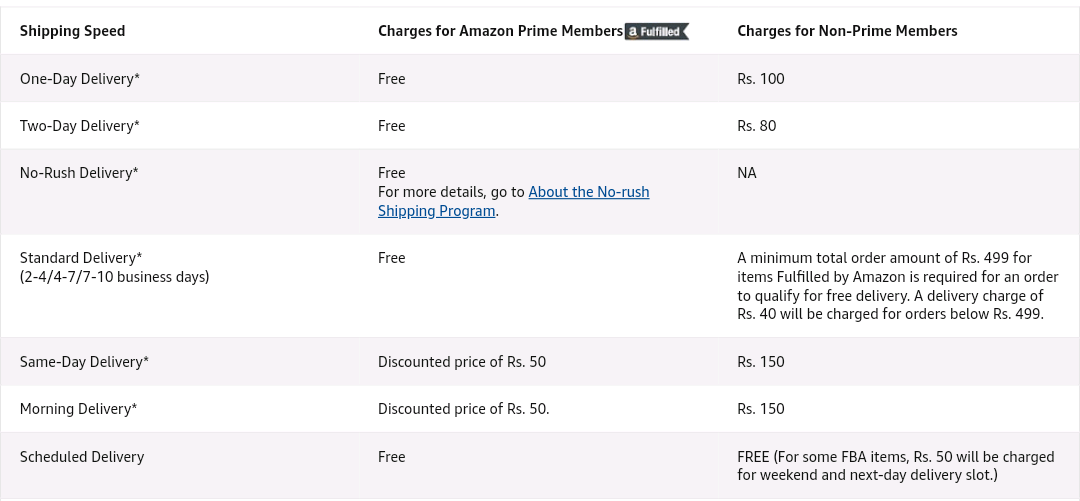 Also Read: How I completely automated my room using Amazon Echo Dot
Daily Deals & Discounts
Amazon offers daily deals with good discounts on products across various categories for its prime members exclusively. The preference is always given to Prime members for lighting deals (deals which is active only for few hours).
During the Amazon Great Indian Festival Prime Day , Prime Members will get all the deals exclusively for their online shoppers.
Apart from this, for any exclusive product launch on Amazon like new smartphones, Prime member are given advance access for pre-order or purchase which helps in beating the queue and easily buy your favorite items.

Amazon Prime Video
In my opinion if you are crazy on movies and TV series then this alone is enough you to go for Amazon Prime Video subscription.
Prime Video is one of the best video content offering online streaming services now available.
It offers huge collection of movies, TV series and even local content specific for India is being created in the form of Prime Originals.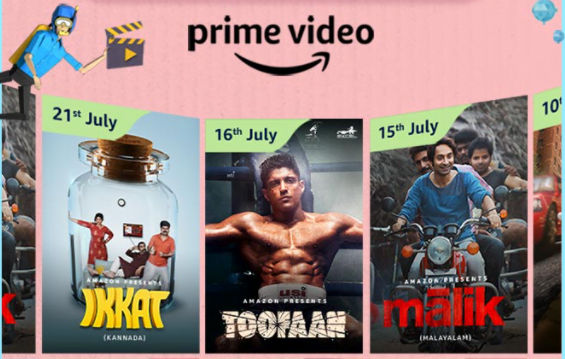 If you are movie buff but couldn't watch other languages movie in Hindi, Tamil, Telugu etc., with prime it can be easily done using the available of English subtitles for all the movies and TV series.
Amazon Music
For music lover, there is one more option now to enjoy the different genre and types in music. Amazon Music was only recently launched and available only for Prime members.

The main advantage of this is you can stream music via dedicated app in your phone and also you can directly use the service in browser by logging into music.amazon.in
Currently the collection is kind of limited especially for regional and local content, however Amazon is constantly updating
Also Read: Do you need smart speakers like Amazon Alexa or Google Home in India
Amazon Pantry offers
Amazon Pantry gives you the comfort of ordering all the required groceries in your seat. With Prime subscription, there is more discounts on all the items along with cashback option to Amazon Pay balance.
Apart from this, for family with kids there is a separate subscription option on diapers which gives you 15% off on the price. Recently Amazon introduced an exclusive service called 'Prime Now' where one can get the products ordered with 2 hours.
Amazon Prime Gaming
Recently, Amazon has introduced Free-In-Game content for Prime subscribers on Mobile Games. So for gamers this should be an additional benefit. Check all the details on Amazon Prime Gaming here.

Why you should sign up for Amazon Prime subscription
So, now coming to take a call on whether you need to sign up for its prime membership on or not, check out the below points.
1. Shopping needs
Online shopping is the future and already there has been a large evolution in the manner which people are shopping. With the digital age catching up in India, one can expect only more people to take on online shopping.
The core reasons for the same is the convenience factor and cheap deals!
On this front Amazon and Flipkart provide the best service currently, so if you do shopping regularly online and favor Amazon there is no reason why you should not try it.
The savings in shipping cost and deals/discounts should more than benefit you compared to the membership cost.
2.Video & Music Streaming services
For numerous amount of video and audio content which can be experience in you mobile on the go or at your seat with PC, both Amazon prime Video and Music takes care of your need.
The content, convenience and the quality it offers are unmatched for the price it offers. To make a comparison with other online streaming services will give you a clear idea.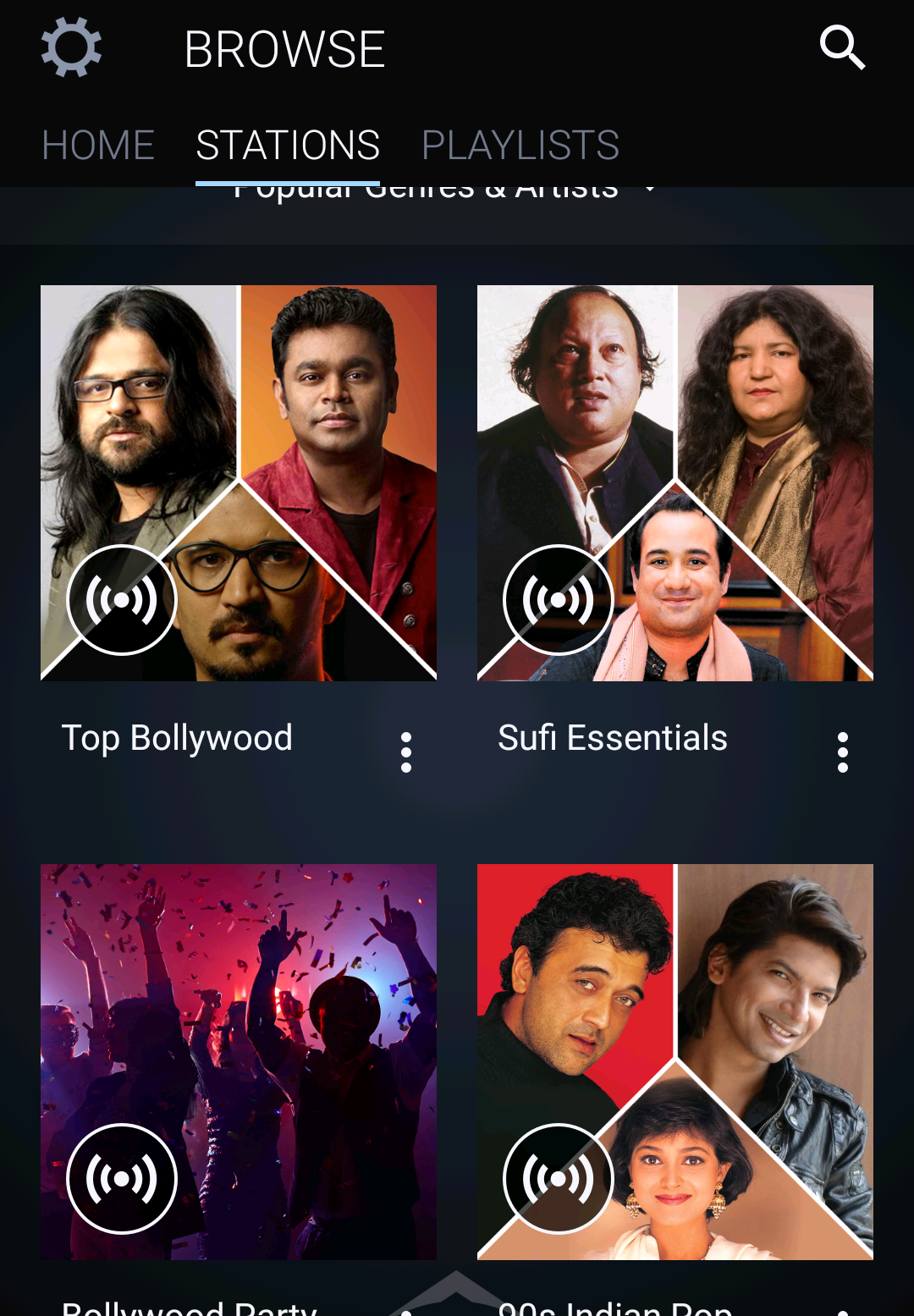 The other major player Netflix charges Rs 500 per month whereas the local player HotStar charges Rs 150 per month. Compared to these two, the actual Amazon Prime subscription itself will cost only Rs 999 per Year which is dead cheap.
Also Read:This how you make free voice call using Amazon Echo in India
3.Amazon Pantry
Amazon Pantry in my opinion is one if the best feature in amazon ecosystem, especially for India. We consume and have various types when it comes to food.
A household's groceries list, personal care products for the family can be vast and items will be many. So to lessen the burden on your shopping and wallet, being a Prime member gets you great discounts on many regular items along with the monthly subscription option which gives you flat cashback offers too.
So, out of the above 3 points even if one of them applies for you then I would suggest to try the Amazon Prime subscription. If all the points apply for you, then it's a must service to be part of.
Any Similar Services present?
In India, currently there is no service like Amazon prime currently when it comes to shopping. Flipkart had something called 'Flipkart First' but currently it's not working. For Video content, as already described the cost for Netflix or HotStar is high, so for now Amazon if your only option.
To help you try and learn about Prime membership benefits, Amazon now offers Monthly Subscription Plan too in addition to the existing Yearly Subscription.
How much it Cost to get Amazon Prime ?
Get 3 Months of PRIME Subscription at Rs 459
Get the Annual PRIME Subscription at just Rs 83 / Month ( Rs 1499 )
*All type of payment options like debit card, credit card, Net banking and various e-wallets are supported.
4 Easy Ways to Get Amazon Prime subscription for FREE
To enjoy all these benefits we discussed above, you have the option of getting them for completely FREE. Telecom Service providers have combined with Amazon to provide you this Rs 999 1 Year Prime subscription FREE if you are any of the eligible plans in both broadband and mobile network.
Note: Some offers mentioned may have expired, we'll keep updating as and when new offers are announced
The newly introduced Jio PostPaid Plans comes with FREE 1 Year Amazon Prime subscription option. Even if you are a prepaid Jio user, you can easily convert it to postpaid plan free of cost to enjoy this benefit.
Airtel Thanks Program offers free one-year subscription of Amazon Prime for Mobile customers & V-Fiber Broadband users. It is applicable for plans Rs 499 for mobile and Rs 1,000 for broadband respectively. Once in that plan, install the Airtel App and get the Free Amazon Prime there.
Similar to Airtel, Vodafone offers 1-Year FREE Amazon Prime subscription for postpaid users with all plans above above Rs 499.
Finally, if you are BSNL customer with Postpaid connections plans above Rs 799, prepaid above Rs 399 or with broadband plans, then you can get Amazon Prime Subscription by logging into the BSNL portal and clicking the Display Ad.
Finally, if you decide to embrace and experience the Prime service fully then now is the best time to do it. So check it out.