Amazon introduced their Echo devices powered by Alexa late last year in India.Initial run was more like a trail run with the three devices namely – Echo Dot, Echo and Echo Plus available for purchase only by Invitation at a discounted price. Starting this month, the company has removed the invitation process and normalized the price.
Along with this, Amazon also introduced few features like Make free voice calls using Amazon Echo ,Drop-In feature, Send messages and Multi-room Audio support which were up till now was not available in India. Lets check out these feature and how it can be used.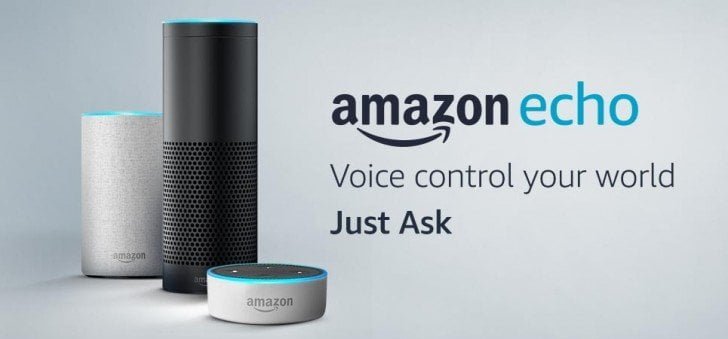 Make Free Voice Calls
Now using Amazon Echo Dot device, you can make Alex-Alexa free calls using just your voice command.
Once the Alex App is setup in your smartphone and connected to the device, you could see a new 'conversation' icon at the bottom of the App. ( as shown in below screenshot)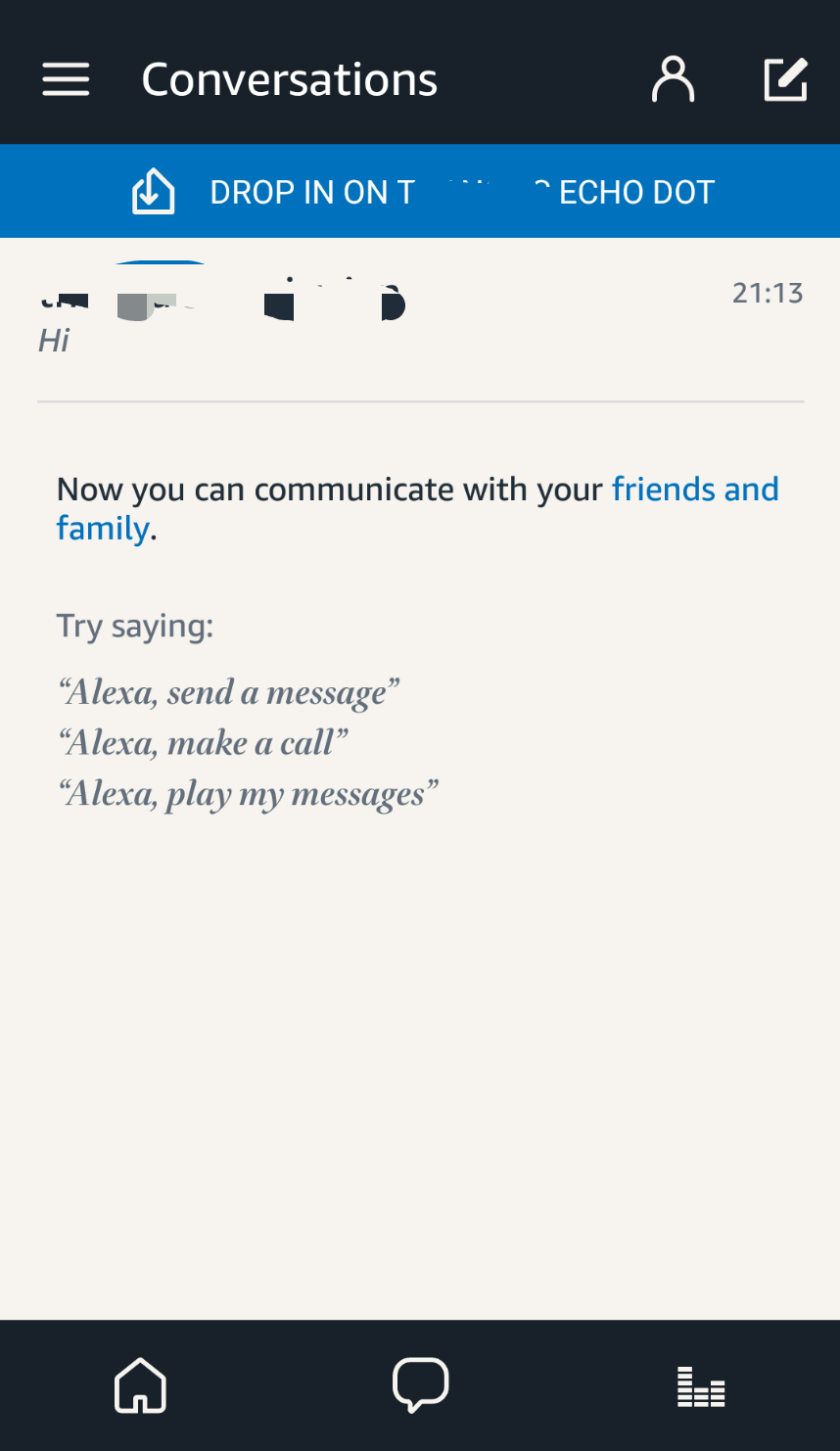 Before coming to this window, Alexa App will confirm your Mobile number. This number will be taken as primary number to used for calling and messaging you.
So in the above screenshot, as given just say the command to Call and then give the 'Contact Name' .After this, voice call will be placed successfully. As simple as that, you can make free voice calls using Amazon Echo device.
The great benefit of this feature is that you can make calls to any of yours contacts provided they have installed Amazon Alexa App in their smartphone
Note: You have to provide Alexa App access to contacts, microphone for this to work
Send Messages using Amazon Echo
This feature is similar to calling feature. You just have to say 'Alexa, Send Message to <contact name>' , the voice message will be recorded and sent to your contact in both voice format as well as text format after transcription.
Once messages received in your phone, a notification will be present in the 'Conversation' windows for you too check the message. Check below screenshot on how the message will be received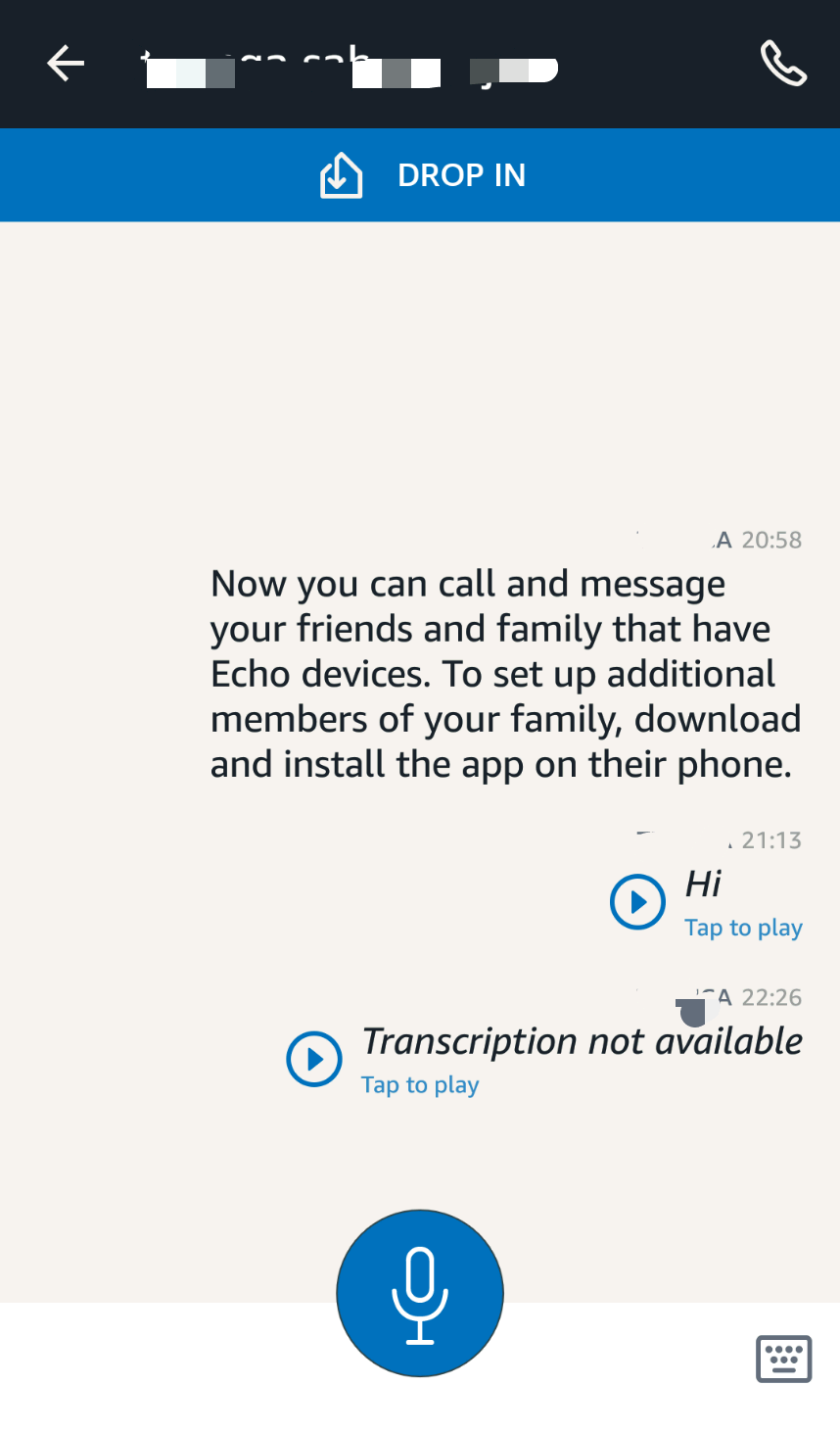 Also Read : How to Stop websites from recording your webcam and Key strokes
Amazon Echo Drop-In Feature
Drop-In is an optional feature from Amazon Alexa app where you can perform a check-in to your Amazon Echo device on your status or where about via voice/video format.This is a nifty feature to keep your friends and family informed about your status and location.
This feature is available in the 'Conversation' window itself.You just have to click 'Drop-In' and then the option will be enabled.
Amazon Echo Multi-room Audio support
Multi-room Audio support is nothing but connecting/pairing two or more Amazon Echo devices to play the same music at the same time or to control an Echo device in another room using a device present in this room.
This feature is really good one for Home Automation purpose.
With all these features enabled, i think now Amazon Echo devices are if good value for money if you are planning to embrace the future AI technology and thinking of trying your hands in Home Automation. Free voice calls using Amazon Echo is a stand out feature in my opinion.We are also planning to provide a tutorial/guide on how to make your home smart at budget price using Amazon Echo device soon. Will keep you updated.
If you like to try the new Amazon Alexa for voice calling or home automation or just for a need of AI to converse, buy it from Amazon here.