Earlier today, Vivo announced the launch of its new premium sub-brand named iQOO in China. Smartphone manufacturers recently have been segregating their brand names to launch new smartphones based on the price segment and features offered. Honor is a sub-brand of Huawei, Realme is for Oppo and even recently Xiaomi created the new sub-brand Redmi to launch only Redmi named phones called Redmi Note 7. In this way, Vivo today used its Weibo account to introduced the new sub-brand with a repost of the "Hello, this is iQOO" message that was first posted on the official Weibo account of iQOO.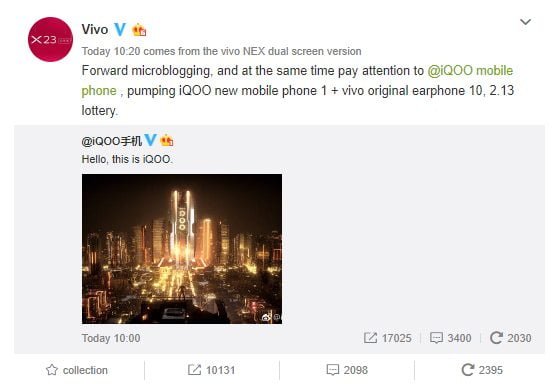 Also Read: 2019 Moto RAZR Foldable Phone render looks awesome
Further checking on the profile of iQOO, one can confirm that it is owned by its parent company Vivo. Even iQOO.com domain name is now active , however not much details are mentioned in there. With the image from its first post which indicate high end and advanced technology, one can assume that it will be responsible for launching premium smartphones. Also, it has been speculated that this new brand will cater to global audience and not just confined to Chine alone.
So, the Chinese mobile manufacturers are leading the race in both innovation and coming up with new strategy to cater to the smartphone demand worldwide. Lets wait for more details and official announcement from VIvo on this new sub-brand.