WhatsApp is one of the most popular cross-platform instant messaging in the world. As with all application updates roll out, new features are introduced time in again to improve the overall user experience. Last November, important feature was rolled out which allows the user to delete the message in WhatsApp sent by mistake in a group. Though the feature is useful, it had a time window of 7 minute by when the message should be deleted, else you cannot.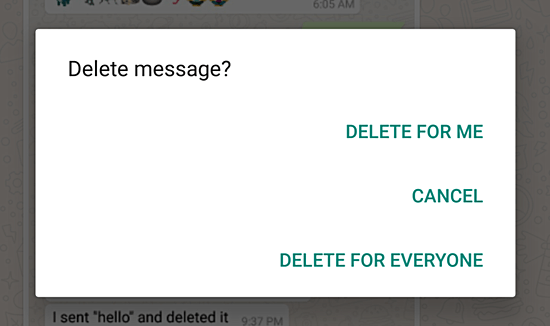 Now to overcome this little inconvenience, we'll tel you how to extend the window from 7 minute to 7 days.
Step below to delete the message in WhatsApp after 7 minute
1. Turn off the wireless connection or if 3G/4G connectivity is present make sure the data is switched to OFF
2. Take note of the date and time of the message you want to delete
3. Go to settings and navigate the Apps & Notification
4. Locate and tap on WhatsApp and select Force Stop for the app
5. Go back to the main settings and locate "Date & Time"
6. Disable "Automatic date & time" and change both to match the date and time of the sent message in WhatsApp
7. Once the device is backdated, go to WhatsApp, tap and hold on the intended message to delete and select "Delete for Everyone"
After removing the message, go back to the date and time settings to update back the current details.
So this is a simple yet very useful trick which allows you to delete the whatsapp message after the 7 minute window. Hope this helps.
Please let us know your comments on this in below section.