If you're a Jio user, you might be wondering how to delete call history from the My Jio app. In this article, we'll guide you through the process of deleting call history from your Jio app in a short and precise manner.
Managing call history on your smartphone is essential for privacy and organization. Luckily, it's a simple process that can be done in just a few steps.
Let's check it out.
Step-by-Step Guide on How To Delete Call History From My Jio App
Step 1: Open the My Jio App
First, locate the My Jio app on your smartphone and tap to open it. The app icon usually has a blue background with "My Jio" written in white.
Step 2: Sign in to Your Jio Account
Once the app is open, you'll need to sign in to your Jio account using your registered mobile number and password/OTP. If you haven't created an account yet, you can do so by following the on-screen instructions.
Step 3: Access Call History
After signing in, you'll be directed to the app's main screen. Look for the menu options at the bottom of the screen. Tap on the "Menu" option, which is usually represented by a hamburger icon.
Also Read: How To Upload WhatsApp Status Without Losing Quality – 3 Working Methods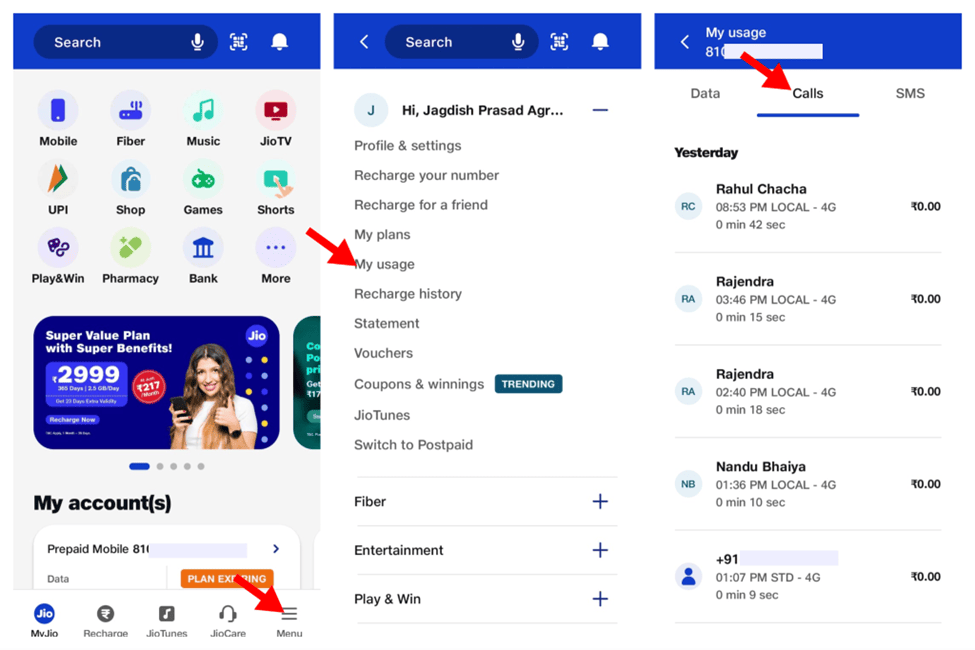 Step 4: View Call History
Within the "Menu" section, you'll find various details related to your Jio account. Look for the option labeled "My usage" or "Call History" and tap on it. This will open a new screen where you can view your call history.
Step 5: Delete Call History
To delete a specific call entry, swipe left on the desired call log. A "Delete" option will appear. Tap on it, and the call log will be removed from your Jio app's call history.
Step 6: Clear Entire Call History
If you want to delete your entire call history, look for the "Clear" or "Delete All" option, usually located at the top or bottom of the call history screen. Tap on it, and confirm your action when prompted. This will delete all call logs from your Jio app.
Also Read : How To Book Movie Tickets Using PhonePe In 2 Mins
Please note, deleting call history from the My Jio app only removes it from the app's records on your device. It doesn't affect the call history stored by your service provider or on any other devices linked to your account.
That's it, this is the easy way to delete call history from My Jio App.
FAQ