The all new iPhone SE 2020 version was launched recently at an attractive $399 price and a very good specifications. The compact iPhone has a decent 4.7-inch display, powerful hardware and improved. Currently, this being the least priced iPhone but also with a specifications similar to the flagship iPhone 11 series, let's do a comparison between the two models to understand where the difference lies. This will also help you in case if you are planning to buy either of the device very soon. So, let dig in without further due.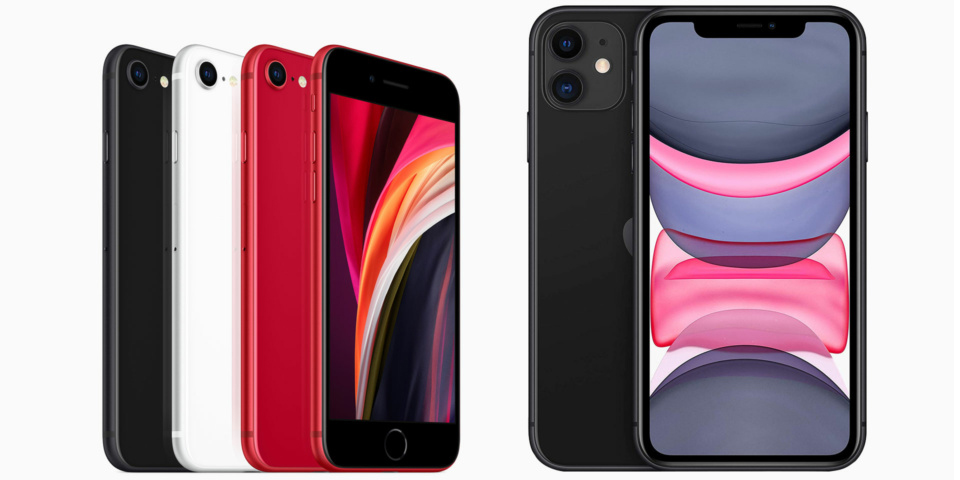 Apple iPhone SE 2020 vs Apple iPhone 11
Apple iPhone SE 2020
Apple iPhone 11
DIMENSIONS AND WEIGHT
138.Four x 67.3 x 7.3 mm,148 grams
150.9 x 75.7 x 8.3 mm,194 grams
DISPLAY
4.7 inches, 750 x 1334p (Retina HD), Retina IPS LCD
6.1 inches, 828 x 1792p (Retina HD), Liquid Retina IPS LCD
PROCESSOR
Apple A13 Bionic, hexa-core 2.65 GHz
Apple A13 Bionic, hexa-core 2.65 GHz
MEMORY
3 GB RAM, 128 GB – 3 GB RAM, 64 GB – 3 GB RAM 256 GB
4 GB RAM, 128 GB – 4 GB RAM, 256 GB – 4 GB RAM, 64 GB
SOFTWARE
iOS 13
iOS 13
CONNECTIVITY
Wi-Fi 802.11 a/b/g/n/ac/ax, Bluetooth 5.0, GPS
Wi-Fi 802.11 a/b/g/n/ac/ax, Bluetooth 5.0, GPS
CAMERA
Single 12 MP f/1.8 Rear camera
7 MP f/2.2 Selfie camera
Twin 12 + 12 MP f/1.8 + f/2.4 rear camera
Twin 12 MP + SL 3D f/2.2 selfie camera
BATTERY
1821 mAh, quick charging 18W, wi-fi charging Qi
3110 mAh, Quick Charging 18W, wi-fi charging Qi
ADDITIONAL FEATURES
IP67 water-proof, eSIM
IP68 waterproof, eSIM
Also Read: Oneplus 8 vs Oneplus 8 Pro Difference: What the $200 price gives you ?
Design
iPhone SE 2020 is essentially the most compact last-generation flagship in the entire mainstream smartphone market. However its design is outdated and almost same as its previous version with thick bezels.. But the device is still made of premium material with glass and aluminum body. You get IP67 certifications. Compared to this, iPhone 11 have an awesome glass built quality and has the Full screen display. On top of this, this new phone has IP68 certification.
Display
The iPhone SE 2020 being the compact version of any premium phone, the display of 4.7-inch Retina HD display is obviously one of the major difference between the iPhone 11 model. However, this phone is for people who prefer smaller display , easy one-hand operation and easy on pocket. iPhone 11 on the other hand gives you a wider 6.1-inch diagonal display with high picture and 120 Hz touch-sampling rate.
Software
In term of software, since both iPhone SE and iPhone 11 sport the same processor, there should not be any major difference in terms of how iOS 13 works. Also, in the specifications part the iPhone 11 gets a extra 1GB of RAM which in terms of iOS efficiency will not make any noticeable difference. So if you are having doubts on its performance, we believe there should not be any major difference here.
Camera Setup
iPhone SE 2020 comes with a single 12MP camera with OIS at the rear. It's even in a position to calculate depth data by benefiting from machine studying, with out the necessity for a secondary depth sensor. Compared to this, the iPhone 11 provides Dual 12 MP ultra-wide lens on the rear with Quad LED flash. For casual photography, there wont be any major difference but if you are a photo enthusiastic and use your phone for taking pictures regularly, definitely you will find difference between the two models.
Battery
iPhone 11 has a a lot larger battery than iPhone SE 2020 (3110 mAh vs 1821 mAh) and it is ready to present a decent battery life. However, with the small display of iPhone SE we expect a good battery backup for the device along with iOS optimization. You can get battery life of more than one day easily.
Price
iPhone 11 is priced $699 ( Rs 64,500 in India) in its base variant, whereas iPhone SE 2020 begins from simply $399 (Rs 42,500 in India). The iPhone 11 is a flagship smartphone with above-average battery life, essentially the most trendy design, a large display, and an ultrawide camera. If you want a compact, powerful with decent camera and battery, we think the new iPhone SE 2020 is a very good choice.
So let us know what you think about this comparison and which model you will choose between the two models . Let us know in comments below.