Asus ROG Phone 3 gaming phone will be launched in India on July 22 along with other regions in the world as well. Previously, we had confirmed that the phone launch date as July 22 but was not sure about the India launch. However, the company has planned the global launch for all regions in July 22 including India. So we can expect the device to be available soon for purchase post the launch. More details below.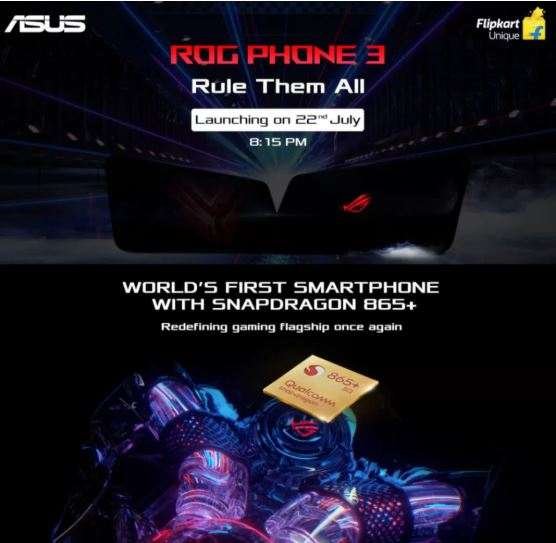 Also Read: PlayStation 5 launching in India in 'Late 2020' ; Teaser page goes up in Amazon & Flipkart
Asus ROG Phone 3 India Launch
Asus ROG Phone 3 is the 2020 gaming smartphone from Asus after its huge successful ROG 2 phone last year. Like, last year it is expected that the new Asus ROG phone will be packed with features and high-end features specific to gaming. Most of the specifications fo the phone are already leaked. We know the device will be powered by new flagship processor Snapdragon 865 Plus which was officially launched recently.
The phone will have 6.59-inch Full HD+ AMOLED display with support for a 19.5:9 aspect ratio. The display comes with 144Hz refresh rate and in-built finger print sensor. It will have up to 16GB of RAM and 512GB of internal storage. There will be 13MP selfie camera at the front and 64MP triple camera setup at the rear.
Finally, the Asus ROG Phone 3 will use 6,000mAh battery with 30W fast charging support. The teaser image from Flipkart and also a short video from Asus reveal that YouTuber CarryMinati will be the ambassador for this new smartphone.
The launch event will take place on 22nd July at 8:15 PM. The company is also set to launch the smartphone in three other markets on the same day — Taiwan, Milan (Italy), and New York (USA).