Xiaomi has teased the launch of the next flagship device the Mi 8 on its Chinese social media platform. The teaser has indicated that it will be the best camera smartphone from the company till date. Mi 8, the successor to the Mi7 phone is in news for some time with the initial rumored launch during the month of April. Now with this, it's confirmed that the phone will launch on May 31 in China.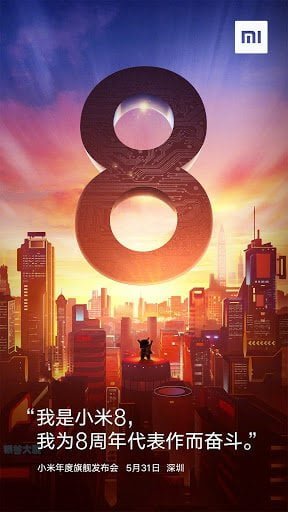 Mi 8 Details
The specifications of Mi 8 is still largely unknown. However, we the smartphone is expected to feature a 6,2inch FHD+ display, 20MP+16MP Dual rear camera setup with good aperture lens and a 16MP front camera for Selfie. We can also expect the presence of 3D Facial Recognition technology in the phone like the Apple's iPhone X. Apart from this, it sure that the device will be powered by Qualcomm Snapdragon 845 chipset, with 6GB/8GB RAM and 64GB/128GB internal storage options. One of the highlight of the phone could be the presence on Quick Charge 4.0 feature for the 4000mAh battery. Then, it is also expected that the 2018's hot feature for smartphones, the Under display fingerprint scanner could also debut for a Xiaomi phone in this device. For now, let's keep the fingers crossed and await the device launch and see whether it can be a competitor for the existing flagship smartphones.
Also Read: HMD set to launch Nokia X6 worldwide on May29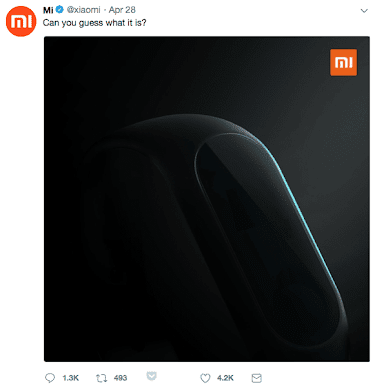 Mi Band 3
Another news which has been confirmed during the May 31 Event is the launch of the new Mi Band 3.As per the leaks so far, the smart band could come with a touchscreen display for the first time along with the support for gesture-based actions. Like previous version, the band will be IP67 certified and should have Bluetooth 4.2, NFC, heart rate sensor, step counter and sleep monitor features.