When it comes to home entertainment, the speakers form an essential component. They are highly beneficial in rendering high-quality music and keeps our energy up during a party, and we have friends and relatives around in our home.
During a lonely night, these speakers are also great in filling our soul with rich melody and helps us relax inside out.
There are many types of speakers available for home entertainment, and tower speakers are one among them. They are also known as floor standing speakers and can sit on the floor without the support of other stands.
Looking for a tower speaker to throw up a party ?
Or , wanted to perform karaoke using the speakers ?
In this post, we will cover the top tower speaker for music listening in India under 10,000 budget.
Best Tower Speakers To Buy in India 2022
These are full-sized speakers that are great to be kept on the floor. They are capable of immersing the entire room with music, and some of them come with mics and karaoke to bring out the singer in you.
The best tower speakers from the top brands are as follows:
OBAGE DT-51 100W Tower Speakers
This is an exceptional home theatre system that is in the form of a double tower. It will add a lot of elegance to the home interiors and it is filled with a lot of rich features such as Bluetooth 5.0, Dual AUX, USB, and FM stereo system.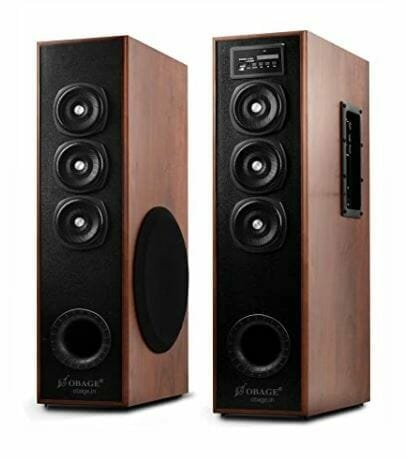 An excellent home theatre system with a lower bass of 40 to 60 Hz will help you experience real music and feel the authentic sound around. If you are a music lover who loves to hear clarity melodies, this is a perfect speaker.
Being an excellent speaker system for listening to high-quality music will help you engage with high-quality music without disturbing others. You will love its RMS power range amplifiers that power at 100 watts.
Best features of OBAGE Tower Speakers:
· Render deep and real bass that is ideal for bass lovers that don't distort the vocals.
· Connects with Bluetooth for exceptional connectivity
· Renders soothing music that is melodious on the ears.
· There is no need for separate amplifiers.
Cons:
· This tower is meant for indoor use only, and it is ideal for room sizes less than 200 sq. ft. for perfect sound quality and clarity.
· It cannot be used for party purposes, as it doesn't render deafening sounds.
· There is no surround sound feature.
OBAGE DT-51 100 Tower Speaker
Flat sound signature meant for clarity seekers.

Burn-in period of 10-12 hours after which the sound becomes more amazing and detailed.

Optical IN, Bluetooth 5.0, FM, Aux and USB support

Perfect to pair with your TV to enhance TV viewing experience.

Tweeter included to fetch the details of instruments in the mus
Who should you buy this Tower Speaker ?
If you primary need is just to listen to music, high bass and if you are an audiophile, then go for OBAGE Tower Speakers.
F&D T60X Tower speakers
The tower speakers from F&D are trendy, sleek, classic, and are designed for the ultimate acoustic sound. The speakers feature a three-way acoustic design and a 1-inch dome tweeter.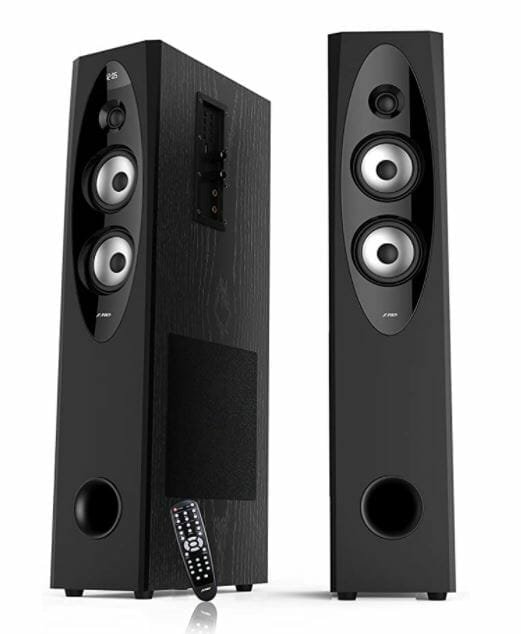 You will love the exceptional home theatre experience this speaker offers, and you can also connect the audio device directly with these speakers to stream music seamlessly. In addition, you will love the acoustic design of these speakers that includes a 4″ woofer and 8″ subwoofer that offers them a wide musical range.
The speakers come with a complete set of a silk dome tweeter, a four-inch woofer, and an eight-inch subwoofer to render a powerful acoustic sound output.
As these speakers are made of high-quality wood, they are capable of producing natural and powerful sounds. Moreover, being compatible with TV, DVD, and mobile devices and thus helps us with an exceptional movie-watching experience.
It also connects with USB, AUX, and Bluetooth. In addition, there are good controls on the sides, along with remote control access.
Best features of F&D T60X Tower Tower Speakers:
· These are a narrow speaker that matches well with the flat TV panels.
· It is possible to enjoy music in any digital format without any radio frequency or electromagnetic frequency.
· The bright and wide-angle display helps to see the track and input source
· Its karaoke function can convert the living room into a stage.
Cons:
· The speaker doesn't render crystal clear sounds on a low volume.
F&D T60X 110 Watt Tower Speaker
3 ways acoustic design 1 inches silk dome tweeter

4 inches woofer and 8 inches subwoofer for each channel

Elegant and nice wooden cabinet design, Plug & play USB card reader

Bluetooth and NFC allow you to stream your music fromsmart device
Who should you buy this tower speaker ?
F&D T60X is the best option if you want tower speaker for party and need the karaoke function.
Philips Audio 2 in 1 Convertible Tower Speaker
This is an exceptional audio system from Philips which serves as both Tower or soundbar speaker. It is indeed an outstanding speaker with top controls, and the speaker also features a sleek and sturdy built cabinet with Matt Finish.
This speaker is also compatible with HDMI input, Bluetooth connectivity, FM Radio, etc. Being a small print speaker with a space-saving 2.0 channel stereo speaker, it occupies minimal space at home.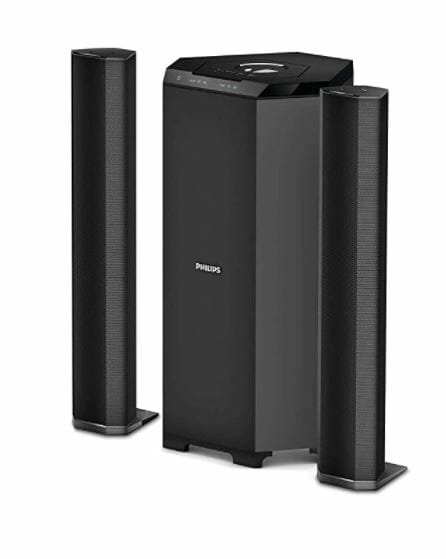 This 80W speaker features speaker controls, HDMI input, USB connectivity, etc., to escalate your music experience to many folds.
The speakers comprise a durable wooden cabinet with a matt finish, and its FM allows you to enjoy high-quality music and news every day.
It is also possible to stream music wirelessly through Bluetooth in these speakers. Moreover, you can sing as you listen to quality music, thanks to the mic that is accessorized with the speakers.
Best features of Philips Audio 2 in 1 Tower Speakers:
· Offers powerful sound from its 80W tower speakers.
· Comes with numerous connectivity options like USB, audio-in, 2RCA to 2RCA cable and SD card input. There is a built-in FM radio as well.
· It is the best convertible speaker which can be used based on needs.
· The speaker is built in a well built for exceptional acoustic experience
Cons:
· Its wattage is not very significant, but its music should fit in a small room.
· It renders distortion at full volume.
Philips 80W Multimedia Speaker
EYE CATCHING DESIGN: Sleek yet sturdy built to add class to the area to be set.

CONVERTIBLE SOUNDBAR: Being versatile, the soundbar can be placed horizontally or can stand on the floor, converting it into the perfect multimedia tower speaker system.

CONNECTIVITY: The speaker system comes with multi-connectivity options like wireless streaming via BT and one can also use other inputs like USB, audio-in, 2RCA to 2RCA cable and SD card input. There is a built-in FM radio as well.

MULTIMEDIA SPEAKERS: This multimedia speaker system can be used with Computers, Gaming Consoles, Televisions, Smartphones or Tablets, DVD Players or Music Players.

SUBWOOFER: It comes with an elegant and convenient speaker-top volume and power control access.
Why should you buy this tower speaker?
If you are planning to get a tower speaker which can also be used in home theatre setup, then Philips Audio 2 in 1 Tower speakers is the best device to go for.
Factors To Consider while Buying Tower Speaker Under 10000 in India
1. Frequency response:
Frequency is measured in Hertz, and it is the frequency range that the speaker can produce. The floor-standing speakers make use of multiple drivers to produce music in various frequencies.
2. Impedance:
This is measured in Ohms, and this is the current resistance that impacts the speaker's load.
The typical impedance values are 4,8 or 16 Ohms. Therefore, the speaker's impedance and amp must match to prevent sound problems.
3. Sensitivity:
The measure of how efficiently the speaker converts the power into sound is termed sensitivity.
It is measured in dB, and it is crucial to choose tower speakers with a high sensitivity rating to fill an average room with high-quality music.
4. Speaker Built materials:
Speakers can be made of diverse materials such as wood, metal, rubber, or plastic. Choose the material that offers the best balance between weight and strength.
Speakers that are made of premium materials render better sound than their counterparts.
5. Sound staging feature:
This is also referred to as stereo imaging. Choose a speaker with a great sound staging feature to hear the location of the different sounds, projecting the genuine brand before your eyes.
It is better to check the sound staging feature of the particular model of the speaker before buying it.
How should you choose your tower speaker – Buying Guide
1. Budget
This is perhaps the most essential factor that influences any purchase. It is possible to find the best tower speakers at an economical cost, like the ones discussed here.
However, if the features of the speakers are at the higher end, then their cost will also escalate accordingly, and it is the preference of the buyer to choose the product that he desires.
2. Watts Capacity
This is the measure of how much power that the speaker can take up without getting damaged.
For example, if the speaker is rated at 100 Watts maximum, it will be compatible with the amplifier of the same power. Moreover, it will be able to render the corresponding quantum of sound.
3. Size of the speaker
Please choose the size of the speaker so that it fits the size of your home. The general rule is that bigger speakers emit louder sounds and vice versa.
The size of the speaker depends on the space available at home and one's personal preference.
4. Accessories
We may have to consider the brackets, stands, and mounts, and the receivers and amplifiers, and budget them while buying the tower speaker so that they can offer the best quality of sound at home.
Stands and mounts are a must to buy, as placing the speaker on the table or floor could result in vibrations, dampening the sound quality.
Price Comparison Of Tower Speakers Under 10000
Image
Title
Price
Prime
Buy

Top

OBAGE DT-51 100 Watt 2.1 Channel Wireless Bluetooth Tower Speaker

Prime

Eligible

Buy Now

Top

Philips Audio Mms8085B 80W Usb Multimedia Speaker

Prime

Eligible

Buy Now

Top

F&D T60X 110 Watt 2.0 Channel Wired Tower Speaker

Prime

Eligible

Buy Now
Product prices and availability are accurate as of the date/time indicated and are subject to change. Any price and availability information displayed on [relevant Amazon Site(s), as applicable] at the time of purchase will apply to the purchase of this product.
Prices pulled from the Amazon Product Advertising API on:
Frequently Asked Questions ( FAQ )
If you have the zeal for music and if you're a party bird in need of rich music when friends gather, then the tower speaker is what you should invest in.
Choose a speaker of appropriate size and of features that work best for your needs. Then, try and test different models and choose the best within your budget.
We hope our product recommendation and our buying guide helps you in picking the best speaker for your use.