Are you someone looking for a good audio output for your TV? Or are you someone you love grooving in the melody of loud music? Either way, you must be looking for a powerful soundbar that too within your budget. Is it possible? Getting a good quality soundbar under 10000? Yes!
You don't have to search endlessly for good soundbars as we have made this hectic task easy for you. We bring you an organized and detailed list of the best soundbars under your budget.
Tips For choosing Best Soundbar
Decide on the place where the soundbar will be placed so that you can choose the size and fit of the soundbar appropriately.
If possible, always try to get a Active sound bar. Active soundbars comes with built-in amplifiers.
Check out the connectivity options available in the device and whether you can connect your TV, or other devices easily.
Best Soundbars under 10000 in India 2022
A good audio quality feels like a need these days, with emerging visual delights and HD quality screens, we also look for HD sound quality. Without proper audio, the visuals are of no use. Here is the list of some best soundbars for enhancing your audio experience.
Boat Aavante Soundbar
The brand name speaks for itself. This Bluetooth soundbar is an amazing add-on to your TV. The powerful speaker, the sub-woofer, and the 3D sound quality make it a great soundbar. Being a device, which can be controlled by a remote you don't have to struggle with buttons.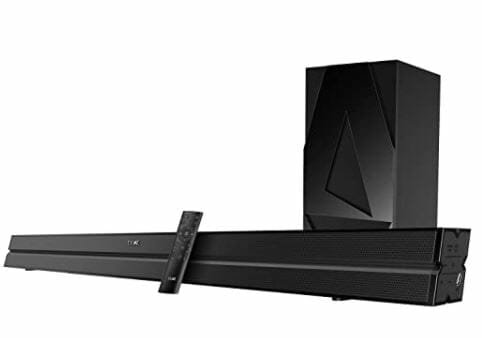 The best thing about this soundbar that you don't even have to mess up with the wires, absolutely wireless and operated by Bluetooth. Isn't that amazing? All these features in less than 10000. Wow!
Its sleek design with the premium finish is so eye-catching that you won't be able to resist buying. Not only will it enhance the décor of your room but also give you an ethereal experience.
Easy to control functions and hassle-free usage makes it the best recommendation. It is very popular among customers with a 4.4-star rating it is the best choice no doubt. And all these features in a budget are something you should not let go of.
Key Features of Boat Aavante Soundbar
boat Signature sound experience with the 160W R.M.S speaker and Wireless sub-woofer
The soundbar offers multiple connectivity options which includes as Bluetooth V5.0/AUX/USB/Optical and HDMI(ARC)
Wireless connectivity and full control over the device with the remote
Comes with preset entertainment EQ modes such as NEWS, MOVIES, MUSIC and 3D for a true listening experience.
Technical Specs of Boat Aavante Soundbar
Dimensions: 7.8*96*7.3 centimeters
2.1 Channel Surround sound
160-watt R.M.S Resonant sound
80-watt power output
Pros
Balanced sound with bass
Clear sound quality
Perfect for compact spaces
Cons
Treble could be on lower side
boAt AAVANTE Bar 2050 160W 2.1 Channel Bluetooth Soundbar
Its 2.1 Channel captivating sound gets you set for an alternate dimension, with an ethereal sound quality that adds colour to your audio as well as visual experience.

The exquisitely styled soundbar with its premium finish adds to the beauty of your home as much as it adds to the immersive auditory experience, Frequency Response 45Hz-20KHz

Control your playback via easy operational controls and the master remote control device

All your devices are made accessible by the wireless and wired forms of connectivity, such as Bluetooth V5.0/AUX/USB/Optical and HDMI(ARC) with the versatile Aavante Bar 2050

Experience the boAt Signature sound with the 80W R.M.S delivered by AAVANTE BAR 2050 and its 80W Wireless Subwoofer.

The soundbar is apt for multiple forms of entertainment as it offers different modes such as NEWS, MOVIES, MUSIC and 3D for a true listening experien
Blaupunkt SBW200 Soundbar
Now, we know looking for a soundbar under 10000 can be very difficult and you may think it is impossible to get a soundbar embedded with smart technology and amazing feature. Well, this Germany technology's Blaupunkt cinema soundbar exists.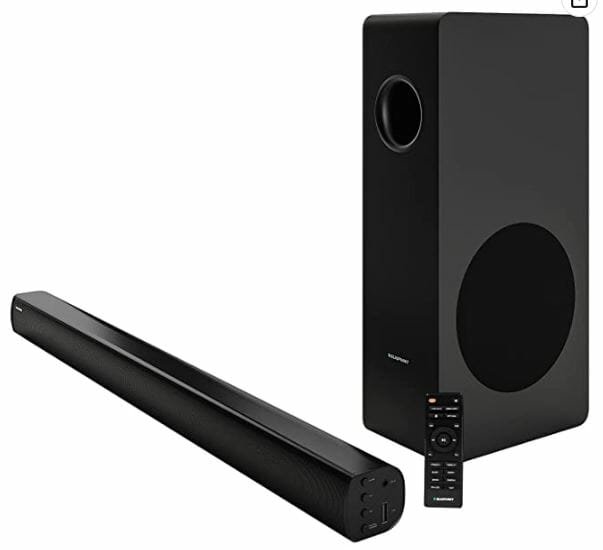 Sleek, smart, and powerful design is ready to charm you to an irresistible extent. No doubt Blaupunkt always brings top-notch products and that's the reason why the quality of their products can always be trusted.
Not only does it provide an amazing audio output, but with its wired subwoofer, it takes the whole experience to another level. Apart from its power, its stunning black finish enhances the décor so well that it makes your room look classy.
With brands such as Blaupunkt, people tend to think that their products might be super expensive. But let me tell you that this soundbar that we are talking about just falls under your budget of soundbars under 10000. Yes, you heard me right.
Key Features of Balupunkt SBW Soundbar
Sound quality is excellent especially if its 320kbps then its giving rich quality tribal and bass
Solid bluetooth connectivity which provides you uninterrupted music experience
Powerful Soundbar is 160W output.
Soundbar is with premium mirror finish quality with European design in black color and sleek in design.
Technical Specifications of Blaupunkt SBW200
Dimensions: 87*45*20centimeters
160-watt power output
Powerful 2.1 channel soundbar
8-inch MEGA Bass SubWoofer
One cable HDMI ARC connection
Pros
Perfectly clean sound
Theater quality sound reproduction
Room filling bass
Cons
Reset Issues and Remote build is of average quality
Blaupunkt Germany's SBW200 160 Watt 2.1 Soundbar
Powerful Sound: SBW200 is a 160Watt Soundbar which comes with a wired Subwoofer to deliver heavy bass along with loud volume

European Design: Its sleek European design will match the style and elegance effortlessly to the ambience of your room

Wooden Subwoofer: Great Elegant looking wooden subwoofer for crystal clear sound and pure bass

Great Connectivity Options: SBW200 is one of the only Soundbar in the industry which gives flexibility of multiple connectivity options like HDMI ARC, USB , Bluetooth & AUX-In
Zebronics Zeb-Juke Bar 7400 Soundbar
Zebronics is a renowned brand for audio products and popularly known for its amazing gadgets. This Zebronics Zeb-Juke 7400 soundbar having a sleek and compact body design fits in any space and compliments the décor of the room.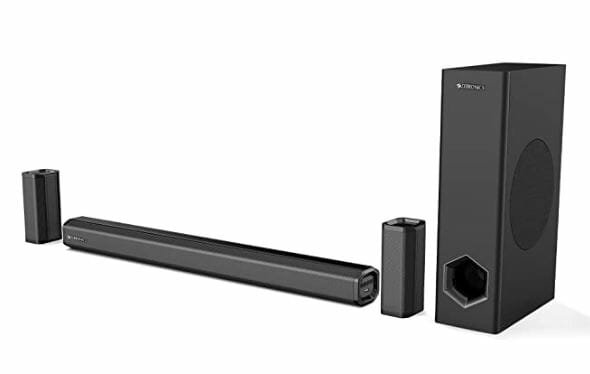 For people who think they are not much tech-savvy, this is the perfect soundbar for you. Its easy-to-use controls and easy connectivity make the process altogether hassle-free.
With its maximum speaker power output of 180 watts, I bet this is a decent soundbar. It has multiple connectivity options like USB, Bluetooth, aux, and also optical input. Apart from all other features, the most loved feature of this soundbar is 5.1 surround sound experience and powerful sound.. Crystal clear sound quality and wireless subwoofer are all a great compliment to this Zebronics soundbar.
It also comes with a remote that makes it extremely easy for you to control it, increase or decrease the audio output according to your convenience. It has a unique feature of equalizer preset modes, with different settings for movies, songs, and news, I think this one is the perfect soundbar and also within your budget.
Key Features Of Zebronics Zeb Juke Soundbar
Crystal clear sound signature with 5.1 Surround sound experience.
Treble and bass balance is good, Sub-woofer is designed for very low frequency sound and has 6 preset bass controls.
Wide connectivity options like Bluetooth, Aux, USB and Optical input allows the speakers to be connected with different sources.
Technical Specifications of Zebronics Zeb Juke Soundbar
Dimensions: 37.4*16.6*9.4 centimeters
180W Peak Power Output
Powerful 5.1 channel soundbar
Pros
Crystal clear audio quality
Easy setup without any complications
Deep bass
Cons
ZEBRONICS ZEB-JUKE BAR 7400 PRO 5.1 channel soundbar
5.1 channel Premium soundbar with 3 drivers, 2 rear satellites with 6 meter connector cables and a wired subwoofer.

Connectivity options: HDMI ARC, OPTICAL input, AUX input, BT v5.0, USB input (32GB max.) - Total 180W RMS output power, with 6.5" Subwoofer, 3x (2" x 3.5") soundbar drivers and 2x (2" x 3.5") rear satellite drivers.

Fully functional remote control for Volume, Bass Treble, Mode selection and EQ options

Compatible with smart TVs, HD TV box, smart phones & Laptops (with BT, AUX).

Wall mountable design to fit with your home decor (both soundbar and rear satellites).
Simple Ways to Take Care Of Your Soundbar
The better the maintenance of the soundbars, the longer its lifetime. Here are some simple, easy, and effective tips to take care of your soundbar so that it can last long for your use.
1. Protect from Dust
Well, the very first thing to keep in mind is to make your speakers and soundbars dust-free. Not only. It spoils the look but it also gets deep inside your soundbar and makes the functionality and output Quality difficult.
Use dust pads and a dry cloth to remove the dust from the soundbar. One thing that you should Always keep in mind that do not to use any kind of liquid disinfectant or liquid cleaner to make your Soundbar dust-free.
Liquids just destroy the interior of the soundbar which can have a serious impact on the Audio Output.
2. Keep away from Heat
Make sure that you are keeping loudspeakers away from the windows. Also, it is equally important
To make sure that that the location of your soundbar is away from direct sun exposure. Sun Exposure can cause the loudspeakers to overheat, especially if they don't have a perfect thermal Design and hence making it difficult in maintaining the electrical flow between the loudspeakers.
3. Static electricity
Static electricity can also prove to be a powerful enemy to the soundbar.
A build-up in static electricity can turn out to be a total blow-off of your system. That being said how To solve this problem.
Avoid dry air coming in contact with your soundbar. If you live in a humid area, you won't have any problem with static electricity. But if you don't, then get a humidifier, as it is the best solution.
PRO TIP: Do not keep the humidifier too close to the soundbar.
4. Proper Ventilation
Continuous playing of the soundbar can cause it to overheat. Technicians will tell you that having Fans blowing on the loudspeakers while they're playing loudly helps to keep them cool. In easy words what you can do to protect and maintain your soundbar is by positioning your
Loudspeakers at least several inches away from walls and tight spaces. Maintaining proper airflow is a really important step if you want to keep and use your soundbar for a Long period.
5. Power Surges
This tip is especially for soundbars as they are complicated audio systems. A direct surge of Electricity can have huge damage to your soundbar. It is really helpful and a smart move to invest in A USB i.e., an uninterrupted power supply that can help your soundbar to stay safe during some high Current surges.
Useful Tips For Soundbar Maintenance
Make sure that your soundbar is installed properly.
Turning down the volume. Cranking it up to full volume might seem like an excellent idea
Until you blow one of your speakers.
Don't max out your volume and your speakers should last a long time.
Frequently Asked Questions on Soundbar
Price Comparison of Soundbars
| Title | Image | Price | Buy |
| --- | --- | --- | --- |
| Blaupunkt Germany's SBW200 160 Watt 2.1 Soundbar with 8 Inch Subwoofer, HDMI-ARC, AUX, Bluetooth and Remote Contro | | | Buy Now |
| ZEBRONICS ZEB-JUKE BAR 7400 PRO 5.1 channel soundbar | | | Buy Now |
| boAt AAVANTE Bar 2050 160W 2.1 Channel Bluetooth Soundbar | | | Buy Now |
Product prices and availability are accurate as of the date/time indicated and are subject to change. Any price and availability information displayed on [relevant Amazon Site(s), as applicable] at the time of purchase will apply to the purchase of this product.
Prices pulled from the Amazon Product Advertising API on:
I hope this article proves to be the best in terms of helping you. We understand that finding a Soundbar within a budget of 10000 seems an impossible task but why are we here for right.
If you were struggling with the same, I hope this list proved to be of good use. If you want to go with The brand names, Boat and JBL might be your first preferences, and to be honest, they have Excellent customer reviews and you won't be disappointed.
Have a great time shopping for a soundbar and after that have a great in enjoying one.