Samsung Galaxy Fold 2 will be the 2020 successor to the 1st Gen Galaxy Fold which was launched back in 2019. The original Galaxy Fold being a first of its kind encountered many design issues and had to be remade to overcome the flaws in them. The device was more like an experiment and didn't get the impressive sales number.
However, Samsung has prepared to make the new Galaxy Fold 2 better in many ways so that it will be the perfect fold-able smartphone. In a new leak, the features and details of the upcoming Galaxy Fold 2 device has been revealed thanks to an info-graphic which appeared online in South Korea. Let's check out the details.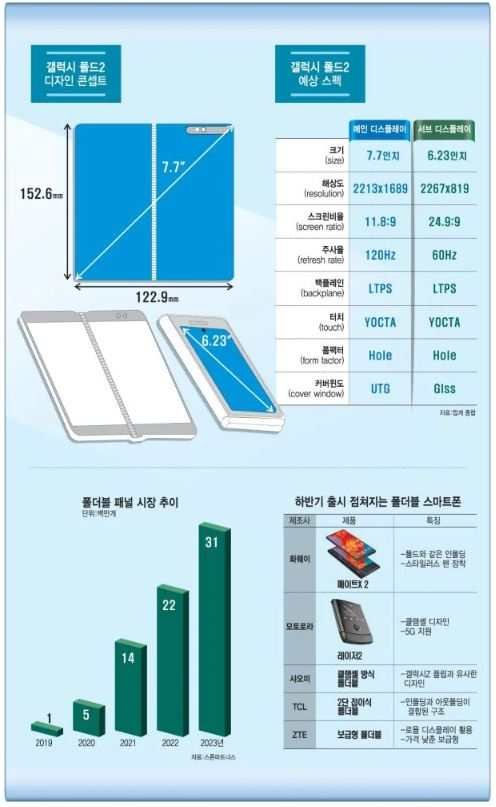 Also Read: New HP Laptops with 4G LTE Connectivity & Intel i5 Processor launched starting Rs 44,999
Samsung Galaxy Fold 2 Details
As per this infographic, the new device will will have a larger 7.7-inch screen and offer 120Hz refresh rate. The 1st generation device had only 7.3-inch display and 60Hz refresh rate. The display of the new phone will have a punch-hole design and it will offer 1689 x 2213 pixels resolution along with an aspect ratio of 11.8:9. The screen will be protected by Ultra Thin Glass.
The outer external display also gets bigger with 6.23-inch external display and 60Hz refresh rate. This could be due to minimal bezels compared to first generation model. This display will be 819 x 2267 pixels in resolution with an aspect ratio of 24:9:9. Finally, it looks like the device will not have an S-Pen built in it due to durability factor.
In the image we could see that the phone will have dual punch hole camera at the front. The back camera details are still not known. The design and built of this new Galaxy Fold 2 considerably better compared to the first gen and more usable with large screen space. Finally, the image reveal that Samsung is is planning to manufacture 300,000 units of the Galaxy Fold 2 in a bid to sell 3 million units a year. Apart from this, the existing fold-able phones are also mentioned for reference which includes Huawei Mate X2, Motorola RAZR, TCL and ZTE phones.