We already know that Meizu's next flagship smartphone, the Meizu 16 will be launched during the month of August. Now, the images of alleged Meizu 16 and Meizu 16 Plus has been leaked and they come with different bezel design. The images show the lower half of the two phones giving us an idea about the amount bezel present.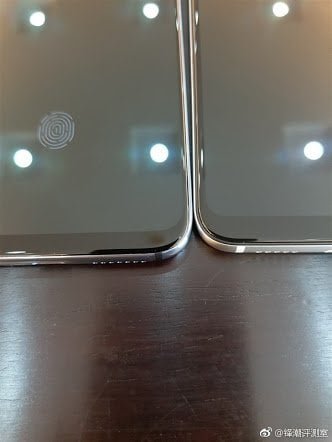 We could see the one on the right has a slightly larger bezel and small screen so it can be assuming it will be Meizu 16 and the one with narrow bezel at the left could be the Meizu 16 Plus. However, both the smartphones will come with In-display Fingerprint sensor. We have already shown you the full image of the Meizu 16 smartphone which also show that there will no notch present (which is a welcome change). At the rear, it has vertically arranged Dual-camera setup.
Also Read:Confirmed! ASUS ROG Phone coming to India this Quarter
The Meizu 16 Plus/pro version is expected to run on Qualcomm Snapdragon 845 chipset and the Meizu is expected to run on new Qualcomm Snapdragon 710 processor. Finally, on the price it has been confirmed but the CEO that the phone will not cost more than 4000 Yuan, which roughly translates into $514.