Google has finally launched the dark mode for its Google Search App in Android and iOS platforms. For the past few months, the company has be inducting the dark mode feature to its various apps and setting in its ecosystem. Google Play Store, Google Duo are some of the apps which got the dark mode feature. Following the same, now the Google Search App which is integral part of any Android device and also for iOS device get the popular mode via May 19 update.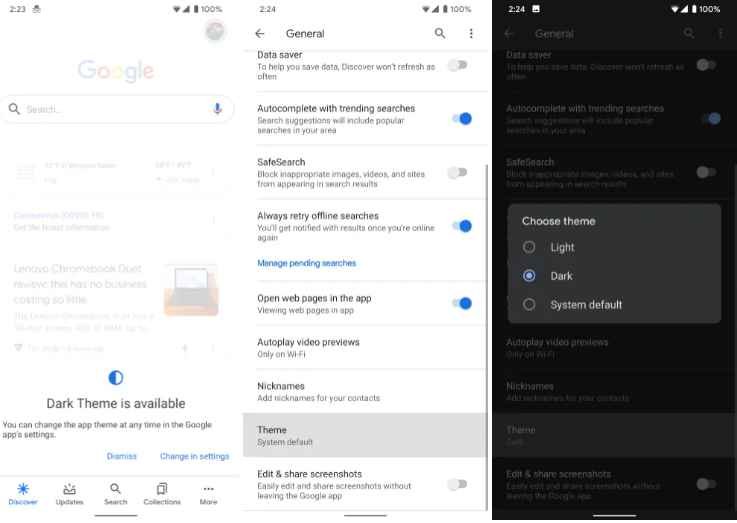 Also Read: Realme X3 SuperZoom Images and specifications leaked ahead of launch
Google Search App Dark Mode
This new Dark mode feature on the Google Search App will be applicable for Android 10's and iOS 13's operating system settings. For iOS 12 customers, Google will supply the choice to vary it with an in-app setting because the working system lacks a system-wide darkish theme.
Starting today & fully rolling out this week, dark mode is now available for the Google App on Android 10 and iOS 12/13. By default, the Google App will reflect your device's system settings in Android 10 & iOS 13. If that's set to a dark theme, the app will be in dark mode…. pic.twitter.com/ZqSD33ZhNt

— Google SearchLiaison (@searchliaison) May 19, 2020
For older OS versions, though, there's still a way to trigger the change. Simply go to the"More" tab > Settings > General > Theme. From there, you'll be able to switch between dark and light. To recall, the reason apps adopt a dark theme including battery savings and easy on the eye when using device in the dark. The update is expected to reach Android 10 users and iOS customers by end of this week. Keep checking you device for new update.