With more than 100 million users, Sharechat is India's most popular messaging app. Sharechat lets you chat with strangers and make new friends across the country. Aside from making friends, watching videos, creating funny videos, and joining groups, Sharechat also offers many other features.
However, for certain reasons, you might want to delete your Sharechat account permanently. But there is a possibility that you might have trouble deleting your account. No worries! You have come to the right place. Here you will learn how to delete Sharechat account permanently.
How To Delete Sharechat Account Permanently ?
You can delete Sharechat account permanently with 2 ways.
So it's your call which method you are going to follow. Below discussed is the first method.
Before we proceed, I want to let you know that deleting your Sharechat account is not as simple as you might think.
In this case, you must follow all the steps in the order below. You will need to follow all the steps again if you forgot any.
Hence, it is important to read all the steps carefully and follow them accordingly. Following all the steps carefully will allow you to delete your account at any time without any complications.
Method 1 – Remove Sharechat Account via Sharechat App or Website
Follow the steps below if you would like to permanently delete your Sharechat account. Please note that once you have deleted your Sharechat account permanently, it cannot be recovered.
It will no longer be available to you. It is up to you to decide if you want to delete your Sharechat account permanently at your own risk. The following steps will help you delete your account if you decide to do so:
Step 1 – Visit Sharechat
Step 2 – The next step is to move to your profile page
Step 3 – On the right-hand side of the screen, tap the settings option
Step 4 – Click on 'privacy settings'
Step 5 – Choose 'remove my profile or delete my account' from the menu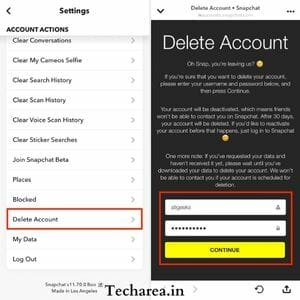 Step 6 – Verify the number on your linked account.
Method 2 – Delete Sharechat account using Email
Here are the steps you need to follow:
Step 1 – Open the mail app on your phone.
Step 2 – In the 'To' section of your email, enter "grievance@sharechat.com" to compose your message.
Step 3 – The subject area should be filled out with 'Request to discontinue or delete my Sharechat account.
Step 4 – Next, your request must now be described in the description along with your account information.
Step 5 – Your account will be permanently deleted from Sharechat's servers in 4-5 working days.
So that's how you delete your Sharechat account permanently. In case of any other questions, please do not hesitate to contact the team.
Also Read – How to Delete Flipkart Search History in 2023
What Will Happen After Submitting the Request for Sharechat account deletion?
When you delete your account from the application, you will no longer be able to access it. No one will be able to see your account attributes, including your profile, followers, likes, comments, pictures, videos, posts, and chats.
Additionally, you will not be permitted to share/upload/download/post/ or otherwise share any content through the application.
Your account and its contents may take some time to be completely deleted. It is possible that some links to content you generated may remain visible for a few days after you begin the process of deleting your account.
However, it is still impossible to access your profile from such links.
All the steps should be clear to you, but if you have questions or encounter any difficulties, feel free to comment below. I will try to resolve it as soon as possible.