In this post, we'll quickly share the easy way to cancel an order in Zomato. This will help you incase immensely to avoid cost , if you have placed an order by mistake.
Zomato is a popular app for food delivery in India with good ratings. In some cases, a person may wish to cancel an order for various reasons, such as modifying the food items in the order or when the address is incorrect. In these cases, the Zomato app allows you to easily cancel an order.
How To Cancel Order On Zomato – Detailed Guide
Order cancellations on Zomato are only possible within seconds of placing the order. Therefore, you can cancel your order on Zomato by following the steps below.
As soon as you have added the order on Zomato to your cart, you will be given the option to click on the next option displayed at the bottom right of the screen.
After choosing the delivery option, you will need to click on 'place order'.
Next, on your bottom screen, you will now see a loading window.
To cancel your Zomato order, please make sure that you click on the "Cancel" button before 60 seconds as shown in the page
Zomato only allows you to cancel an order for 60 seconds, so if you have a change of heart, do it within that time frame.
If you do not do this, you cannot cancel your Zomato order.
Important note – It is also possible to cancel your order by contacting/texting Zomato customer care service, who will give you an in-depth update regarding the cancellation of your Zomato order.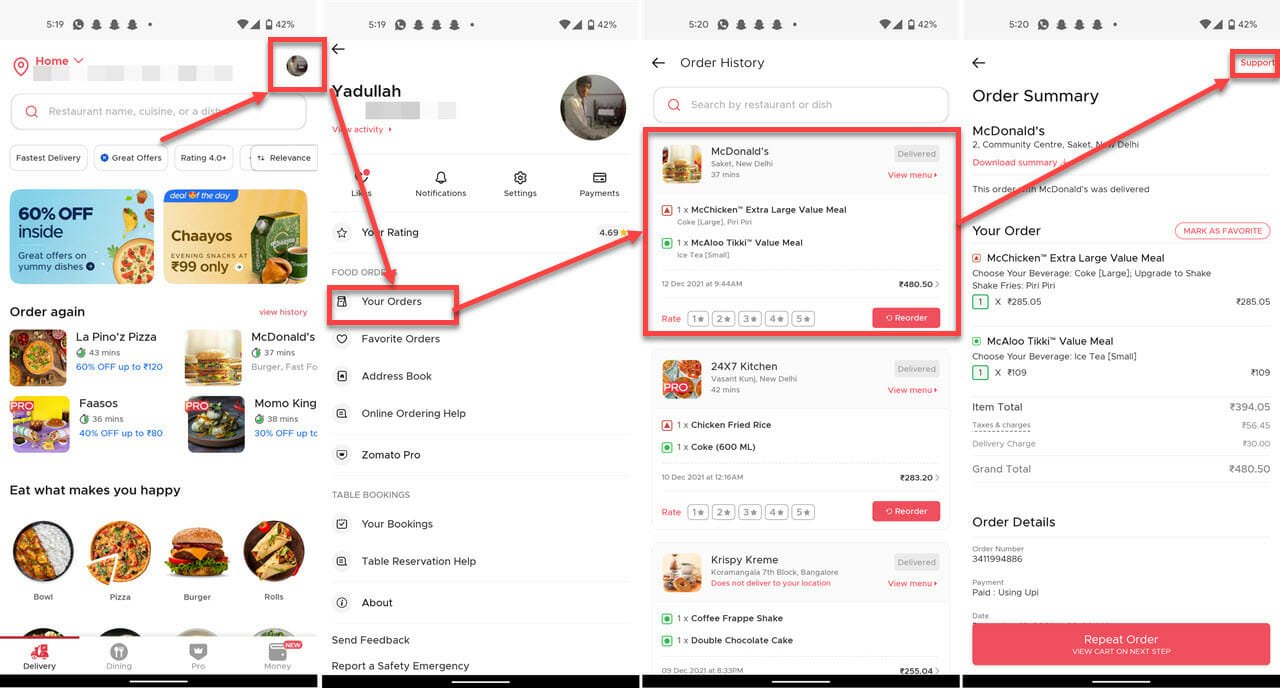 Will you be charged a cancellation fee
Zomato does not charge cancellation fees in most cases if the reason for the cancellation is valid. Otherwise, the cancellation period has expired or the reason is invalid, Zomato then charges a cancellation fee that may be the full or part of the overall cost. In addition, it depends on the policies of the restaurant as well.
Also read – How to Cancel Order in Flipkart ? – Explained with Screenshots
Can you cancel Zomato orders without specific or valid reasons
If your reason for canceling an order is legitimate, you can easily cancel the order. You may not be able to cancel the order if you do not have a valid reason for the cancellation. If such a situation arises, there may be an alternative to canceling the order. However, there is a possibility that you will not be able to cancel your order if it has already been prepared and is on time.
Is there alternative method of cancelling the order from Zomato? – Yes !!
Simply ask the delivery boy to cancel your order. Further state the reason for canceling it, there is a possibility he might not agree, but try insisting him with the valid reason. If he agrees, he will inform customer care about his request.
After that, Zomato will call you, to ask the reason for canceling. You can get a refund if you have cancelled your order immediately if you have paid online. However, you don't need to worry about refunds if you've selected cash on delivery (COD).
Now time to conclude and we hope now you know how to cancel the order in Zomato. You can follow these steps, and escape the hassle.