Some people are really into photo morphing. They enjoy looking at transformation photos, trying to find the hidden meaning or message in the different photo compositions. There's something very intriguing and visually stimulating about seeing photos transform, especially when it's done interestingly and creatively.
There are a few different types of photo morphing you can do. You can create a photo transformation by using different photo editing software. Let's discuss.
7 Best Photo Morph Apps for Android & iOS
1. Face Morph
If you enjoy facing morphing, then you will love the face morph app on your device. You can use the app to get a more youthful appearance, a more Barack Obama-like appearance, or a more ambiguously masculine appearance. The app is free and you can download it on the App Store and Google Play.

The app has a lot of features, and I was impressed with the way it worked. This app can change multiple face transitions smoothly, and the results were great. You can adjust the facial features, which allow you to create vastly morphed photos. However, there are ads within the app that puts the watermark on the exported images. If it is okay for you, this is the best photo morph app.
2. FaceApp
FaceApp is an impressive app that uses AI technology to morph your face. It is one of the most popular photo editing apps, with millions of active users worldwide. This gives you instant access to a large community of people to get inspiration and share funny photos. FaceApp can transition your face from young to old or grow a beard on your face.

In FaceApp it is possible to swap and morph your face to hundreds of animals or celeb faces within the app. FaceApp is one of the best face apps available today. It is simple to use and it is perfect for anyone looking to improve their appearance. FaceApp is available on both iOS and Android devices.
3. Face Swap
With the Face Swap app, you can easily swap faces in photos and videos with a few simple taps. You can also apply face changer filters to your camera or swap faces live to get images and videos that look completely different. If you want to have even more fun, the app also has a gallery of live masks that you can apply to your videos or selfie pictures.

Whether you want to take new photos or edit images from the gallery, Face Swap has you covered. The app contains three main functions: a live camera with face-swapping and masking capabilities, a photo editor for applying face-swaps and filters to images, and a video editor for cutting clips and applying face-swap filters to save videos.
4. Morphy
Like the previous one, Morphy allows you to create and design your morphing or transformation video. Morphy specialized in creating GIF and video morphs. It can create a transition between a human and an animal, a celebrity, or even time-lapse videos. Morphy gives you a lot of editing and blending tools that you can use effectively.

However, a drawback of Morphy is that it's only available on the App store. It can't be downloaded on Android.
5. Reface
If you're looking to have some fun with your photos and videos, you should check out Reface. With this top-rated app, you can easily transform your content into something hilarious to share with friends and family. You can also use the face changer to see your face in viral videos or old movies.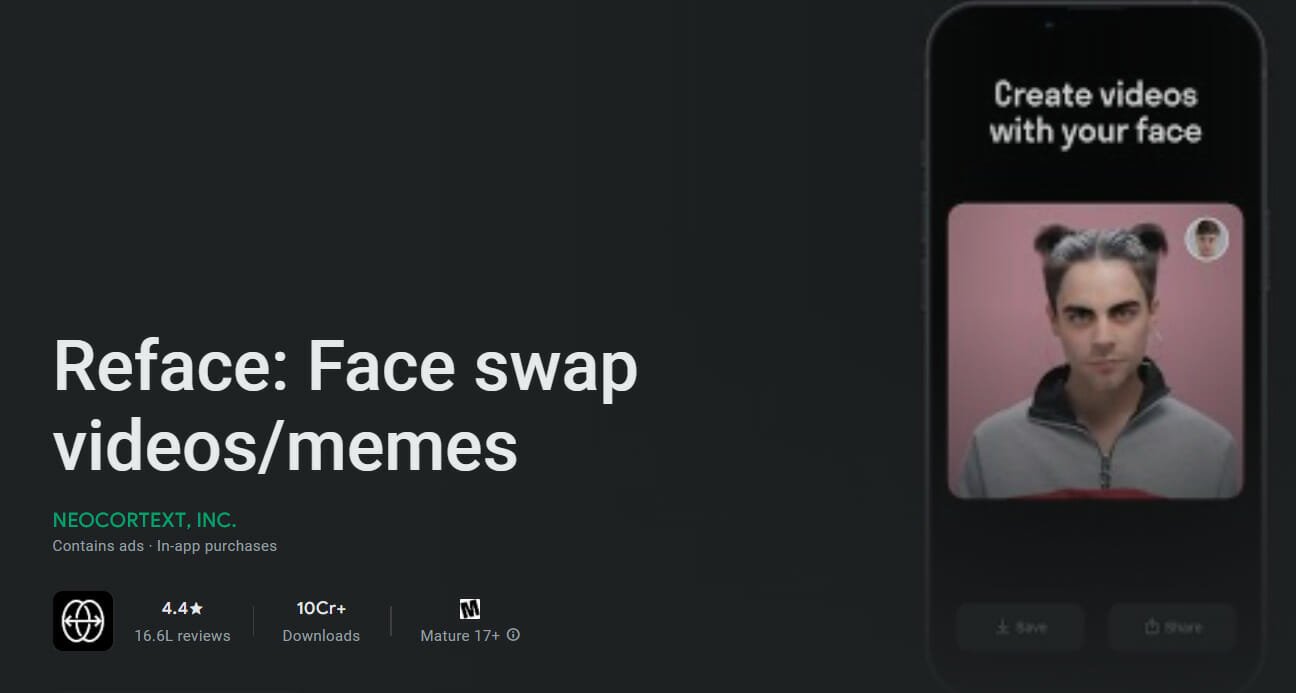 There are lots of other things you can do with the Reface app – not just swapping faces on photos and videos. It also gives you inspiration from daily updates of GIFs and videos. Plus, it has built-in sharing and filtering buttons to upgrade your content.
6. Celebrity Face Morph
This app allows you to morph your face with a celebrity's, giving you photorealistic results thanks to its AI technology. With no editing skills required, it's one of the best apps of its kind out there. You can now see what you would look like with another person's face.

The app "celebrity face morph" allows you to select your favorite celebrity, and then it automatically produces a funny result that you can share with your loved ones. The app uses automatic face detection and faces expression algorithms for better performance, and also includes features such as face mixing and face warp.
7. Banuba
This app allows you to change your face to look like a celebrity or pop star with just one click. It offers a lot of different filters to choose from to make your face look funny. It's also a great selfie app to take funny pictures. This app has a lot of features, one of the main ones being face swap. This feature allows you to switch faces with a Hollywood actor or celebrity.

Additionally, Banuba allows you to not only change your face in videos but also to change your voice to sound like a superhero or funny animal. If you're not satisfied with simply swapping faces, Banuba has a range of other effects that you can use to edit your photos and videos. Once you're happy with the result, you can share it on your social platforms.
Conclusion
In the end, we hope you get to know sufficient picture morphing apps and tools for you. It is better to try every software and decide on the most suitable morphing app for your needs.