There is nothing that gets you very immersive into a game, then the game sound. The best way to enjoy the game with the original sounds is to make use of a gaming earphone, as it gets the overall experience extremely thrilling and memorable.
Using gaming headphones while playing games helps you to focus keenly on the footsteps, on the gun loads, and also on the activities of the enemies, and prompts you to take appropriate actions instantly.
Here are some of the best gaming headphones that fit your budget and strive to escalate your gaming performance to great heights.
Best Gaming Headphones Under 2000
1. Cosmic Byte Spider Gaming Headphone with Microphone and LED
This is an exceptional primary gaming headset that is perfect for listening to music, and for playing games. It is compatible with PS4, PCs, tablets, Cellphones, and Xbox One. It features an awesome matte finish and LED lights, that give it a premium look.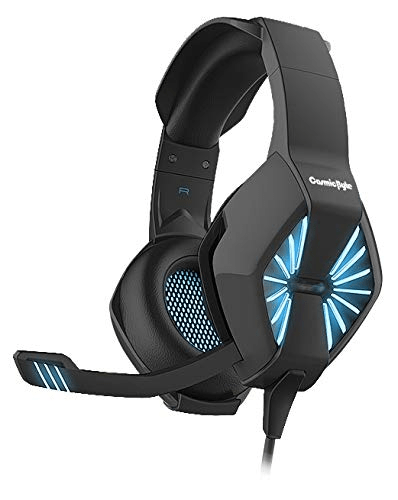 Specifications:
The dimensions of the headphone are 15 x 15 x 15 cm. It weighs around 350 grams.
Design and built:
The headphone features a soft cushion head pad and ear pad, along with adjusting length hinges, to offer hours of gaming comfort.
Sound quality:
Delivers very clear sound and deep bass for the real game. It also features a smart in-line remote control for sound and mic.
Features:
This is a flexible microphone that helps with exact positioning over the ear. Its mic has exceptional sensitivity and is great at picking up sounds.
Battery power:
It doesn't require any batteries. It has wired connections and features USB inputs for LED lights.
Pros:
The headphone has a good bass in this price range
Features a special in-line volume control wheel.
Its retractable mic gives a very clear output.
Cons:
Great for PC games and not ideal for mobile games
2. Ant Esports H707 HF RGB Wired gaming headset:
This is a multi-platform compatible gaming headset that adapts exceptionally well for PC, PS4, Xbox One, IOS and android devices, laptops, and iPads.
Specifications:
The headphone is adjustable, Omnidirectional, and very flexible to pick up the voice in 360 degrees. Its RGB lighting system helps enhance the gaming experience.
Design and built:
The headphone has a lightweight and comfortable design and weighs only 300 grams. It is thus an ideal headphone for gamers, who are looking for lightweight comfort.
Sound quality:
The headphone has a frequency range between 20 Hz to 20 kHz. It's high-end 50 mm magnetic neodymium driver delivers a clear stereo bass sound. Its acoustic positioning precision system helps to enhance the sensitivity of the speaker, helping users to feel the real sound.
Features:
The headphone features a 50 mm HD driver and an oversized ear cup design to wear with comfort. Its braided cables help in hassle-free gaming action. It is a comfortable and ergonomically designed headphone and its ear pads offer more comfort while playing.
Pros:
The mute button and the volume controls are easily accessible
Its RGB rainbow lighting design looks very elegant
Excellent audio output for gaming.
Cons:
Its latex pads cause ear sweating
3. Boat immortal Im-200 7.1 Channel USB gaming headphones:
This gaming headphone is for Elite PC gamers, thanks to its versatile and premium designs. The best feature of this headphone is its sturdy and secure braided cables, that allow the users to move around freely.
Specifications:
The dimensions of the gaming headphone are 21 x 12 x 22.2 cm and it weighs around 350 grams. The best feature of this headphone is its noise isolation feature and microphone feature.
Design and built:
The headphone features a super soft memory foam with breathable waves for improved density. It is lightweight and features an industrial design, and guarantees exceptional over year comfort.
Sound quality:
The headphone features a noise isolation Mic with ENx Tech, which helps with clear communication with friends and coworkers. The headphone features a 7.1 Channel virtual surround audio through boAt Plugin Labz.
Features:
The headphone features a super soft memory foam that is ultra-soft for enhanced density with a breathable weave. The headphone is lightweight and features an industrial design that feels like a feather over the ears.
Pros:
In-game, Mic quality is very good
In the game, the sound quality is very clear
It covers the complete heat and its fit is tight on the ears.
Cons:
Not compatible with mobile
4. Redgear Cosmo 7.1 USB gaming wired over-ear headphones:
The Redgear Cosmo 7.1 is a truly immersive headphone with surround sound and precisely located audio, to enhance the gameplay. It comes equipped with a very high-quality built-in noise-canceling microphone for quick and stable communication.
Specifications:
The ear cups have noise-isolating ear cups. Its 7.1 surround sound helps with exceptional in-game performance. The headphone also features in-line audio controls.
Design and built:
The luxurious noise-isolating memory foam ear pads and adjusting split headbands help in reducing pressure and in rendering optimal comfort for long-term gaming sessions.
Sound quality:
The Redgear Cosmo 7.1 renders a passive noise-canceling experience. It features a closed earcup design that helps to block all types of distractions from outside. It retains the focus on the game.
Features:
This gaming headset features an amazing RGB light effect on the ear cups and the tip of the microphone. It also comes equipped with a lot of audio control, which also helps in controlling volume.
Pros:
Its 7.1 surround sound helps with an immersive experience.
Equipped with a high-quality built-in noise-canceling mic.
RGB breathing lights enhance the effect on-ear cups.
Cons:
The headphone leaks a lot of sound through their earcups.
5. JBL Quantum 100, wired over-ear gaming headphones with mic for PC
This is one of the best headphones for gaming and its sound quality is good and extremely spatial. The headphones work great on Xbox and feature Windows sonic spatial sound.
Specifications:
The headphone features a lightweight and durable headband with memory foam cushioning. The cable length is about 120 cm and it features a built-in microphone, driver sensitivity at 1 kHz, dynamic frequency response range, and an Impedance of 32 Ohms. It also comes with a one-year manufacturer's warranty.
Design and built:
This is one of the best over-ear gaming headphones that comes with a mic for mobile, laptop, PC, Xbox, etc. It is also compatible with the windows sonic spatial sound and features a detachable mic with a mute button option.
Sound quality:
Its 40 mm dynamic drivers deliver its signature JBL QuantumSound feature and allow the users to experience even the minutest of footsteps, to build enthusiasm for the games
Features:
This gaming headphone is compatible across different gaming platforms and devices and its memory foam-laden ear cups offer maximum comfort while playing the games. It is designed with full compatibility with the native surround sound system.
Pros:
Excellent sound quality
Noise cancellation is perfect
Mic controls in the headphones make it easy to sue
Cons:
Ears sweat within an hour of usage
Buying Guide – features to check in a gaming headphone
Irrespective of your hardcore PC gamer or an occasional fan of consoles, you require a gaming headset, as it offers the comfort of having all multiplayer needs, such as a webcam, mic, headphones, etc., within close reach. These headsets render an easy and all-in-one solution to your game audio needs but you should choose them wisely and ensure your choice has the following features so that you don't get disappointed in your game.
1. Comfort:
This is perhaps one of the first features to look for in gaming headphones as you will be wearing them for a very long period. A bad fit headphone could be painful and could trap heat, sweat, and friction over time.
Heavy headphones can cause neck pains and their increasing pressure can create sore ears and headaches.
2. Noise Isolation feature:
Choose a credible gaming headphone with a noise isolation feature, as headphones with poor isolation could change what you hear. Choose the size and the material of the padding in the headphone, as it has a lot to do with the quality of the seal.
If the pad is not big enough to fit around the ear, you should look at either a bigger pair of headphones or replacement pads with a bigger circumference.Though it is rare to find headphones with a noise isolation feature, you can choose headsets with the noise-canceling feature, that helps to filter out the background noise and enhance the quality of audio output.
3. Build quality:
Do not choose gaming headphones that are made of cheap plastic, but choose a set that feels sturdy. An ideal gaming headphone will be made of a wire frame or metal. But if you happen to find headphones made of plastic, then ensure it renders enough free range of movement around the head.
4. Consider the Mic quality:
It is not uncommon for gamers to overlook the mic quality of gaming headphones, as they rarely use them in their games. It is optimal to find headphones with detachable mics that are somewhere close to recording quality mics.
5. Surround sound feature:
This is a common term in gaming headsets and is an important component, depending on the style of game that one plays. Headsets with surround sound features can offer up to 360-degree soundscape, with ample speakers to cover each ear. For gamers, this feature can offer a complete competitive advantage. Surround sound feature comes in different standards such as Dolby Atmos, Windows Sonic, etc.
Most gaming platforms of modern times come with their own spatial audio built-in feature, make sure your headphone supports this surround sound feature.
6. Aesthetics:
Though this is not an important specification of gaming headphones, the look of the set plays an important role in the purchasing decision. Lavish designs and excess features could make the headphone uncomfortable to wear. Though this is more of a personal decision, it is important to find a headphone that is practical in usage and appealing in looks.
7. Connectivity features:
Make sure that the headphone you choose to buy renders ample connectivity features such as Wifi and Bluetooth connectivity features that have long cables and are extremely durable.
FAQs on Wireless earbuds under 2000