Apple has finally introduced the 'Near by' feature in Apple Maps app for the Indian users in its latest update. The 'Near By' feature has been offered for sometime now for other country users and finally it available for users in India. To explain, the 'Near By' feature allow users to find nearby grocery stores, hospitals, medical stores, and more. Let's check more on the new feature below.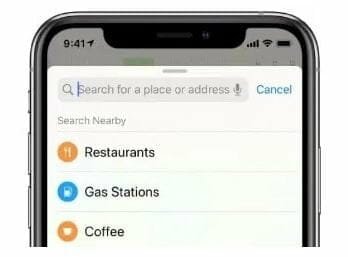 Also Read: Redmi 9 with Helio G80 Chipset, Quad Camera & 5020mAh Battery Launched
Apple Maps Near By Feature
The 'Near By' feature can be accessed in the Maps App by tapping the search bar and scroll down. As per the company, this is available for both iOS and iPad OS systems. The similar type of feature is present in Google Maps for long time now and that is also one of the reasons why people prefer the Google app compared to Apple Maps. However, Apple is trying to slowly by surely update its App with features regularly to match its Google alternative.
With this update, users in India using the Apple Map will be able to search nearby grocery store, restaurants, food delivery, railway station, medical shops, hospitals, urgent care, pizza shop, banks and ATMs and Shopping Mall. If they click the pizz icon, the related stores will shown up or if they click on shopping mall, details on the Mall including reviews of the place can be seen.
Apart from India, the new feature in Apple Maps has been rolled out to 30 other countries which include Argentina, Belgium, Brazil, Croatia, Singapore and more. Just make sure the latest version of the App is present in your device for you to get this feature. Try it out and let us know what you think about this new feature from the company.