EXTRA BASS headphone and wireless speakers launched by Sony in India
EXTRA BASS headphone series has been refreshed by Sony for India along EXTRA BASS wireless speakers. Three headphone model (one wireless) and four speakers are part of this launch. As per Sony, headphones will be available in India via Sony Center and other major electronics stores from Thursday, while the speakers will be available from April 25.
Let's get down with the details of these products:
Headphones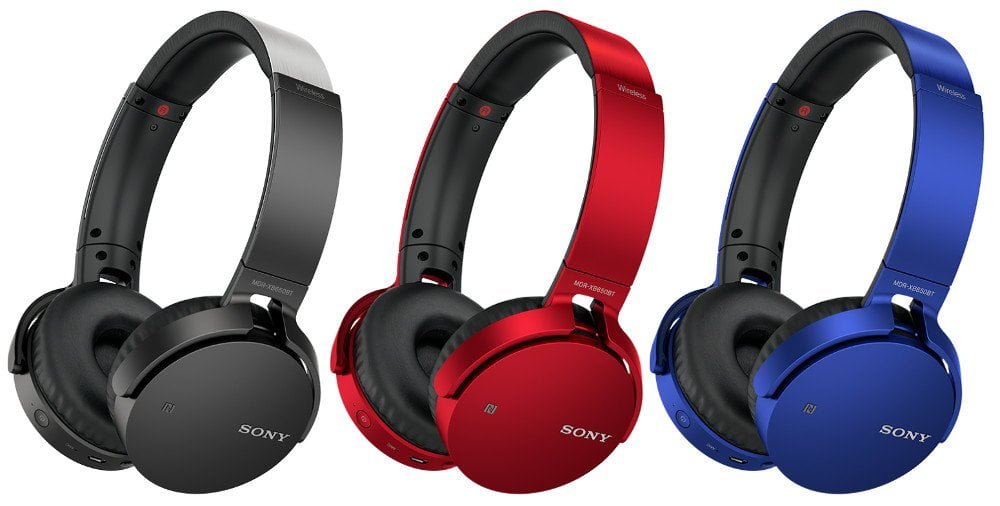 As mentioned, Sony has launched three new models in India – Sony MDR-XB950B1 (Rs. 12,990), MDR-XB550AP (Rs. 3,290), and MDR-XB510AS (Rs. 2,790). The first is a pair of wireless circum-aural headphones, while the other two are wired, with the MDR-XB550AP a supra-aural pair and the MDR-XB510AS an in-ear pair with dust and water resistance meant for sports. All three support voice assist functions via their built-in microphones.
Sony MDR-XB950B1
It's a Bluetooth v4.1-based wireless headphones that also feature NFC connectivity for past pairing, and can also be controlled via the Sony Headphones Connect app. The headphone boasts 40mm drivers, onboard battery which can deliver up to 18 hours of playback and built-in microphones. One of the highlight of the product is the Bass Effect toggle button to cater for bass hungry users. Along with this it has volume and track control buttons. There is also an option to use it as wired headphone incase battery runs out. The device weighs in at 280 grams including the battery and is available in Black and Blue color variants.It is priced at Rs 12,990
Sony MDR-XB550AP
Called the "premium metal headband", it feature 30mm drivers, and come with an in-line remote for volume and track control, apart from a built-in microphone. The supra-aural headphones come with a 1.2-metre long cable, and weigh in at 180 grams excluding the cable. The headphone supports Sony's 'Smart Key App' for Android which helps in customizing the controls of the in-line remote. Color options include Black, Red, Blue, Green, and White.Priced at Rs 3,290
Sony MDR-XB510AS
This is an in-ear sports headphones which come with IP5X/ IPX7 rating for dust and water resistance. It is also highly sweat resistant by which the company is predominantly targeting the fitness and workout groups .The earphones feature 12mm drivers, and come with an in-line remote that bears volume and track controls, apart from a built-in microphone. Being an in-ear model you are provided with cable adjustor, four size ear buds and a carrying pouch. They weigh in at 9 grams and comes in Black, Red, Blue, and Green color variants. Priced at 2,790.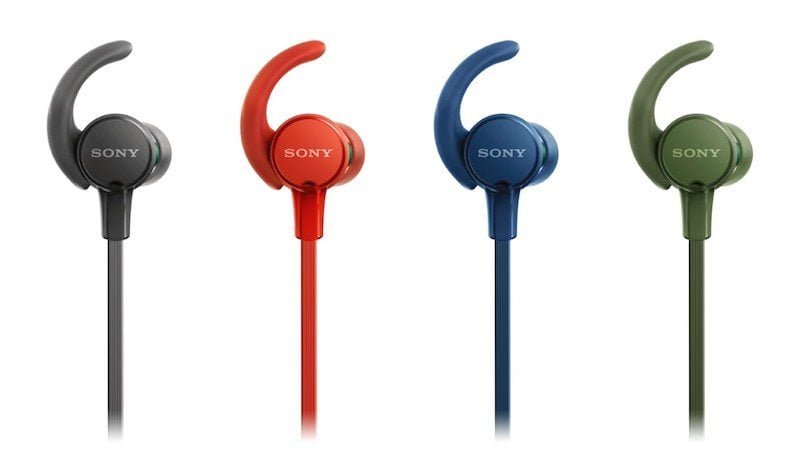 Speakers
The four wireless speakers launched by Sony are – SRS-XB40 (Rs. 13,990), SRS-XB30 (Rs. 9,990), SRS-XB20 (Rs. 6,990), and the SRS-XB10 (Rs. 3,590). All four speakers come with Bluetooth (v4.2) and NFC connectivity options boasting long battery life with their compact size. The XB40,XB30 and XB20 model supports pair connection which can be used to form a wireless chain and provide a truly surround sound experience. The SRS-XB40 and SRS-XB30 can also be used as power banks. Finally, all four speakers are IPX5 rated for water resistance. Let's get down to the features of these speakers.
Features:
SRS-XB40,XB30 and XB10 has a flexible two-way design allowing them to be placed horizontally or vertically depending on the user's need.
SRS-XB40,XB30 and XB20 feature lighting setups, with the first bearing a LED perimeter line-light, a strobe light, and a speaker light.
All speakers support control via the Sony Music Center app, while a separate Fiestable app provides light controls and DJ sound effects.
Finally, Google Now/Siri based Voice guidance is possible via the inbuilt microphones in all the four speakers.
Sony SRS-XB40 :
Bears 61mm drivers and is powered by a 5400mAh battery
Comes with its own AC charging adaptor
Sony SRS-XB30:
Has 48mm drivers and is powered by a 4200mAh battery
24-hour battery life, and a 4-hour charge time
comes with its own AC charging adaptor.
Sony SRS-XB20 :
Feature 42mm drivers and a 2100mAh battery
12 hours of battery life, with a 4-hour charging time
Comes with a Micro-USB charging adaptor
Sony SRS-XB10 :
Bears a 46mm driver (mono) and is powered by a 1400mAh battery
16 hours of battery life, and requires 4.5 hours to charge fully
Micro-USB charging adaptor
The Sony SRS-XB10 has already gone up for pre-orders via Amazon India.