The days of wearing analog wristwatches are long gone. Over time, technology has evolved and improved dramatically. Smartwatches are ordinary wristwatches that have been upgraded to become intelligent. Smartwatches are popular because they can link to your smartphone and make your life easier.
There are many smartwatches available in the market, ranging in price from Rs 1000 to Rs 50,000. Still, to save you money while also making you look wiser, we've compiled a list of the top smartwatches under Rs 3000, so you don't have to waste time looking for the appropriate one. Be with this review till the last word, and you will get the smartwatch that ticks all your boxes.
Check out the useful Price Alert feature to keep track of your short listed Smartwatch Under 3000 to buy them at the LOWEST PRICE
| Best Smartwatch Under 3000 | PRODUCT | IMAGE | PRICE |
| --- | --- | --- | --- |
| Smartwatch with Most Features | Fire-Boltt SpO2 Smartwatch | | Check Price Here |
| Best Waterproof Smartwatch Under 3000 | Noise ColorFit Pro 2 Smartwatch | | Check Price Here |
| Smartwatch with Best Battery Life | Amazfit Bip S Lite Smart Watch | | Check Price Here |
Best Smartwatch Under 3000 in India – October 2021
Fire-Boltt SpO2 Smartwatch
Fire-Boltt SpO2 Full Touch 1.4-inch display is the first smartwatch we are checking on the list. It was launched in October 2020. The smartwatch can be a jolly-well option for those looking for varieties in color and beasts in performance. It also comes under the price range you are looking for and performs way better than your expectations. Here are some features of this fantastic smartwatch.
Features of Fire-Boltt Smartwatch
● The watch comes with four color variants, i.e., black, pink, grey, and gold.
● It also comes with a SpO2 monitor, which is a need of the hour nowadays.
● It helps you track your activity in seven different workout modes like running, playing football, playing basketball, walking, skipping ropes, cycling, and playing badminton.
● IPx7 water-resistant means some splash and sprinkles of water on your watch, won't bother it from working.
● Get immediate notifications from different apps like WhatsApp, Call, and Facebook Notifications.
Pros
● Long battery life in this watch, i.e., eight days for regular use and as long as 15 days if you keep your watch on standby.
● Reasonable price of 2,999 INR.
● Varieties in colors.
Cons
● A bit heavier, i.e., 140 grams.
Why Should You Buy Fire-Boltt Smartwatch ?
This smartwatch is the best fit for a fitness freak and looking for a smartwatch with long battery life.
Noise ColorFit Pro 2 Smartwatch
Noise ColorFit Pro 2 smartwatch was launched in September 2019. The device is loaded with many features at this budget that will make the buyer go wow. Check out the features mentioned below.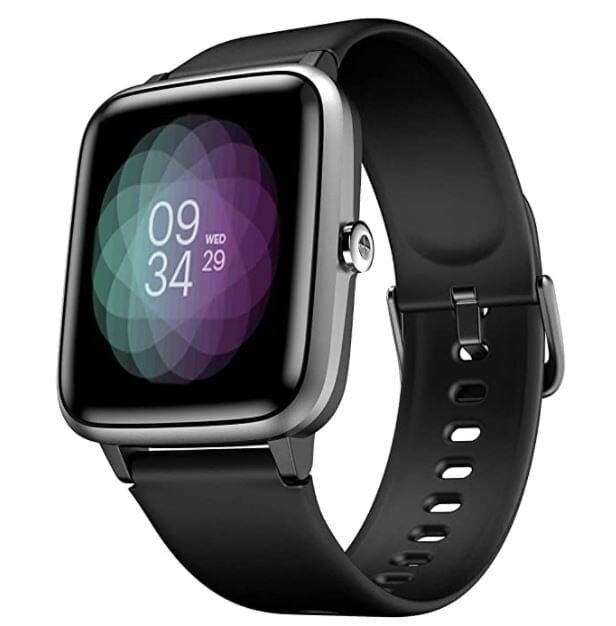 Features of Noise ColorFit Pro 2
● The device is compatible with both iOS 8.0 or Android 4.4 and above.
● Comes with Bluetooth v5.0.
● The strap material is polycarbonate that makes you feel comfortable while wearing it, and enhances the watch's look.
● It comes with 100+ watch faces.
● It works efficiently in nine workout modes, i.e., walking, running, yoga, etc.
● The IPS LCD screen improves the color quality of the watch.
● Complete tracking of your health like Heart rate, Sleep monitor, and Breath.
Pros
● Excellent battery life that lasts up to 10 days in regular use. In standby mode, it can run up to 45 days.
● Loaded with IP68 waterproof mode, whether you are sweating or working outs in light rain, it will work efficiently.
Cons
● It doesn't have a SpO2 monitor.
Why Should You Buy Noise ColorFir Pro 2 ?
The presence of numerous useful features, good battery life, and IP68 rating make Noise ColorFit Pro 2 is a must-buy product.
Amazfit Bip S Lite Smart Watch
Like the name Amazfit, the smartwatch contains a load of unique features. It comes with a corning gorilla glass 3 display that makes the watch more solid and reliable. Along with this, the watch has many more potential benefits.
Here are some key features of this watch mentioned below.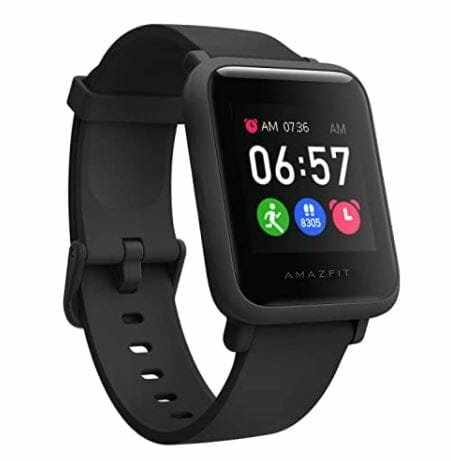 Features of Amazfit Bip S Lite Smartwatch
● With a single charge, the watch can last up to 30 days.
● Ultralightweight, i.e., up to 30 grams, only that makes you feel quite comfortable to wear.
● It has 150+ watch faces that can make your watch look more stylish and eye-catching.
● Amazfit Bip S Lite smartwatch contains eight sports modes to track your sports activity.
● It tracks your heart rate continuously and also keeps monitoring your sleeping pattern.
● It is functioned with music control to make your music experience more reliable.
● It comes with two built-in editable dials.
Pros
● Has always-on display, and automatic brightness features.
● 5 ATM water-resistant, which allows you to dig dip into the water without bothering about watch functionality.
● The prime benefit is the battery life; you can use this watch for 30 days with a single charge.
Cons
● Lacks color variants.
● No SpO2 monitor.
Why Should You Buy Amazfit Bip S Lite ?
One of the few watches with features like corning gorilla glass 3 protection, 5 ATM water-resistant, and 30 days battery backup, making this watch a worthy product to buy.
Buying Guide For Smartwatch Under 3000
When spending a significant amount of money on a gadget, there are a few things to keep in mind to ensure that your purchase is worthwhile. However, if you have a specific budget for the watch, there are some crucial factors to consider, including:
Features in the Smartwatch
When you buy a smartwatch for a given price, the first and most important question you must ask yourself is whether the device offers all of the functions you expect.
If you are the type of person, who will use a smartwatch to check notifications instead of taking your phone out of your pocket. Or, A fitness fanatic, on the other hand, will seek functions that track their body's activity. So, he/she will purchase that particular smartwatch only.
Price of Smartwatch
It is the second most important thing you need to look out for in your smartwatch because you won't be spending an ample amount of money on a watch, no matter if it is smart or not, right? Obviously, when you are buying a watch under 3000 INR, you won't be getting tons of features. Nevertheless, you will only select the smartwatch that is fulfilling all your needs as well as comes at a reasonable price.
Water-Resistant
While working out or playing sports on the ground, you may get drizzle or sweat a lot. Even if you get wet, you need your watch to perform correctly, even with a splash of water. In that scenario, it is pretty essential to choose a water-resistant watch.
Battery Life of Smartwatch
When looking for a watch with a larger display size and a bright display, the battery consumption rate will always be higher on those watches than the other. So, look for the product ticking all your expectations and having an adequate battery backup.
Compatible
Last but not least, compatibility is a prominent factor you will have to look at while purchasing your smartwatch. It is essential to see whether the smartphone you are using is connecting with that smartwatch or not. It is better to choose a device that supports both Android and iOS.
Price Comparison of Smartwatch Under 3000
Choosing a smartwatch under 3000 INR is always a hectic task as many products are available in the market. Still, to mitigate your queries and save your valuable time, we have provided you a list of top-notch watches under that budget. Moreover, our buying guide will assist you in choosing the best among the three and keep you going with the prevailing trend.