A home theatre is typically a collection of multimedia speakers and subwoofers connected to a visual source such as a television or large screen to provide us with the closest cinematic sound.
Do you intend to build a low-cost home theatre system? Are you considering turning your living room into a low-cost entertainment center?
If that's the case, we've got you covered.
We've hand-picked the top Home Theatre under 5000 in this article.
Purchasing a home theatre is not difficult, but selecting the finest among the many alternatives available is. Basic specifications and characteristics of a home theatre audio setup should be understood. In this article, we will assist you in determining the best option for your needs.
Best Home Theatre under 5000
Any product can be easily rated based on its performance and popularity. We have listed the best home theatres for you to choose from.
Obage 4.1 HT-101 Home Theatre
Obage 4.1 HT-101 woody version Home Theatre brings you the best sound clarity and deep bass. In addition, the woody version provides you with the best aesthetics along with the metallic grills that safeguard the speakers and give the best look to the system.
However, this version is specifically designed to provide more clarity to the sound of any form and hence might not be suitable for listeners who love loud noise.
4.1 speaker system comes with the dimension of 12″ x 9.5″ x 11.75″ (H x W x D), which is optimum for its price. Sub-woofer is 6.5″ and speakers measure 4″ x 3″. Complete system is about 10 to 11 kgs in weight, and the sound covers up to 175 square feet within a closed environment. The cabinets are made up of 12 mm Medium-density fiberboard (MDF).\
The 65W power output has 10% distortion from its output with frequency ranging from 50 Hz to 15 kHz. The sound effects are supported by the Bass technologies such as reflex and front-firing with Bluetooth, FM, Aux, USB as the technologies for interface support.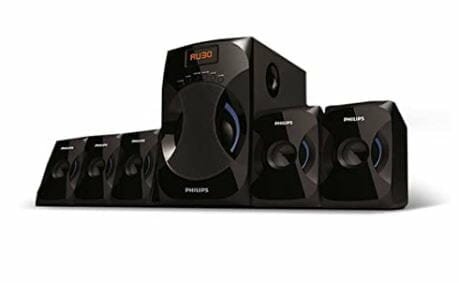 Best Features of Obage 4.1 HT-101 Home Theatre:
Best sound quality and noise level for the size of the speakers
Not many home theatres come with a radio, which is provided as one of the special features
The best wooden quality provided by MDF
The transpose function helps to raise or lower the pitch in semitone steps
Best bass and treble effects
The product is exactly as per the specification
V-shape sound signature for a comfortable listening experience
Cons:
Not meant for loud listeners
Optical output is not available
No remote control for bass
No HDMI input as well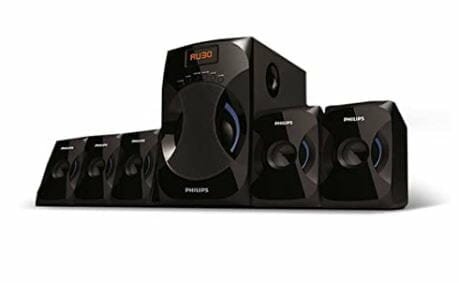 Zebronics Zeb-Twist 5.1 Bluetooth Speakers
Zebronics 5.1 Zeb Twist Bluetooth Speakers Home theatres are so stylish in black colour. The multimedia speakers with the best features give the real experience of the sound. It provides a subwoofer speaker system with remote control.
It also comes with an inbuilt radio (FM) and can be connected through Bluetooth, USB, Aux and also supports Secure Digital (SD) and multi-media card (MMC).
Power consumption is only 45W compared to other such devices and has a complete digital display accessed through remote control. Overall, the product measures 15.4" x 13.8" x 17.8" in height, width, and depth with about 6 kgs in weight.
This 5.1 surround sound speaker offers a theatre-like aural experience in your living room or bedroom. Also, it has multiple connectivity options, including Bluetooth, to let you connect it to various devices. It also supports USB, SD, MMC, and AUX connectivity options. The 5.1 speaker surround sound channel provides the best clarity of sound and gives you a theatre-like experience with the wireless connected speakers.
Best Features of Zebronics Zeb-Twist 5.1 Speakers
Best sound quality with zero vibration
Less weight and compact. Can be mounted on a wall easily
Beautiful aesthetics with the black colour
The value worth the price
The 1-year warranty at a service centre
Cons
The satellite cable provided is not sufficient in length.
An equalizer is not available for adjusting sound
The preset setting gets reset while rebooting.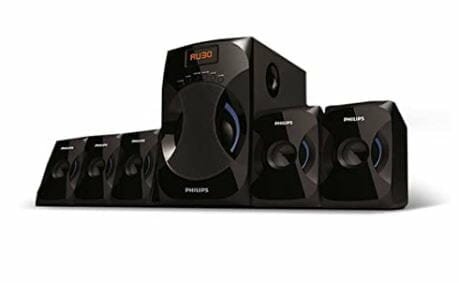 Zebronics Zeb-Twist 5.1 Multimedia Speaker
Zebronics Zeb-Twist 5.1 Multimedia Speaker comes with an output of 90 Watts.

It has Wireless Bluetooth,USB,AUX.

The speaker comes with LED Display and 13.33cm subwoofer.

The Speaker Comes With Built-in FM and Wireless Remote Control for that enhanced music experience.

The 5.1 speaker with comes with volume,Bass and treble adjustment .It also comes with Wall Mountable support and stylish Design.

Output power Subwoofer 30 WattsSoundbar 12Wattsx5Total 90Watts

Driver SizeSubwoofer : 10.16cmSatellite : 7.62 cm x 4

ImpedanceSubwoofer : 4ΩSatellite : 4ΩFrequency response : 20Hz-20kHz

BTv5.0USBFMAUXStylish Design 13.33cm subwooferPowerful BassGlossy Finish

1 Year Carry into service centreCustomer care-9360942
Philips SPA4040B/94 Speaker System
Known for its other electronic gadgets, Philips home theatre also lives up to the expectation. The Philips SPA home theatre system is the lowest in its brand, which comes with wired connectivity. The product measures 17" x 13" x 12.7" in height, width, and depth with a weight of about 6 kgs.
The 5.1 Surround sound channel provides you with an immersive sound experience while listening to soulful music or watching a movie. The multimedia speakers offer the best sound quality with more clarity and give the best bass experience. The product also has a unique feature of built-in FM, which allows you to listen to live music.
The system can be connected via Bluetooth and USB, through which you can connect your TV, PCs, mobiles, tabs, etc.… The Bluetooth covers a range of 10 to 15 ft with outstanding clarity of sound. The remote control allows you to change all speakers – front/Surround/Center, including BASS.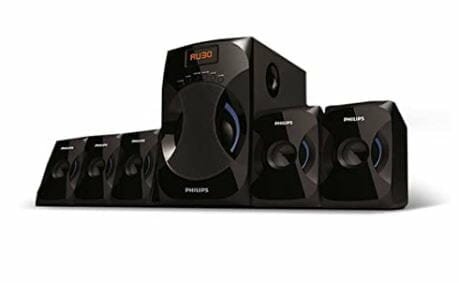 Best Features of Philip SPA4040B Speaker System
Best connectivity through Bluetooth.
Excellent sound with bass and treble adjustments.
Worth the money for the quality of the product and the brand.
No vibration/distortion at higher volume
Dolby Pro logic is available
Cons :
Limited external interface. Aux and MMC options are not available
No digital input
Surround speaker wire length is small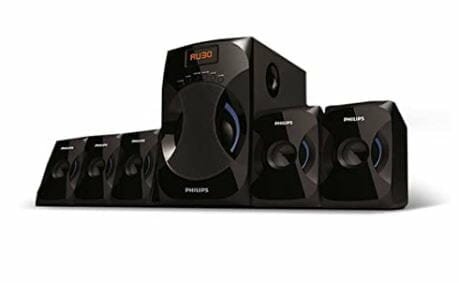 Philips Audio SPA4040B/94 5.1 Channel 45W Multimedia Speakers System
5.1 surround sound ensures immersive sound experience with rich bass

USB and SD card slots for photos and music playback

FM tuner for radio enjoyment,1 year warranty.Works with any Bluetooth-enabled device

Bass boost technology with level control.High quality built-in speakers for rich and clear sound

CONNECTIVITY: This multimedia speakers system comes with multi-connectivity options like wireless streaming via BT, other inputs like USB, audio-in and SD card

FEATURES: Audio Wattage: 45W; Power: 230V; 5.1 surround sound

SUBWOOFER: It comes with 21W, 5 inches high efficiency subwoofer that boosts the lowest frequencies to give you ultimate bass experience

WALL MOUNTED: Philips multimedia speakers can easily be mounted on the wall, saving space and making them an integral part of your lifest
Buying Guide – Home Theatre Under 5000
Theatre-level experience
Typically, one will feel a massive difference between watching a movie at home and a theatre. Because the sound effects in theatre are more authentic and surrounding your ears to give a richer experience of the sound you hear there.
But at home, the speakers are built in them, whether it's TV, PC or mobile and other gadgets. But technically, the soundtrack of theatre and sound systems at the house are the same. Only the output is different. To match the home experience with the theatrical one, a home theatre sound system has been introduced.
It comprises multiple speakers of various sizes that are kept around your room to provide the surrounding sound experience. Adding to it also offers real experience in terms of Dolby effects, good bass, and treble adjustments, which gives you an excellent theatre-like experience over your head.
1. Components of Home Theatre
A home theatre is the combination of most of the below components:
· Projector or a TV screen – every house is equipped with at least LED TV or laptop or computers
· Video source – a source of video connected through the internet or set-top box.
· Receiver – the video source is to be connected to a receiver which connects acts as the interface between the source and the speakers
· Speakers -The sound output is connected with speakers like a centre, right and left speakers at the front, right and left speakers at the back, subwoofers, and few more speakers for special Dolby Atmos effects.
2. Selecting the speakers
When it comes to selecting the speakers for your home theatre, the size of the speakers decided the power consumption and hence the receiver as well. The number of speakers also determines the need for channels. Typically, you may need about a minimum of 5 speakers for all directions apart from a subwoofer and Dolby Atmos speakers for more special effects.
a. Channels
The channels are notified for the number of speakers and subwoofers. For example, in 5.1, the number 5 indicates the number of speakers, and 1 shows the number of subwoofers. If the channel number is 5.1.2, the 2 indicates additional special speakers such as Dolby Atoms and so on. Typically in the market, 5.1 and 7.1 are commonly available, which you may choose based on your budget and space.
b. Receivers
Receivers are like hearts to the system, which brings life to the music or sound. A minimum of 5.1 channel is needed to have the best sound effects for the AV input, which you receive from any source such as cable TV or satellite. The cost of the overall home theatre system mainly depends on the receiver, which the speakers decide.
c. Other Points to Check
Few other aspects to consider while purchasing a home theatre are
Remote control vs cable connectivity
Digital display
Interface support such as USB, Bluetooth, SD, MMC etc…
Power consumption
Safety of the speakers – make/built-in materials for long life.
Best Home Theatre – FAQ ( Frequently Asked Questions )
Buying guide – Features and points to look in Home Theatre under 5000
Home theatres provide the best experience of watching a movie or TV show with family, particularly in the given pandemic situation where everyone is at home and looking for more entertainment channels. However, the entertainment also gets bored after some time if you don't watch it in a proper set-up.
Hence, to make your lockdown more exciting and also feel the best sound effects created by the best musicians and multimedia professionals, it is better to have a good home theatre system to provide the same.
The main features while buying the speakers for your home theatre are
Connectivity – wired or wireless. Prefer wireless.
Wireless speakers' range – look at the coverage of distance in feet
Advance level of the receiver
The power output of the amplifier in watts
Another mode of connectivity – HDMI/SD/MMC/Bluetooth/USB
Portability – weight and size of the speakers and complete system
Price Comparison Of Home Theatre
These days, home theatre systems are so user friendly that you directly plug and play to have the best of the best experience immediately after you receive the packing in your hand. So go for the best home theatres as suggested, below 5000 well within your budget and value for money. We hope our guide and product recommendations help you find the best home theatre for your home.